Bangladesh find Russia too tough to handle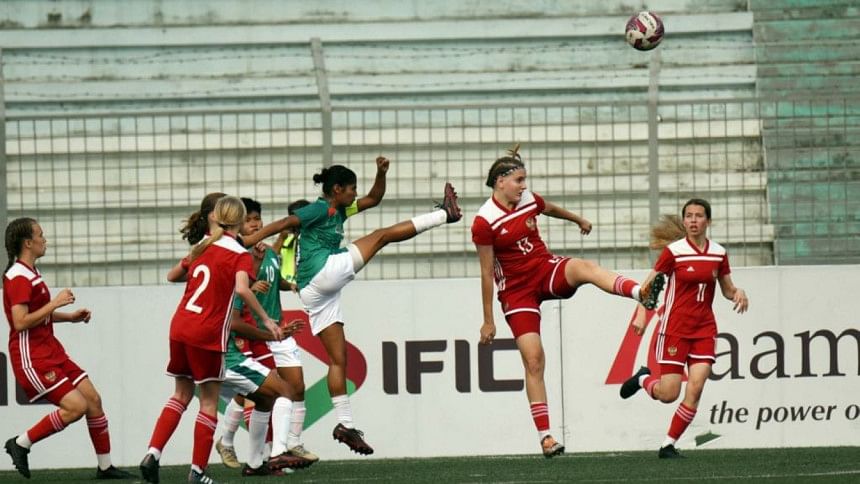 Hosts Bangladesh tasted their first defeat in the ongoing SAFF U-17 Women's Championship when the girls in red and green suffered a 3-0 defeat to their Russian counterparts at the Shaheed Birshreshtha Mostafa Kamal Stadium on Wednesday.
The physically, technically, and tactically superior Russian girls, playing in the South Asian region's tournament under UEFA Assist programme, were too tough to handle for the home team who stayed busy in protecting their territory throughout the match and mustered only one shot on the opponents' target.
By keeping control of the game, Russia took the lead in the sixth minute with a strike from Elena Golik, who placed to the near post after availing a long ball from Vasilisa Avdienko as Bangladeshi defenders failed to stop Golik.
Right-back Vasilisa Avdienko again whipped a long ball from the right flank for Anastasia Karataeva, who was about to drive home but defender Arpita Biswas brilliantly cleared the ball at the cost of a corner in the 33rd minute. 
10 minutes later, Bangladesh made their solitary move towards the Russian half but goalkeeper Uliana easily thwarted it when substitute Sagorika put a throw-pass for Sauravi Akanda Prity, who darted into the box availing a fumble from a Russian defender before letting loose a shot inside the box only to be gripped by Uliana Obukhova.
Golik went on to double the margin at the stroke of halftime with a tap-in from close range after Russia built up the attack through the middle with Anastasia Karataeva feeding Anna Sakharova, who squared it for Golik.
After resumption, Russia seemingly accelerated their pace through both flanks to expose the Bangladesh backline time and again but their finishing remained lacking, much to the relief of hosts Bangladesh.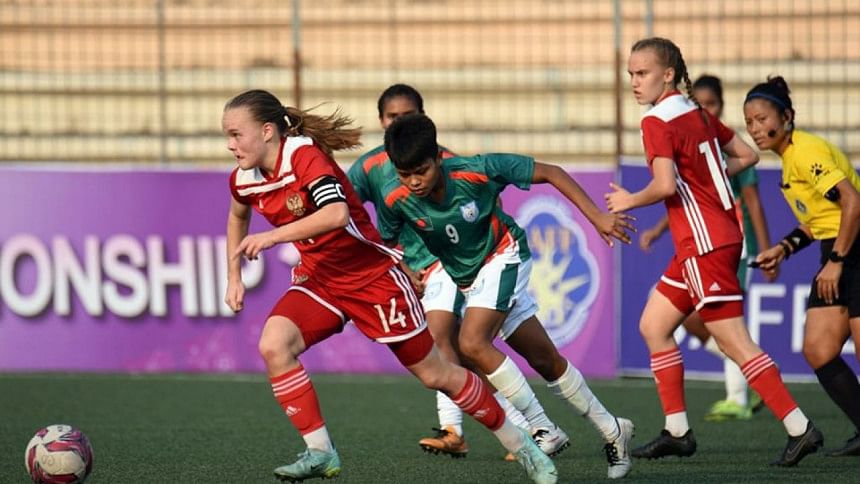 However, the hosts conceded the third goal in the 62nd minute with Anastasia Karataeva beating keeper Songgita with a left-footed shot from the right side.
Bangladesh will play their next match against India on March 24.