Arteta's ability never in doubt, says Guardiola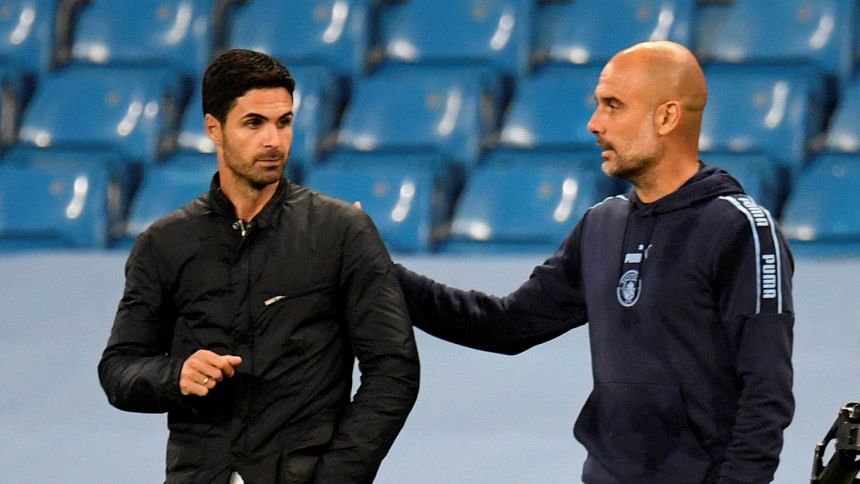 Manchester City manager Pep Guardiola on Thursday said he was well aware of Mikel Arteta's quality long before he led Arsenal to the top of the Premier League, lauding the north London team for keeping faith in his former assistant.
Arteta, who captained Arsenal during his playing career, served as assistant to Guardiola at City from 2016 to 2019 before Arsenal appointed him as manager.
Arteta's Arsenal currently sit top of the league standings with 50 points after 19 games, five points above second-placed City who have played a game more.
The teams will face off at the Etihad Stadium in Friday's fourth-round FA Cup clash.
"I don't know my impact on him (Arteta) but his influence on me was so important to become a better manager," Guardiola told reporters on Thursday. "I knew it from when he was here (at City), his ability.
"The biggest compliment for Arsenal as well, because in the bad moments they trusted him and kept him. To do this, they had to support him, that's why you need time and investment. The results are there.
"Everyone has dreams. I know he went to his club, where he is a supporter, he was a captain there. He loves the club. I remember here, when we scored goals he would jump a lot except against one team. It was Arsenal. I said that guy likes Arsenal."
Guardiola also dismissed any notion of regret at letting forward Gabriel Jesus and defender Oleksandr Zinchenko move to Arsenal from City in the close season.
The pair have featured frequently for Arsenal this season, and have both made at least 15 appearances in all competitions despite suffering from injuries.
"Oleks (Zinchenko) and Gabriel have been amazing for us," Guardiola said. "We respect them as people and football players. We want to beat them but when they have success, we are more than delighted."
Guardiola also provided a fitness update on midfielder Phil Foden, who has been struggling with a foot injury. "He's getting better. We train this afternoon. Everyone else is good," he said.
Saturday's meeting will be the teams' first this season.
Their league fixture in October was postponed to accommodate a Europa League game that could not be played due to a lack of adequate security personnel following the death of Queen Elizabeth.