Argentina on the podium of FIFA Rankings, Bangladesh down four places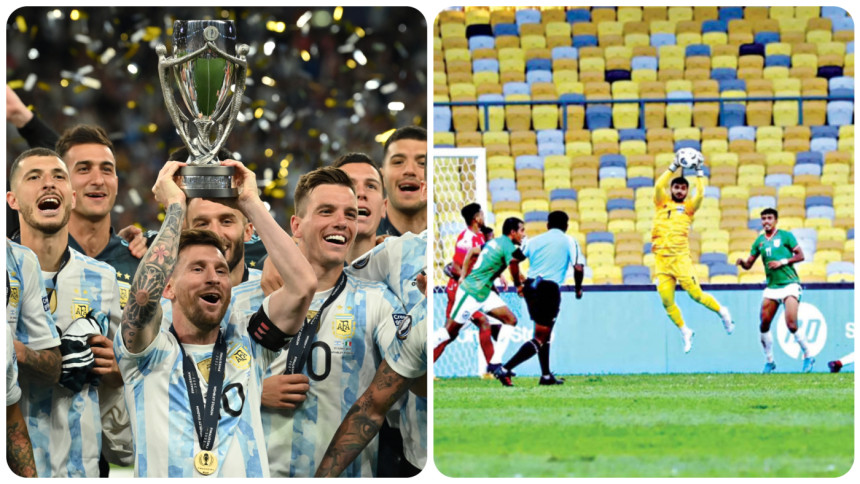 Argentina have climbed to third in the FIFA World Rankings following their heavyweight victory over European champions Italy in the 'Finalissima' earlier this month and stretched their unbeaten strict to 33 matches following their victory against Estonia earlier this month. Bangladesh meanwhile have come down four places to 192nd after the latest updates to the table took place today. 
The official men's football rankings were last released on June 23 with Brazil ranked No.1 in the world with 1837.56 points followed by Belgium with 1821.92 points. Frace have dropped to fourth with two defeats and two draws in the last five matches with 1764.85 points. Argentina meanwhile with their recent success, leapfrogged the World Champions to number three in the ranking with 1770.65 points.
Bangladesh, hovering in the bottom end, had been ranked 188 in March. However, consecutive defeats against Bahrain, Turkmenistan and Malaysia in the AFC Asian Cup Qualifiers, dropped them to 192nd. 
With three wins and two draws in the last five games, Spain moved one place up to sixth while Italy and Portugal dropped to seventh and ninth respectively. 
Kazakhstan were the biggest movers, ascending 11 places to reach 114th spot after topping the group of UEFA Nations League C, Group 3 this month.