Little-known Slovenian elected UEFA president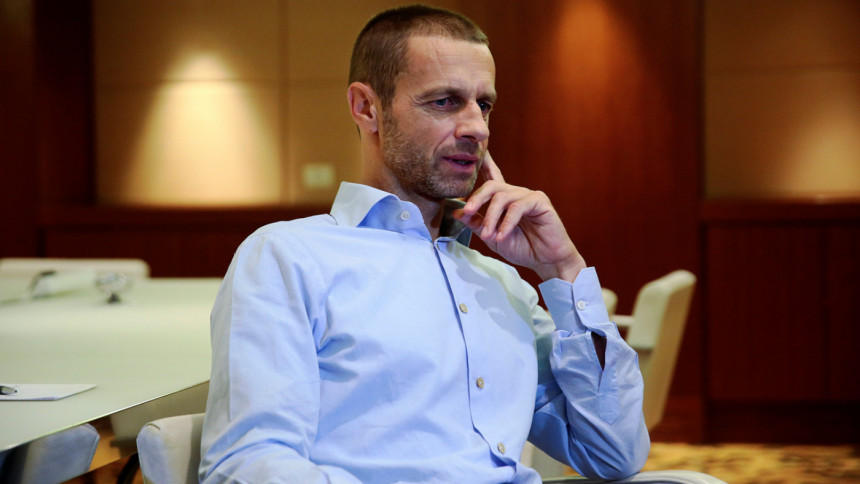 UEFA on Wednesday overwhelmingly elected Slovenian lawyer Aleksander Ceferin, almost unknown three months ago, as its new president to lead the world's most powerful football confederation into a new era after Michel Platini was forced to resign.
Ceferin, 48, beat Dutch football association chief Michael van Praag by 42 votes to 13 in the first round of voting after promising "bold" moves and an end to "intrigues" as the 55-member European body faces challenges over its flagship Champions League.
"The wind of change is blowing through European football. It is the end of one era and the start of a new one," Ceferin said in a speech to a special congress in Athens shortly after Platini gave a farewell address and left through a side door.
Ceferin, a top lawyer in his country who was little known in sport until entering the election contest in June, highlighted the credibility challenges facing scandal-tainted football, along with regular accusations of match-fixing and doping.
He had the overt backing of Russia and support from the eastern bloc and smaller nations, as well as backing from bigger players like France, Italy and Germany.
He told a special congress in Athens: "I am not here to emphasise the negativities that surround us. I don't want to live in an empire of fear where every day we wake and see another negativity surfacing.
"I want to bring out all the good things UEFA has been doing and you have been doing."
Ceferin, who has been head of the Slovenian football federation only since 2011, added: "We are all tired of the current situation and look forward to a normalisation period that will be about positive things, about friendship, about football."
Ceferin said UEFA had to be a leader in good governance and transparency.
"We should stop with politics, plots, intrigues, lack of transparency, self interest, it is football first. It is what I promise to all of you today, nothing more nothing less."
On top of the absence of Platini since October, after he was suspended over a $2 million payment from FIFE, UEFA has also faced disquiet over changes to the Champions League and speculation that major clubs could break away to form their own tournament.
Van Praag had called for a new look at a UEFA reform announced last week under which England, Germany, Italy and Spain will be guaranteed four places in the Champions League from 2018.
According to English Football Association chief executive Martin Glenn whether the plan goes ahead will be "the first big decision' facing Ceferin, who said after the election it would be his top priority.
Germany's football federation was one of Ceferin's public backers. Its president Reinhard Grindel said Ceferin's win was "a good result".
"I have no doubt that Aleksander Ceferin really has the broad support of all national associations to start its work." Grindel said.
At the start of the Congress, football legend Platini was given respectful applause for a farewell speech in which he said he felt no guilt about the payment which destroyed his career as a sports leader.
"Just simply know that my conscience is clear, that I am certain that I committed not the slightest fault and that I am continuing to fight legally," the 62-year-old said.
Platini and former FIFA leader Sepp Blatter are both under criminal investigation by Swiss prosecutors over the payment that Blatter authorised in 2011 for work carried out a decade earlier without a contract.
Platini was elected to a third five-year-term in March last year and seemed set to take over FIFA from Blatter but was suspended in October over the payment and never returned to his office. He officially resigned in May.
Platini did not go into the payment scandal but thanked those who had supported his efforts to make a return.
"I would also stress that I bear no grudges against those who have not supported me, everyone has the right to their own convictions."
Platini was originally suspended for six years and though his appeals to FIFA and the Court of Arbitration for Sport have failed, the ban has been cut to four years.
Platini said he had fought as UEFA leader to preserve football from "all the excesses that its planetary success has engendered."
"It is a game, not a product, a sport not a market and a show not a business," said the Frenchman.