Magical Messi: Most dominant player of all time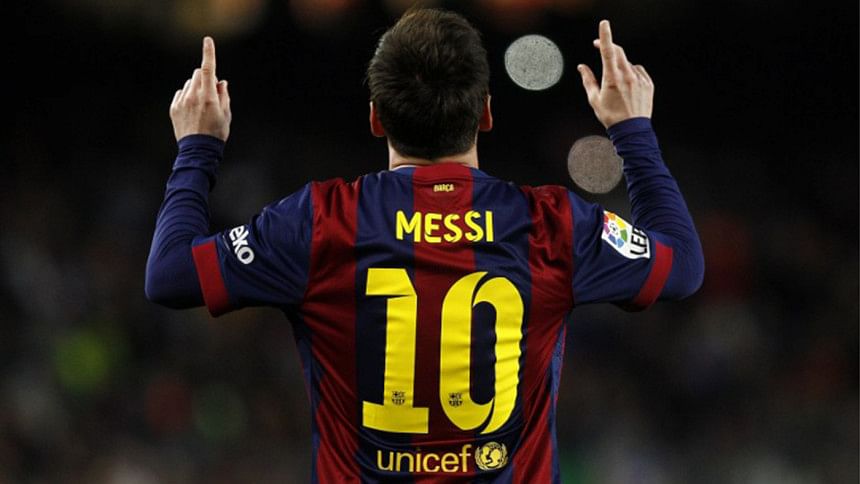 Lionel Messi is rewriting football history. Before the emergence of the Argentine attacker just over a decade ago, the game's records were spread out among a select band of legends.
But now there are hardly any left for anyone else.
No player had ever won four Ballons d'Or prior to Messi, let alone five. But at the age of just 28, the Barcelona forward claimed the prestigious prize for the fifth time in Zurich on Monday and even if he fails to add to that tally in the next few years, it is unlikely to be beaten any time soon. Perhaps ever.

And it's a similar story with many of his other marks and milestones. The Argentine has long since surpassed Barca's all-time scoring record and has now netted more than any other player in Spanish football history as well. 
In addition, he holds the record for goals in a single season in La Liga (50) and in all competitions across Europe (73) and was the first to break Raul's record of 71 strikes in the Champions League, although he currently trails Cristiano Ronaldo in the continental competition.

In the meantime, he also has more goals in the Clasico than anyone else and is the only player to score two hat-tricks in the history of the famous fixture.
But it's not only goals. Messi passed Luis Figo's mark for assists in La Liga last year and along with Andres Iniesta, he has won more trophies (26) for Barca than any other player in the club's history.

His four Champions League crowns is another high, while the Blaugrana became the first team to win the treble twice as they matched their achievement in 2008-09 with another triple triumph in 2014-15. And just last week, Messi's two goals against Espanyol saw him convert in six different competitions in a single season for the second time.
The Argentine's former team-mate Pedro had been the first to manage that feat in 2009, but Leo has now gone one better - as he usually does.

The list goes on and on. And after winning six trophies in 2009, Barca ended last year with five titles to their name as they missed out on the Spanish Supercopa but claimed the Club World Cup before Christmas with Messi in a starring role in the final against River Plate, a team that could have signed him as a teenager.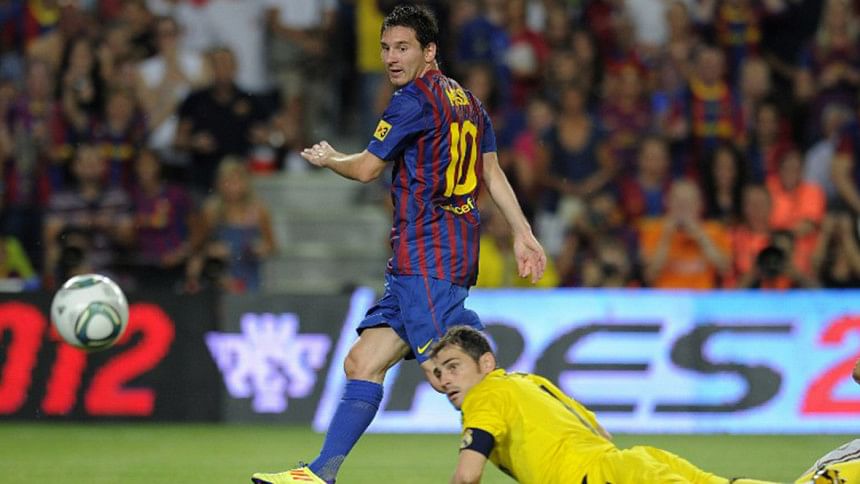 Ahead of the Club World Cup, Luis Enrique said: "Messi is the best player in the world, and for me, the best player in history." And over the last 12 months, the Argentine took his game to an even greater level, orchestrating much of Barca's best football from a deeper position while scoring just as many goals and assisting his team-mates as well.
However, 2015 did present one disappointment for Messi as he missed out on success with his national team once again, this time following defeat in the final of the Copa America to hosts Chile in July.
That followed on from losing the final of the World Cup final to Germany a year earlier and remains a thorn in his side in an otherwise spectacularly successful playing career.

Whether he is able to secure an elusive title at senior level with his national side remains to be seen. But even if he fails to win another trophy in his entire career, no player has dominated an era quite like Leo.

Pele won three World Cups with Brazil (in 1958, 1962 and 1970), but never played his club football in Europe and you only have to look at how revered Neymar was in his homeland before struggling somewhat in his first season at Barcelona to realise there is a significant difference in the respective leagues. Pele was not up against the world's best players on a regular basis like Messi is now.

Diego Maradona was in the 1980s and many Argentines argue that Messi cannot eclipse their other legendary number 10 until he has won a World Cup with the Albiceleste. But while it is true that Diego dragged an average team through the competition in 1986 en route to the title, he also failed to score in the final. It was his pass that set up Jorge Luis Burruchaga for the winner against West Germany, but his team-mate still had to put the ball away.
Had Gonzalo Higuain not missed two superb chances in 2014, it would probably have been a similar story. Fine lines.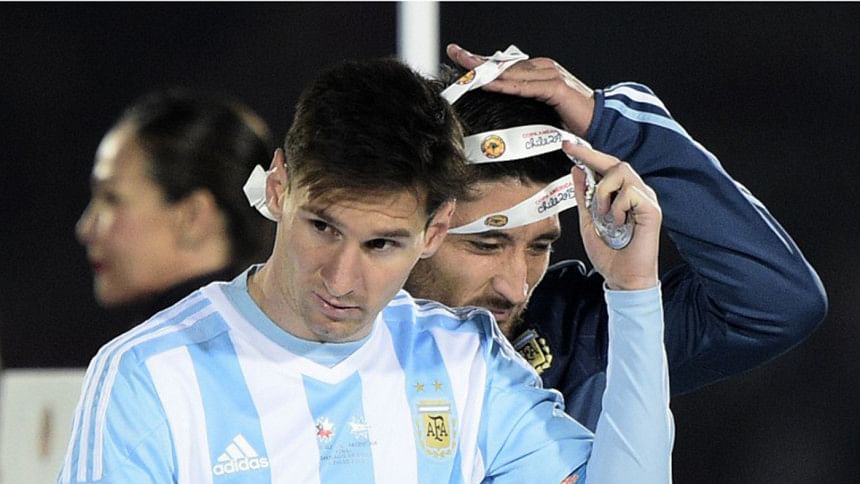 In any case, Maradona's best years came at Napoli and with Argentina between 1984 and 1990, but he claimed just five trophies in that period and only 10 club titles in his entire career, while his goal stats are nowhere near Messi's.
Meanwhile, Johan Cruyff led Ajax to six Eredivisie titles and three European Cups in a glorious spell at the Amsterdam club before moving to Barcelona, while another Argentine, Alfredo Di Stefano, won even more at Real Madrid in the 1950s and 1960s: eight Liga titles and five European Cups.
Di Stefano was undoubtedly the star in that Madrid side, but Messi is fast catching his compatriot (who passed away in 2014) in terms of goals and the Barca forward is plying his trade in a much more competitive era. These days, players are fitter and superior technically, tactics are better, rivals are stronger and faster too, while any look at old footage also shows just how much goalkeepers have improved since the days of black and white broadcasts.
The conditions now are more difficult, but still the five-time Ballon d'Or winner is posting the most impressive stats in the history of the game. And with Messi, the numbers only begin to tell the story of his incredible influence.
Back in the 1960s, 70s and 80s, the Ballon d'Or was an award reserved for European players. Although Argentine, Di Stefano won it twice during his time at Real (in 1957 and 1959), but that was because he had started to represent Spain in 1957. However, neither Pele nor Maradona were eligible for the prize.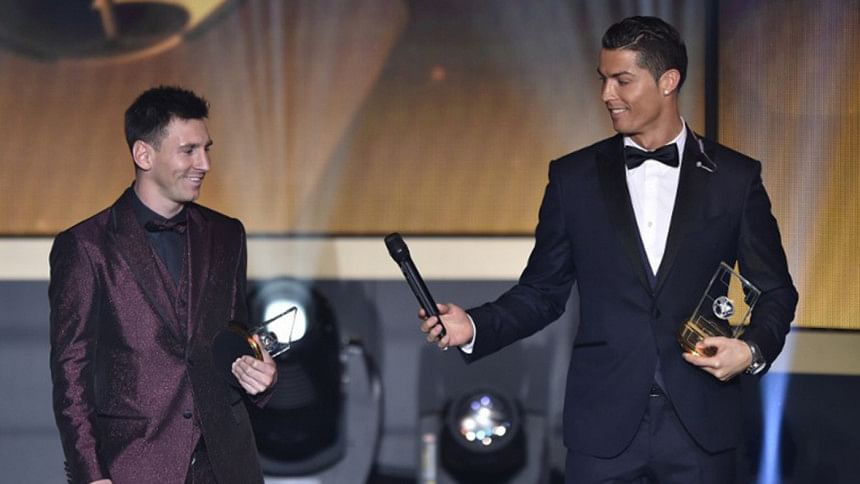 And even if they had been, it seems unlikely that either would have matched Messi's achievement of claiming the Golden Ball five times. Because even though Pele won three World Cups, Garrincha was very much the star in 1962 as the striker missed most of the competition through injury. Maradona, meanwhile, would have won several, but five seems unlikely in a decade in which three-time winners Marco van Basten and Michel Platini were at their peak.
"Pele and Diego Maradona both made a huge difference," Messi's former Barca team-mate Xavi said recently. "But football has evolved. The players are better than they were, the game is better. And Messi stands out as the best at the best time in the history of football."
He is probably right. Despite the difficulty in comparing eras, football has indeed evolved and Messi is dominating an era which is supposed to be the hardest in the game's history like no other player before him. And he's doing it with what looks like effortless ease. He really is made of gold.