La Liga title controversy heating up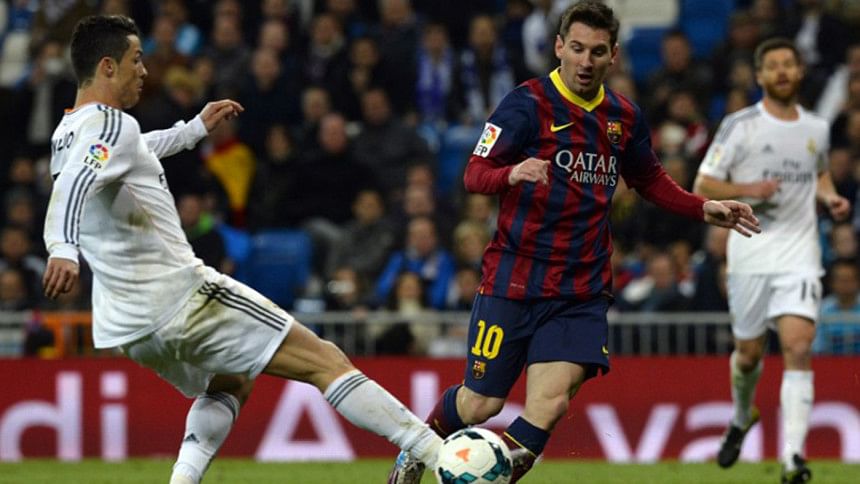 So it all comes down to this. With just one round remaining in La Liga, a single point separates Barcelona and Real Madrid at the top of the table. Everything will be decided on a spectacular Saturday evening - and the build-up in Spain is already intense.

All of this seemed so unlikely just a few weeks back. Ahead of the Clasico clash at Camp Nou last month, Barca had gone unbeaten in 39 matches in all competitions and led La Liga by nine points from Atletico and 10 from Real Madrid. Spain's top flight is boring, many moaned. Not now.

Three consecutive Barca defeats let both Atletico and Madrid back in the race with a few rounds left, and although Diego Simeone's side saw their hopes ended with a suprise defeat at relegated Levante on Sunday, Madrid could still catch the champions in what promises to be a thrilling climax this weekend.

Barca are a point clear as they travel to Granada, with Madrid in action away to Deportivo La Coruna at the same time. Atletico, in third, are at home to Celta Vigo, but can come second at best due to their inferior head-to-head record against Luis Enrique's side this term.
Madrid beat Valencia 3-2 on Sunday, but were hanging on at the end after Andre Gomes' goal nine minutes from time and an equaliser by the visitors would have seen Barca crowned champions. But Real survived to secure an 11th straight victory in La Liga and ensure a tense final day on Saturday.

"We have to continue winning points and hope Granada do well in their game," Zidane said afterwards. "We'll do what we can to win our game. Now we are second, there's one game left and anything could happen - you never know in football. We have to be aware of that fight until the final whistle."
Madrid had hoped that Espanyol could help them out in the Catalan derby on Sunday, but Barca thrashed their local rivals 5-0 at Camp Nou and there was to be no repeat of what happened in 2006-07, when Raul Tamudo's double frustrated the Blaugrana and allowed Los Blancos to move top and ultimately claim the title.

"With the number of days we have spent as leaders, we deserve the league title and I hope we can be precise in the final game to win it," Luis Enrique said on Sunday. "But no, the race is not over - you just have to look at what happened with Atletico today. The only team relegated beat one of the best in Spain and Europe."
Granada are already safe from relegation after thrashing Sevilla 4-1 away from home last weekend, while Madrid's next rival Deportivo also secured survival by beating Villarreal 2-0 at El Madrigal. Nevertheless, Levante were already down when they ended Atletico's aspirations and neither Barca nor Madrid will be taking victory for granted in their final fixture in La Liga.

Talk about possible incentive payments and maletines (briefcases - presumably filled with cash) to the other teams involved has already started in Spain. "Maletines? No gracias" said Sport on its front cover on Tuesday. "Briefcases? No thanks." And the Catalan newspaper added: "The three ex-Barca players at Granada, [Isaac] Cuenca, [Ruben] Rochina and [David] Lomban are clear: incentive payments don't exist." 

However, ex-Osasuna and Spain midfielder Jose Antonio Martin Dominguez (better known as Peton), said on football show El Chringuito on Tuesday: "I have received third-party incentive money. I was paid by Albacete to beat Zamora." And former Deportivo goalkeeper Paco Liano told radio station RAC 1: "Valencia were given a good incentive payment in 1994 (when the two teams drew 1-1 at Riazor and the Galicians missed out on the title). And it came from Barcelona."

Barca won the title that season and also the previous two under Johan Cruyff, when Madrid (incidentally, with Luis Enrique in their team) slipped up each time away to Tenerife in back-to-back losses (3-2 in 1991-92 and 2-0 in 1992-93). And even now, the Madrid media refer to Tenerife as la isla maldita - the damned island - when those games are mentioned.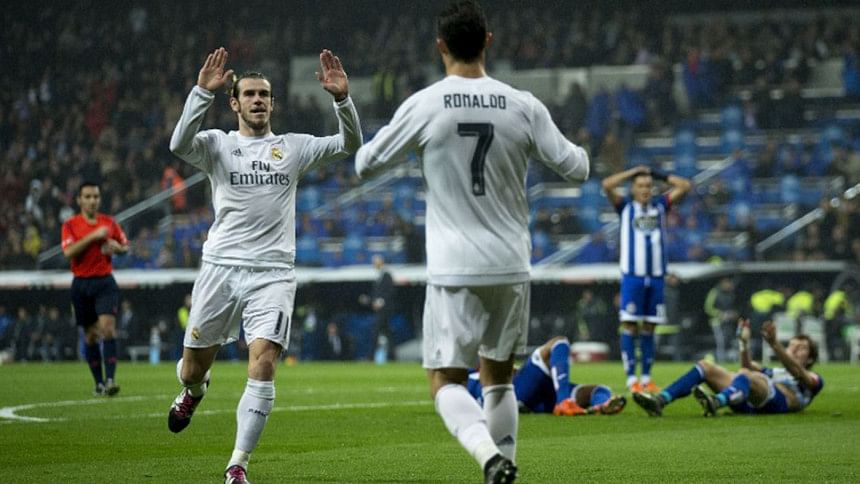 Older Madrid fans still talk about what they claim were suspect refereeing decisions in those two games, much as Barca supporters complained that certain calls - such as Karim Benzema's goal - went in Real's favour in Sunday's win over Valencia. Ahead of the weekend finale, pressure on the match officials will be intense once more.

Barca lost the title to Atletico on the final day in 2013-14 and even Lionel Messi admitted this week that the Blaugrana would be much happier to see Simeone's side win than Madrid, quotes that are also likely to add further fuel to Real's hopes of snatching the title from their eternal enemy.

Meanwhile, AS claim eight Granada players have reasons to want to beat Barca: Cuenca, Lomban and Rochina due to the way they left the Catalan club; Javi Marquez, a former Espanyol midfielder and supporter who named his son Modric after Madrid midfielder Luka; and ex-Real quartet Jesus Fernandez, David Barral, Fran Rico and Edgar Mendez because they all began their careers at the Bernabeu.

That may be wishful thinking on their part, but with so much at stake on Saturday, all eyes will be on Granada, Deportivo, the match officials and anything else that may seem strange or out of place. So days before the two matches even kick off, the media in both Barcelona and Madrid are adding further spice to this title showdown - and the battle for La Liga is already hotting up.