Kane hails "massive" victory as Spurs win Group H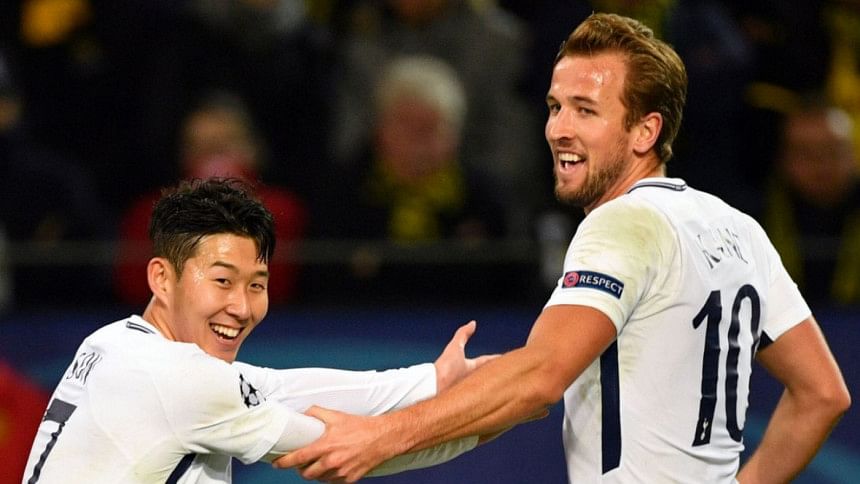 Tottenham Hotspur striker Harry Kane hailed his side's "massive" achievement of winning their Champions League group after coming from behind to win 2-1 at Borussia Dortmund.
Spurs clinched top spot in Group H after goals by Kane and Son Heung-min sealed victory after Dortmund striker Pierre-Emerick Aubameyang gave the hosts a first-half lead.
The result took already-qualified Tottenham to 13 points and consigned holders Real Madrid to second place in the group with a game left.
"It's massive, an unbelievable night for us, for the fans, for the club to finish top of the group with one game to spare," Kane told BT Sport.
"Everyone was down on us before the group.
"It's a tough place to come and win. Fantastic night."
Head coach Mauricio Pochettino said Kane's goal four minutes into the second half kick-started Spurs.
"The Harry Kane goal turned things around. It's a fantastic achievement to be top of the table as group winners - it's a big deal for us," said Pochettino.
The Argentinian said it was the perfect response to Saturday's 2-0 defeat by rivals Arsenal in the Premier League.
Travelling Spurs fans sang "Are you watching, Arsenal?" long before the final whistle in Dortmund.
"When you lose a derby, you try to turn the feeling around, the fans showed they are happy and we are proud," said the Spurs coach.
Finishing as group winners improves Tottenham's chances of avoiding the bigger clubs in the last 16, but Pochettino is only looking forward.
"It's over for us now. I'm happy to be top of the table, but we have to keep looking forward," he said.
"I'm proud of the team, they are doing a fantastic job and they need to be confident.
"The second half was fantastic. I think the whole team was very good."
Kane scored his first goal for 30 days and Pochettino praised the England striker.
"He's a great striker and a great player.
"With someone like Harry, if you give him some sort of situations, he will score. It is good for him to get the feelings of being able to score again."