Fans stabbed in Kiev before Champions League tie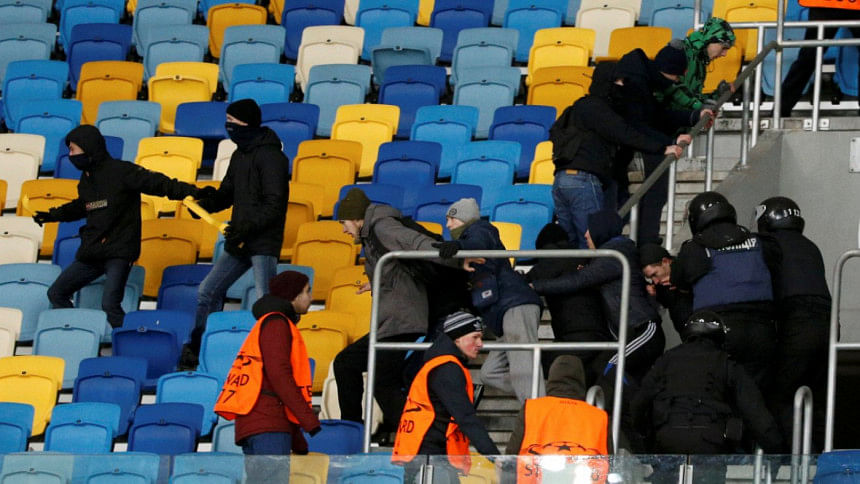 -Brawl calls into question Kiev security
-City to host 2018 Champions League final
Ten people were treated in hospital for knife wounds after hundreds of Dynamo Kiev and Besiktas fans clashed in the Ukrainian capital before Tuesday's Champions League match, local media reported.
Around 600 fans were involved in clashes near the Olympiyskiy stadium, which will host the 2018 Champions League final, before Dynamo's 6-0 victory, Football 1 channel reported.
The Turkish supporters were attacked by Ukrainian rivals while approaching the stadium with knives and bats being used in the clashes, reports said.
Local media also reported a few smaller clashes in other parts of the city.
"These clashes between Dynamo Kiev and Besiktas supporters were the consequence of the wrong risk assessment and security measures before the game," Markiyan Lubkivskiy, the former director of the Euro 2012 organising committee, wrote on Facebook.
"I have insider information there will be a harsh reaction from UEFA with sanctions applied to both clubs. UEFA executives are worried because of violence in the host city of the Champions league 2018 final game."
Besiktas's hopes of reaching the Champions League knockout stage were crushed when they had two players sent off in the mauling by previously winless Dynamo.
Despite the frosty weather, the atmosphere in the stands during the game was heated as Besiktas fans threw fireworks and missiles before clashing with police.
A few visiting fans also made their way into the media tribune, dancing on the tables and destroying some seats.