Bolivia detains airline CEO after Colombia air crash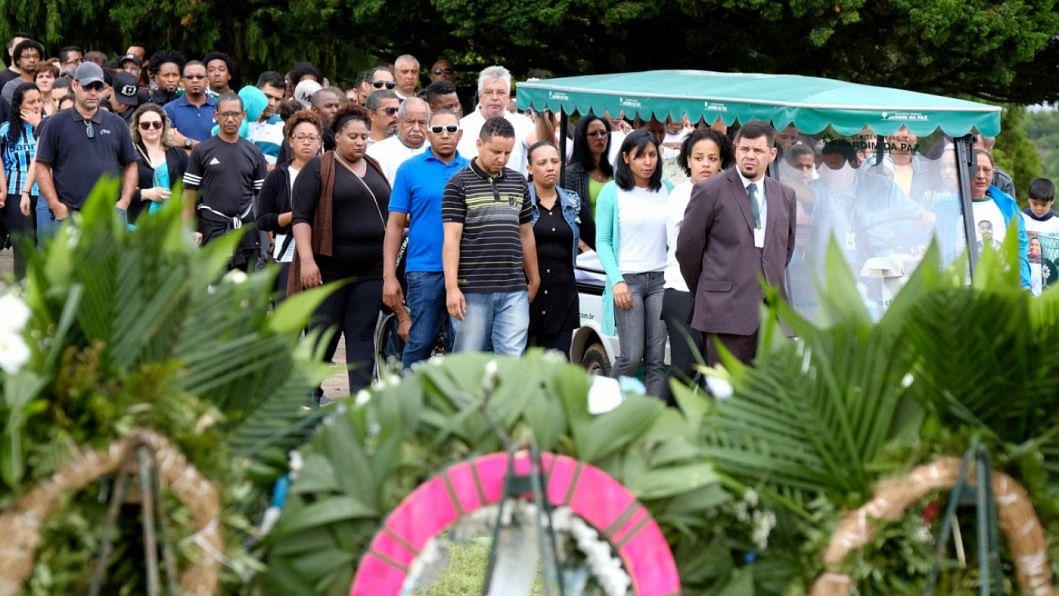 Bolivian authorities detained on Tuesday the chief executive of airline LaMia, the owner of the plane that crashed last week in Colombia and killed nearly all of Brazil's Chapacoense soccer team, prosecutors said.
Gustavo Vargas, the chief executive, and two other employees of the tiny Bolivia-based charter airline were taken to a prosecutor's office in Santa Cruz for up to eight hours of questioning before prosecutors decide if they should be held in jail.
Bolivian Attorney General Ramiro Guerrero said the initial investigation is into possible criminal failure to follow safety procedures.
"It could easily turn into a manslaughter case," he said.
The crash killed 71 people after the plane apparently ran out of fuel, sending shock waves through the global soccer community.
Earlier on Tuesday, Bolivia demanded Brazil expel a Bolivian air traffic controller who traveled there to provide authorities information about the crash.
Bolivian Interior Minister Carlos Romero said Celia Castedo had illegally bypassed migration controls on her way out of the country in an attempt to flee justice. He said Castedo was being sought as part of a broad investigation into Bolivia's air travel authority after the Nov. 28 crash.
"There is no argument to justify an asylum request," Romero said. "Logically, in a case like this there should be a process of automatic expulsion (from Brazil)."
Federal prosecutors in Brazil said late on Monday that the woman had come to them in the border city of Corumba after the Bolivian air travel authority accused her of negligence.
Brazilian TV station Globo reported Castedo was seeking asylum in Brazil and that she had questioned a flight plan showing the intended route would push the limits of the plane's maximum possible flight time.
Bolivian authorities on Thursday suspended the license of LaMia, which was bringing the Chapecoense club to the finals of the Copa Sudamericana.
Bolivia's government has replaced the management of its air travel authority in order to ensure a transparent investigation.
Brazilian prosecutors said they would meet on Wednesday with their Colombian and Bolivian peers to investigate the crash.