Chapecoense awarded title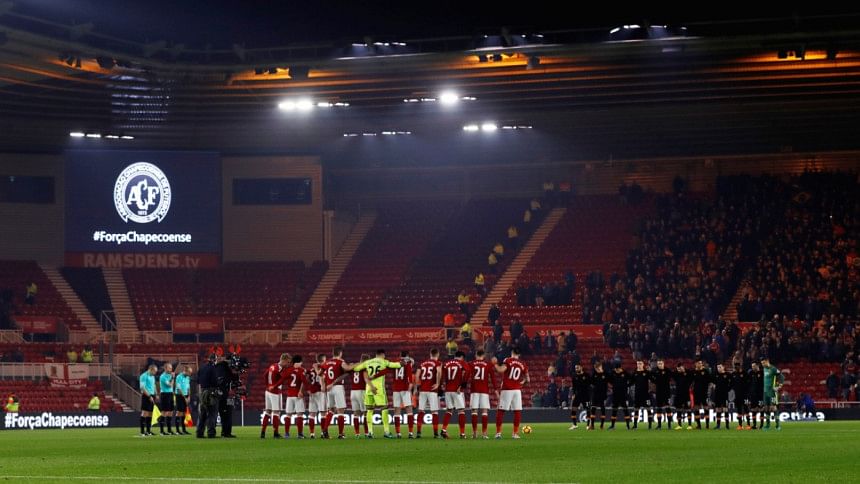 South American football confederation CONMEBOL agreed Monday to award the Copa Sudamericana to Brazilian club Chapecoense, whose team was wiped out in a plane crash while heading to the final.
The body issued a statement announcing the posthumous honour to the previously unsung club, which was having a fairy tale season until the disaster a week ago.
Chapecoense vice-president Ivan Tozzo hailed the decision as "justice."
"We were sure that 'Chape' would be champions. It is a beautiful tribute," he told a news conference.
The charter plane flying the team to the biggest match in its history ran out of fuel and crashed into the mountains in northwestern Colombia.
A total of 71 people died -- most of the club members, including players, management and staff. Three players, two crew members and a journalist survived.
The side was heading to play the first leg of the Copa Sudamericana final against Colombian club Atletico Nacional in the city of Medellin.
Nacional responded to the crash by calling for Chapecoense to be granted the Copa Sudamericana, the second highest club football title in South America.
The Paraguay-based confederation said Monday it had heeded Nacional's request in deciding to hand the title to Chapecoense.
"CONMEBOL awards the title for the 2016 Copa Sudamericana championship to Chapecoense," including the $2 million in prize money, the confederation said in a statement.
It awarded Nacional its $1 million CONMEBOL Centenary Fair Play award.
"There is no greater demonstration of the spirit of understanding and fair play... than the consideration and respect shown by Atletico Nacional to its brothers in Chapecoense Football Club," the statement said.
The small Brazilian city of Chapeco held a massive funeral on Saturday for its team after the victims' coffins arrived home, each draped in the club's green and white flag.
A minute's silence for the team was scheduled to be held before every Champions League and Europa League game this week.
Chapeco awoke meanwhile to the steep task of rebuilding a top-flight team from virtually nothing.
"We have lost practically all our assets," said Tozzo last week.
He took over from president Sandro Pallaoro, who died in the crash.
"After everything we have achieved, now we have to start again from scratch," Tozzo said.