Enrique brings winning record, fiery personality to Spain job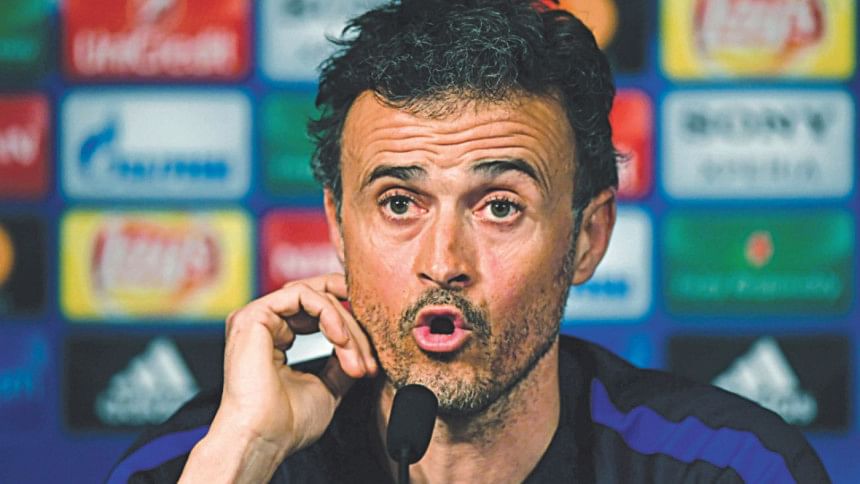 A serial winner on the pitch and in the dugout, Spain's new coach Luis Enrique brings a proven track record to an underachieving national team as well as a direct playing style and a reputation for personality clashes.
Having won two Liga titles, the 2015 Champions League and three successive domestic Cups in three seasons with Barcelona, he is certainly a more exciting choice to succeed Julen Lopetegui than the other candidates linked to the job such as Quique Sanchez Flores, Michel and Roberto Sanchez.
But his fiery personality, which was as noticeable when he was a combative attacking midfielder for Barcelona, Real Madrid and Sporting Gijon as when he was in the dugout, could also prove problematic in charge of a team with big characters of its own such as Sergio Ramos and Diego Costa.
Luis Enrique came dangerously close to being sacked by Barcelona after a high-profile fallout with Messi in January 2015 by starting him on the bench in a 1-0 defeat at Real Sociedad, and he had frequent spats with the media in his three seasons at the Nou Camp.
He also angered Spain left back Jordi Alba by repeatedly leaving him out of the Barca line-up in his final season as coach.
His new task is to rebuild a Spain team that ruled international football between 2008 and 2012 by winning successive European Championships and the 2010 World Cup but have been deeply disappointing at their last three international tournaments.
The task may not faze him, however, after he breathed new life into a stagnating Barca side and turned them back into one of the most feared teams in Europe.
In many ways, Luis Enrique represents a natural choice for Spanish federation president Luis Rubiales, who demonstrated his ruthlessness by sacking Lopetegui on the eve of the World Cup for the manner in which the latter had negotiated a move to Real Madrid.
"We don't live in a bubble and we know that he's a person with a lot of character and who has had problems with the press, but the national team is another thing and we expect everything to go well," Rubiales said.
"There is an internal atmosphere and an external atmosphere and we want both to be good, but Luis Enrique is coming here to make Spain win."
Rubiales said he had been impressed by Luis Enrique's commitment and desire for the Spain job, revealing that he had rejected more lucrative offers in order to take charge of the national team.
A renowned fitness obsessive who competes in Iron Man competitions and is often spotted mountain biking, Luis Enrique has spent the last year on a sabbatical after leaving Barcelona.
He had been linked with moves to Premier League sides such as Chelsea and Arsenal, and also with Paris St Germain.
But he has never hidden his desire to take charge of the national team, remarking last year: "It would be very cool to be Spain coach." Now he has that chance.