Emotional finale for Ireland's Keane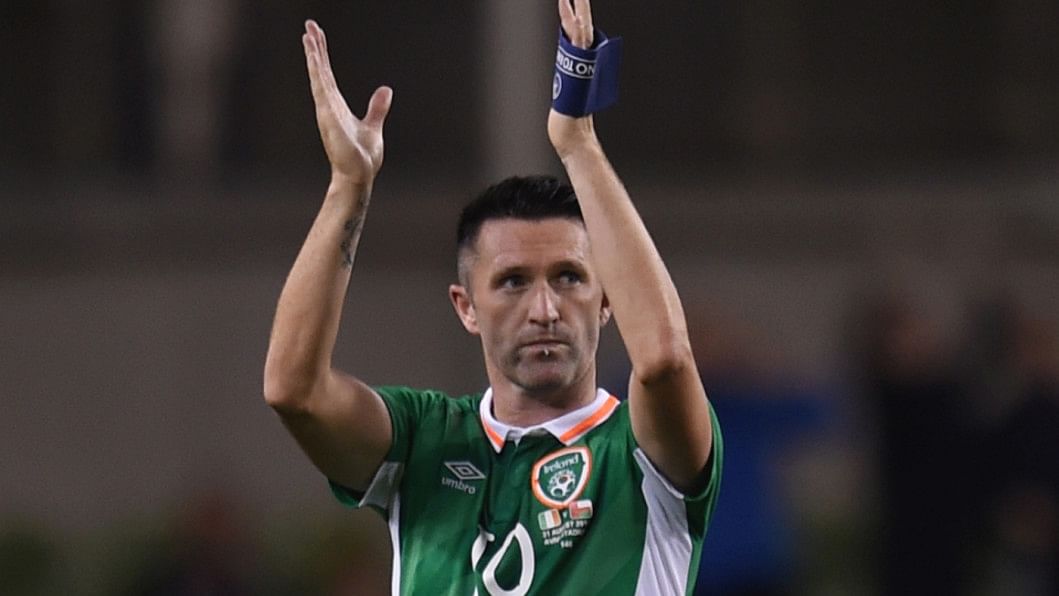 Robbie Keane told his Ireland teammates to never underestimate the honour of playing for their country after he pulled on the green shirt for the final time.
The Ireland skipper bowed out with his 68th international goal in his 146th appearance as Oman went down 4-0 in a friendly international in Lansdowne Road, Dublin.
Robbie Brady and Jon Walters (2) scored the other goals, as Martin O'Neill's men gave the 36-year-old veteran the perfect send off.
Keane's 30-minute volley drew the Los Angeles Galaxy hitman level with legendary German striker Gerd Muller at 14th in the international all-time goalscoring charts.
The Dubliner proved he still had the nose for goals, but has no regrets about calling time on his career.
"No, I won't regret it," he said, "it's the right time. Will I miss it? Of course I will, having put that green jersey on for that long. It was a big part of my life but I don't think I will sit back and regret it now.
"It's been a pleasure, a privilege and an honour to have played for Ireland.
"Nothing beats putting that green jersey on, it's the best feeling in the world and they should never underestimate it, that's what I told the players in there.
"It's something I will never forget."
Keane admitted his first half goal was the perfect ending to an emotional week, a strike, he says, the whole country was willing him to score.
"It's been an incredible week, with the amount of messages and support from former players and managers from all around the world," he said.
"All I wanted was to go out and play the game and do well one more time for Ireland and to get the goal topped it all off for me.
"I could sense in the crowd that they were desperate for me to score, and the team and the staff.
"I've played this game a long time and there will always be opportunities and I was fortunate to have the opportunity.
"I flicked it over his head as I knew as a defender it's hard to stop when running that fast. The whole country was desperate to me to get the goal."
'Wonderful journey'
Keane left the field to a standing ovation in the 57th minute, a moment that appeared to put a lump in the throat of the usually cool Dubliner.
"It was always going to be emotional for me and the family, something I will never forget and I appreciate the support and the fans coming out in their numbers," he said.
"And all I can say is thank you. It's been a wonderful journey over 18 years. I said to a few players after to never underestimate putting that jersey on as it's the best feeling in the world. There are players in there desperate to play for Ireland."
Ireland's win is the perfect warm up ahead of Monday's World Cup qualification opener in Serbia, a game Keane will watch from the comfort of the LA Galaxy training ground.
"I said to the team in the dressing room that I wish them well in qualification, they have a great chance and a good team spirit among the players," he said.
"I wished the manager well and the best. I will be watching as a fan which will be strange as I was always a fan in the first place but not being involved for the first time in 18 years will feel strange.
"We qualified for last Euros and now it's very important to capitalise on that and try qualify for World Cup.
"I believe in the players and staff and feel we have a good chance."