Conte urges Chelsea to stay 'humble'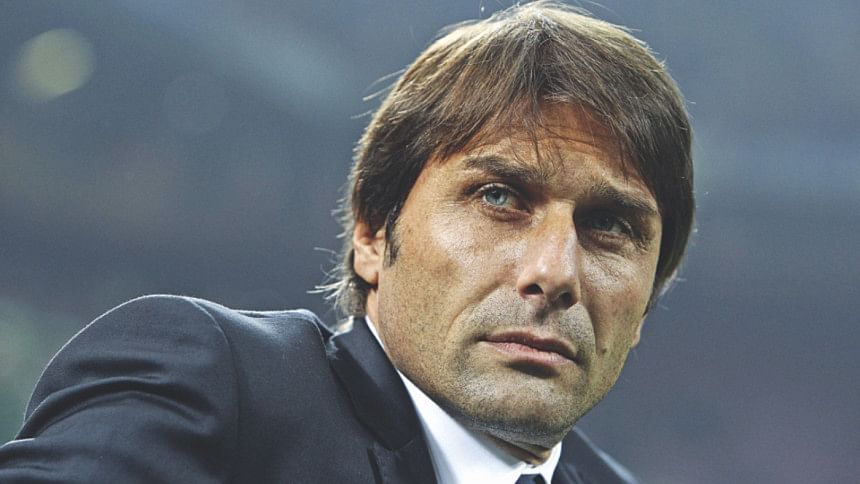 Chelsea manager Antonio Conte warned his players to remain grounded after they returned to the Premier League summit courtesy of a gritty 2-1 victory at home to Tottenham Hotspur.
Christian Eriksen fired Spurs ahead at Stamford Bridge on Saturday, but Pedro Rodriguez -- with a glorious curler -- and Victor Moses scored either side of half-time to give Chelsea a seventh successive league win.
The win took Chelsea back above Liverpool and Manchester City, who welcome Conte's side to the Etihad Stadium next weekend, but the Italian said it was far too early to think about the title.
"I think that today or in this period, if you talk about this, it is not right because we have to improve a lot and we have a long way in front of us," Conte said.
"Above all after this type of game we have to wait, to speak, to not write things (in the media). It's important to stay humble, to continue to work, to trust in our work.
"Above all after this type of game, because we won a game against a really strong team.
"On Saturday we'll have another strong team and we don't forget that against Arsenal and Liverpool we lost."
While Conte cited the back-to-back defeats against Arsenal and Liverpool in September, he said his side were now "another team".
Chelsea have been transformed since Conte switched to a 3-4-3 formation during the 3-0 defeat at Arsenal and Eriksen's goal was the first they had conceded in 601 minutes of top-flight football.
Both managers agreed the difference between the teams had been their efficiency in both penalty areas, with Chelsea weathering a first-half storm to take control of the game after the break.
Spurs' high press caused Chelsea serious problems in the first half, but Conte said he would continue to ask his players to play the ball out from the back.
"We are working for only four months on some aspects. I want to play from the back and I ask this of my players," he said.
"If someone thinks the fault is the players -- no, the fault is mine, always. I want to do and see some situations that we work on during the training sessions. I want to see this.
"I repeat we can improve a lot, starting from the back, but it's important to start."
Tottenham manager Mauricio Pochettino has seen his side knocked out of the Champions League by Monaco and lose their unbeaten league record to Chelsea in the space of just five days.
Their loss at Stamford Bridge, where they have gone 30 games without victory, left them seven points below Chelsea in fifth place in the table.
But despite his team having won just one of their last 10 matches in all competitions, Pochettino said he had no concerns about their form.
"No worry, no concern about nothing," he told reporters.
"I think that after that game you need to feel proud. The effort was brilliant. We come from Monaco. That was difficult, that was tough to be out of the Champions League.
"But the answer of the players was clear: right mentality, good performance. We were better, but we lost. I can understand that.
"If you want to analyse only the result, it's 2-1 for Chelsea, congratulations. But if you analyse the 94 minutes, I think Tottenham did a lot of positive things.
"But in football you need to score and defend your goal well and if not, that's what happens."
Moussa Sissoko was left out of Tottenham's 18-man match-day squad, having publicly disagreed with Pochettino's assessment that the club's squad was not deep enough for a Champions League challenge.
When asked about the matter, Pochettino said the France midfielder's absence had been purely "tactical".