Brazil invite Colombia to play in Chape charity match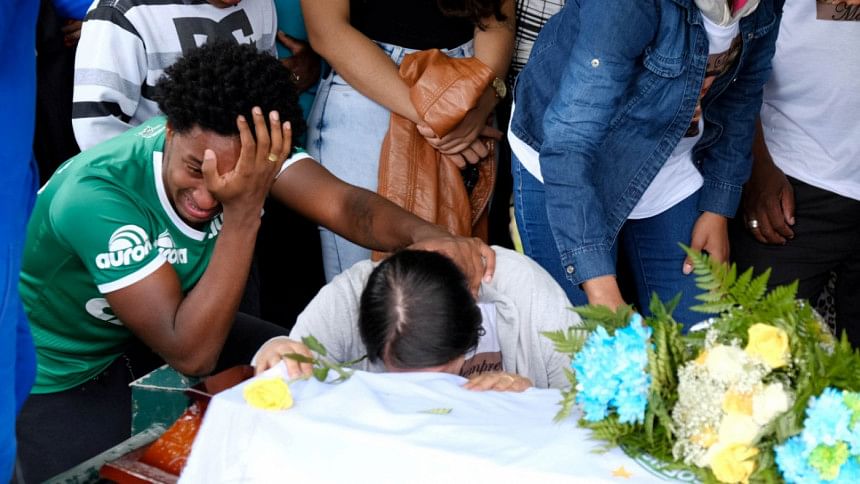 Brazil have invited Colombia to play a friendly match next month with proceeds from the game going to families of the Chapecoense players and staff killed in the Medellin air crash, a Brazilian Football Confederation (CBF) spokesman told Reuters on Monday.
Last week's disaster, which killed 71 passengers and crew, shocked soccer fans the world over and plunged Brazil into mourning.
The small side from southern Brazil were heading to Colombia to play local team Atletico Nacional in the final of the Copa Sudamericana. Only six people survived the crash.
"The idea is that the game will be against Colombia, for all that represents," the spokesman said, "but we don't know if they will be able to come because of the dates.
"But a friendly will take place, against someone else if not Colombia, probably on either Jan. 22 or 25.
"The proceeds from the match will be sent to the families of the players, the staff and those involved with Chapecoense who died in the crash."
The CBF also said it would donate 5 million reais ($1.46 million) to Chapecoense to help the club get back on its feet. The team lost almost all of their players and will need to invest to build a squad for next season.
They were given an extra incentive on Monday when South American football's governing body named them Copa Sudamericana champions.
The decision gives Chapecoense an automatic place in next year's Copa Libertadores, the South American equivalent of Europe's Champions League.
Nacional had asked for their stricken rivals to be given the title and it means the two sides will meet next year for the Recopa Sudamericana, a two-legged play off between the Sudamericana winners and the Copa Libertadores champions.
Atletico Nacional won the 2016 Libertadores in July.