Winning is a bonus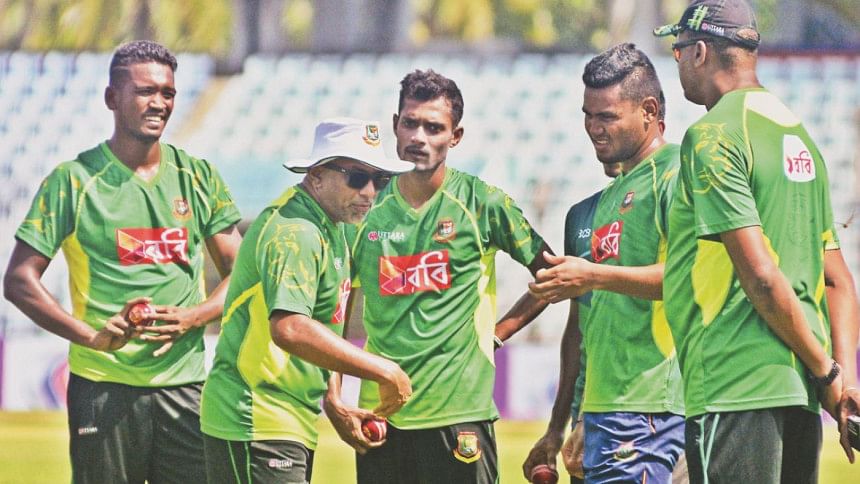 The move from ODI cricket to Test cricket is a jarring one if just the technical and mental adjustments required are considered. It is all the more jarring when that move is made by a team that last collectively stepped out in whites around 15 months ago and one that has won only seven out of 93 matches since their elevation to the highest level.
Therefore, it was expected that head coach Chandika Hathurusingha, architect of Bangladesh's quantum leap in ODIs, did his best to water down expectations ahead of the Test series against England due to start at the Zahur Ahmed Chowdhury Stadium (ZACS) on Saturday.
"I think it is technical and mental adjustment. We haven't played longer version, even at the domestic level, for a long time," answered the Sri Lankan when, during Bangladesh's practice session at the ZACS yesterday, asked whether the technical or mental adjustment would be hardest.  "The main players didn't get to play NCL this season as well. It is the challenge in international cricket where they play a lot of matches in different formats. Switching mindset between formats is what they have to get used to."
He stressed upon the importance of the start when they face off against the fourth-ranked side in the world. "How you get a start in a T20 is different to an ODI or Test match. If you start the game ready as a batsman, you can adapt quicker."
In the background, Mominul Haque, a Test specialist out in the wilderness for as long as Tigers' absence from the Test arena, was receiving throw-downs from batting coach Thilan Samaraweera. In another net, Under-19 star Mehedi Hasan Miraz was putting a straight bat to the pacers. From the look of things, options in the batting department seemed plenty, but Bangladesh's woeful lack of wins is down to the other discipline -- bowling. It is rare that the newest Test nation are able to prise 20 wickets from quality opposition, an absolute necessity to win matches.
"We did well in one-day cricket because we got our players and combination right. We haven't got our right combination in Test cricket," the coach said. "I have been fighting to find bowlers who can get 20 wickets in Tests. "
There was perhaps a hint of frustration at the lack of domestic and international longer-version matches. "We are actually trying players at the national level. This cannot happen. We have had lot of injuries and players lose form because we haven't played for a long time. We don't know where the fast bowlers are at this stage.
"You can't have plans if you don't have ammunition. You can manage what you have. We will keep developing a strategy in the long-term. Don't expect us to do miracles straight away," he added.
The most telling reply came when asked whether he was confident of winning the upcoming Test. "If you get what I have been saying, winning is a bonus."