Spinners, Warner take Aussies home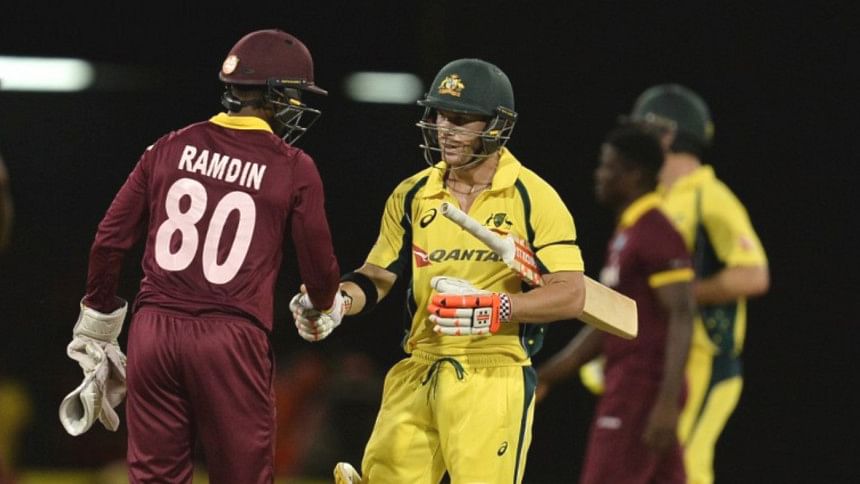 West Indies' performance on Sunday (June 5) came straight out of the locker room that stored last year's data files, where the absence of Dwayne Bravo and Chris Gayle from the One-Day International (ODI) side came back to haunt them.
A lacklustre show from the hosts handed Australia a comfortable six-wicket win along with a crucial bonus point, which could prove decisive in context of the tri-series.
Constant rain throughout the day led to the outfield remaining wet. Luckily, the showers allowed a late-starter, but didn't interrupt once the match was underway.
Steven Smith, Australia's skipper, won the toss and elected to field. Mitchell Starc, who was returning to competitive cricket after a long layoff due to injury, hogged the attention. West Indies, on the other hand, came in with an unchanged squad.
The left-arm pacer, was on the money right from the first over, managing to trouble Andre Fletcher. First he trapped the batsman in front of the wicket, before Nigel Llong declined the appeal. Smith confidently went for the review, which went against them. In the very next ball Starc got Fletcher to hit the ball to Maxwell.
Johsnon Charles, on the other hand, went about smoothly with his scoring, in company of Darren Bravo. The duo put on 44 runs for the second wicket, before Bravo played an uppish drive straight into the hands of the extra cover fielder.
Wickets started tumbling after Nathan Lyon was brought into the attack. The off-spinner had managed to trap Charles in front of the stumps in his first over, but the umpire, yet again, ruled in favour of the batsman.
Unfortunately for Australia, they had already used up their review and there was little they could do at that point than remain content with the umpire's decision - that ranged from superb to below par on the same day.
Nonetheless, Lyon struck twice in one over to send Dwayne Smith and Kieron Pollard back to the pavilion. Wickets continued to tumble at regular intervals thereafter, especially to spinners as the hosts folded for 116. Lower down the order, it was just the resistance of Carlos Brathwaite against the spin trio of Zampa, Lyon and Maxwell - that remained noteworthy.
The target was overhauled rather easily, with Warner continuing his good form from the Indian Premier League (IPL), and scoring an unbeaten half century.
Aaron Finch helped him get off to a good start, followed by a period of consolidation, which allowed Australia to reach a comfortable 54 for 1 at Dinner Break.
West Indies looked to make their way back into the game with three wickets in quick succession. However, the slump from 85 for 1 to 92 for 4 came far too late for them to stay in contention.
Brief Scores
West Indies: 116 in 32.3 Overs (Johoson Charles 22, Carlos Brathwaite 21; Adam Zampa 3-16, Nathan Lyon 3-39)
Australia: 117/4 in 25.4 Overs (David Warner 55, Usman Khawaja 27; Sunil Narine 2-36)
Result: Australia win by 6 wickets