Pace promise in fresh U-19s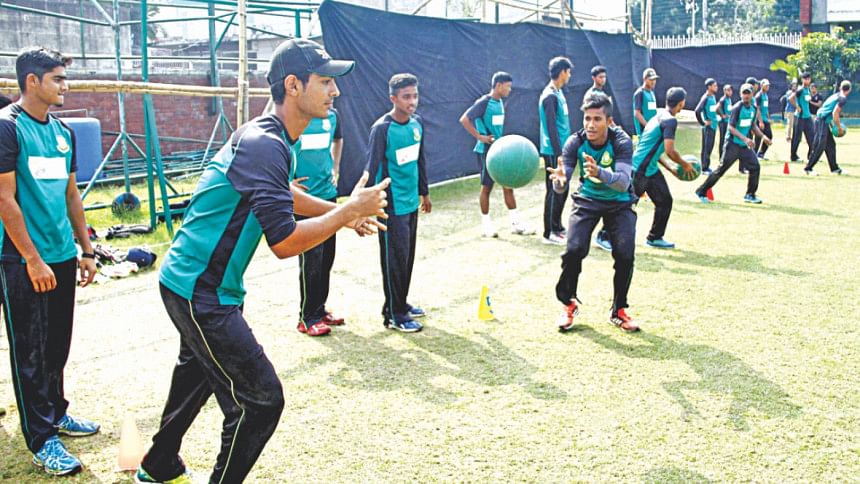 Recently Mehedi Hasan Miraz made a sensational arrival at the highest level of the game with his off-spin. The most recent Bangladesh Under-19 skipper was the latest find for the national side in a rich vein of supply from the Under-19 level. Nazmul Abedin Fahim, Bangladesh Cricket Board's (BCB's) national game development manager, however expressed his optimism this time regarding the potential of the pace bowling department, good news indeed for the future of Bangladesh cricket, especially as the next Youth World Cup will be held in New Zealand.
"I would request you to see the potential of the pace bowlers in the new Under-19 team and I don't want to single out anyone but I am sure you will be impressed by the talent of some new pace bowlers," said Nazmul.
As there is no bridge between Under-19 and national team with the absence of the A team, curiosity about what is going on with the Bangladesh Under-19 team is immense, especially as a new bunch of youngsters will take up the challenge in the world cup next year after expectations were raised by their run to the semifinals of the event in January of this year.
A fresh journey under the leadership of Saif Hassan will start with the Under-19 Asia Cup to be held in Sri Lanka from December 13 to December 24. Bangladesh, India, Pakistan and hosts Sri Lanka will be joined by Afghanistan, Nepal, Singapore and Malaysia in the tournament. The BCB has already announced a 15-member team and the preparation camp also began a few days back.
"The new group will play their first tournament in Sri Lanka and we will be able to get an idea about the newly formed team from this tournament. We will definitely play more international games before the World Cup in New Zealand but the Asia Cup will give us a good idea," said Nazmul.
"I think you will have noticed a huge change at the Under-19 level and that's why we are getting a number of players. Although most of the players are new to the team, they have come through a process. Miraz looked fearless because he had also come through a process and played Under-17 matches before playing a huge number of Under-19 matches. I can give you a simple example; sometimes a player can bear a bamboozled look when they stay in a five-star hotel for the first time, but they are now accustomed to this in the age level," he continued.
He also explained the reason behind picking Saif as a new captain for the Under-19 team.
"He (Saif Hassan) is very keen and he is driven, like Miraz, to always do something. Saif is relatively senior in the side and he is very smart but we are not sure whether he will be good as a captain. As it [the U-19 Asia Cup] is our first assignment, we will also scrutinise his captaincy," said Nazmul.
"Saif is relatively new in the Under-19 team and just started to play first-class cricket. It's my personal opinion he has the potential to become a good longer-version batsman," he opined.