Shakib, Mushy leave teens starstuck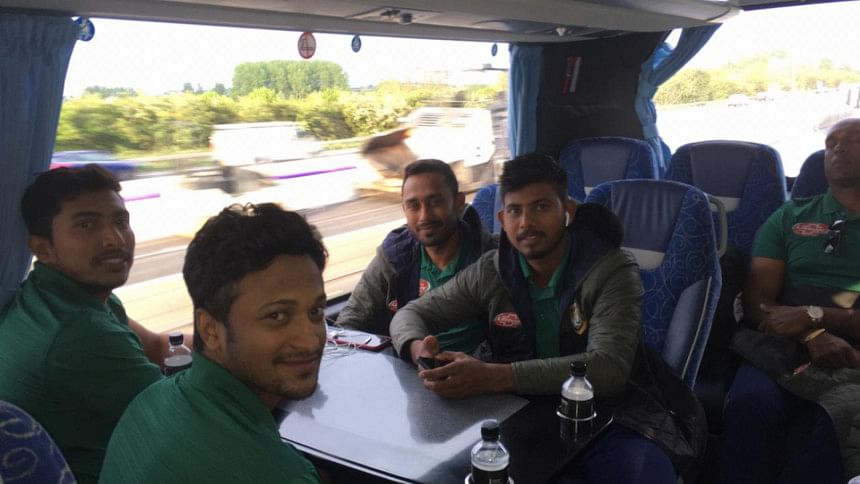 The Leicestershire County Cricket Club was under heavy cloud cover yesterday, and the taxi driver weaving through residential streets towards the main entrance appeared a little puzzled about why someone would be going there on such a gloomy day.
"There is no cricket going on today, is there?"
No match as such, but for Bangladesh something important was afoot at Grace Road. The team were stationed around four kilometres away at the Hilton Leicester, and two members had gone to practise at the ground. One obviously was Mushfiqur Rahim, but crucially for Bangladesh the other was Shakib Al Hasan, who missed Bangladesh's maiden triangular series victory in Dublin on Friday because of a back injury.
"There are more people looking after the players than there are players," the grizzled security guard at the entrance said with a wry smile.
It was also a special day for five teenagers -- two left-arm seamers, two right-arm pacers and a right-arm leg-spinner -- of the Leicestershire Academy, who bowled at the two international stalwarts for about an hour at the centre wickets. They all agreed Shakib was batting okay, without much encumbrance -- a boon for Bangladesh ahead of the World Cup starting on May 30.
"I got him out," one of the right-arm seamers said. "Shakib shuffled across and I hit his pads, I didn't appeal but [batting consultant] Neil McKenzie said it was out."
Mushfiqur, however, could not be bested, they said. The leg-spinner opined that Bangladesh's wicketkeeper-batsman played spin very well. Unsurprisingly, the most diligent worker of the team faced throwdowns, pace and spin. Shakib, according to the youngsters, only faced pace and throwdowns.
Back at the Hilton, it was all very quiet, presumably because most of the players were resting and waiting for iftar. Head coach Steve Rhodes was parked in front of a screen in the lobby, watching the England-Pakistan game.
"Shakib seems okay, he had a bit of a bat today," offered Rhodes.
A bit further away, Mohammad Mithun was engaged in deep conversation with McKenzie, who was prescribing some practice methods to the right-hander.
It was a sleepy Sunday in Leicester, but there were enough signs that the Tigers were eager to hold on to their Ireland momentum ahead of the real challenge.