Mystique around Mustafizur continues to grow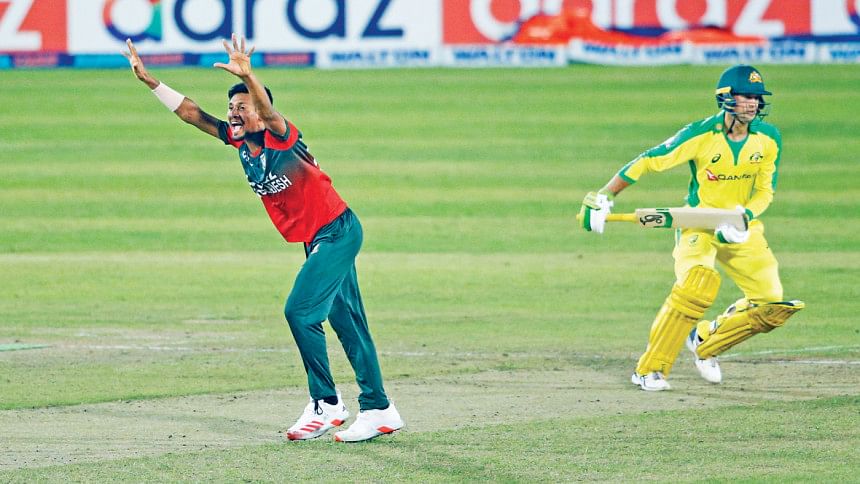 Mustafizur Rahman may have gone wicketless in the third T20I between Bangladesh and Australia on Friday, but the wily left-arm pacer was the player that took control of the most important stage of the game.
With Australia requiring 24 runs from 12 balls with 7 wickets in hand, Mustafizur single-handedly ended up deciding the outcome of the match by pulling off a one-run over.
The Fizz was equally impactful in yesterday's fourth T20I, with Australia chasing a meagre 104. His first over yielded a wicket maiden, while he gave away just two runs in his second over.
"Mustafiz's spell today [Friday] was as impactful as a five-wicket haul, if not more. Especially the way he bowled his last over, giving only one run away and bowling five dots. That mattered a lot," skipper Mahmudullah Riyad said after a third consecutive T20I win against Australia sealed the five-match series 3-0.
Mahmudullah's words might make one ponder whether statistics should include more variables to provide a better perception of performances as impactful as Mustafizur's in the third game.
Can his spell and its impact be quantified with trivial stats like 'number of wickets taken', 'economy rate' or 'strike rate'? How do we quantitatively measure, or at least approximate, the impact of Fizz's flurry of dot deliveries, that too in the 19th over?
Cricket is, more often than not, a game of partnerships. However, when we think of partnerships, the batting side of things grabs our attention. The impact of bowlers, bowling in tandem, from two ends, remains largely underrated.
Much like a football playmaker like Lionel Messi, whose scores and assists cannot alone justify the impact he has had on a game. Since we are talking about team games, how one player affects the "measurable" success of teammates -- what further statistical variable can be integrated in cricketing analysis -- could be food for thought.
One such variable could be the bowler's assist, in the spirit of football. With wickets tally and run-rate, it would be interesting to see who had bowled the previous over that led to the fall of a wicket.
Coming back to the third-game of the series, Mustafizur's second over, Bangladesh 13th, saw him bowl five dot balls in succession to an in-form Mitchell Marsh. That created pressure and brought success for Shakib the following over. Mustafizur's third over, the 17th of the innings, cost just four runs and Shoriful claimed the prized wicket of Mitchell Marsh the following over.
These two 'assists' definitely led to the dismissal of two of the best Aussie batsmen in the context of the game. Australia ended up with six wickets in hand but unfortunately for them, they were 10 runs short of their target at the game's conclusion. Again, those two 'assists' can be argued to have had more impact than two wickets in an average game.
He has been the source of Australia's biggest headache on tour. After all, three of their recent innings against Bangladesh happen to be Australia's top-ten lowest-ever scores in T20I history. They have played 144 games in total.
However, following the second game, the Aussies demonstrated praiseworthy sporting attitude, fit for a successful cricketing nation, when they spoke about Mustafizur. Ashton Agar urged aspiring Australian cricketers to observe Mustafizur, someone the likes of whom 'they didn't see before in Australia'. Moises Henriques, told Australia media: "I think he bowled 23 slower balls. The amount of revolutions he gets even on a good wicket, is hard to play, let alone on something like that."
Prior to the series, the Aussies would probably not have banked on the Fizz to be this lethal or this intimidating, bordering unplayable at times. Instead of having a clear idea of how to negotiate his deliveries with relative ease, the men from Down Under entangled themselves in a further web of confusion.
Former Bangladesh skipper Mashrafe Bin Mortaza, under whom Mustafizur made his international debut, summed up the jubilant feelings of Bangladesh fans on Facebook, writing: "First-ever series win against Australia! What a spell, "Fizz"! 7 dots in his last 12 deliveries! Unbelievable!"