Miraz's quest for 'doosra'
The mantra for top cricketers in the world as they look to sustain success is a constant drive to develop new skills. There are innumerable instances of highly-talented players starting off their international career with a bang but failing to carry on for an extended period of time due to not improving their skills and becoming predictable. Modern technology has made things even harder, with opponents analysing even the slightest details and preparing accordingly.
But despite being in top form in recent times, all-rounder Mehedi Hasan Miraz's urge to learn new tricks and add to his arsenal relays his hunger to become the best in the business. The official training camp ahead of Bangladesh's one-off Test against Afghanistan scheduled for next month is yet to begin, but Miraz and Mushfiqur Rahim started individual preparations at the Sher-e-Bangla National Stadium in Mirpur a few days ago.
Miraz, who has developed into a crucial member of the national team's spin department, was eager to learn the 'doosra', which spins in the opposite direction to an off-break, as he looks to add more variations.
Mushfiqur recommended seeking suggestions from his age-level teammate and former first-class cricketer, Rezaul Islam Rajon.
Rajon, who played the ICC Under-19 World Cup in 2006 alongside Mushfiqur, Shakib Al Hasan and Tamim Iqbal, was regarded as one of the best off-spinners in the country, with his ability to deceive batters using the doosra especially catching the eye.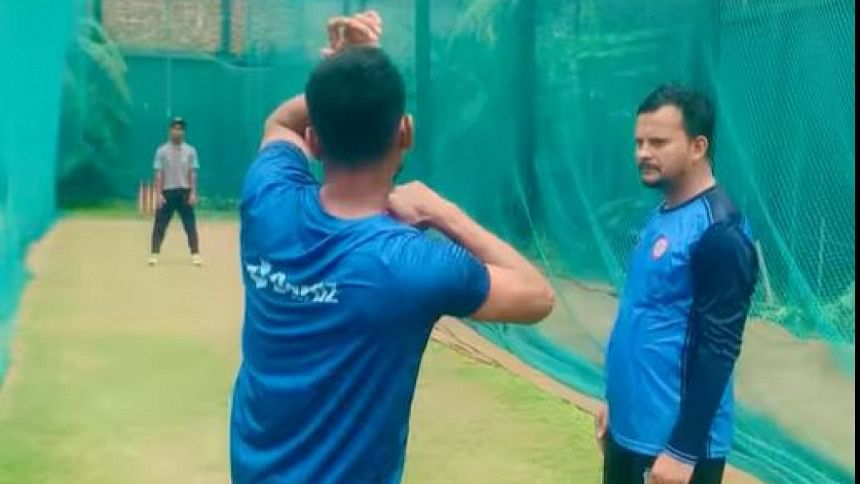 "I developed the doosra under my coach, Mohammad Yakub sir, in my early days. Later, there was a spin-bowling camp in Dhaka, where legendary Pakistani off-spinner Saqlain Mushtaq, who popularised the doosra, came for a few days. I adopted the skill from him. Not many were able to bowl the doosra during that time and my ability to bowl the delivery was widely known in the cricketing fraternity," Rajon told The Daily Star.
However, Rajon could not make it to the national team set-up and quit professional cricket following his last Dhaka Premier League season for Abahani in 2013. He then decided to take up the role of a coach and help youngsters master the difficult art of spin bowling.
The likes of Shakib, Mahmudullah Riyad and many others have in the past called on Rajon and faced off against him in nets sessions as part of preparations to tackle off-spinners before international assignments.
Yesterday, a keen-to-learn Miraz was working with Rajon at the outer nets of the Sher-e-Bangla National Stadium.
"Mushfiqur called me a few days ago and asked me to help him in training sessions. Miraz was with him when I showed up. Mushfiqur advised Miraz to speak to me since he wanted to work on the doosra. Miraz is a keen learner. He called me in the next day and asked me to help him with the doosra and I must say he seems eager to learn fast," he said.
Miraz burst onto the international scene with a bang, scalping 19 wickets in his first two Tests. But he has seen his fair share of ups and downs since.
There were instances when Miraz looked predictable, especially abroad, due to a lack of variations, but the 25-year-old continued working and has emerged as a vital member of the team across all formats.
"Miraz has some variations up his sleeve. He bowls one from side-on, which tends to move away from the right-hander. He also uses the crease pretty well and bowls the drifter accurately. We have just started on the doosra, but what I noticed is that he has really big fingers, which is an added advantage for spinners. We worked on the grip, sideways movement and planting the foot. He wanted to know whether he could bowl the doosra using his existing bowling action. I feel he can develop this art very quickly," Rajon said.