Disillusion affecting Shakib's Test motivation?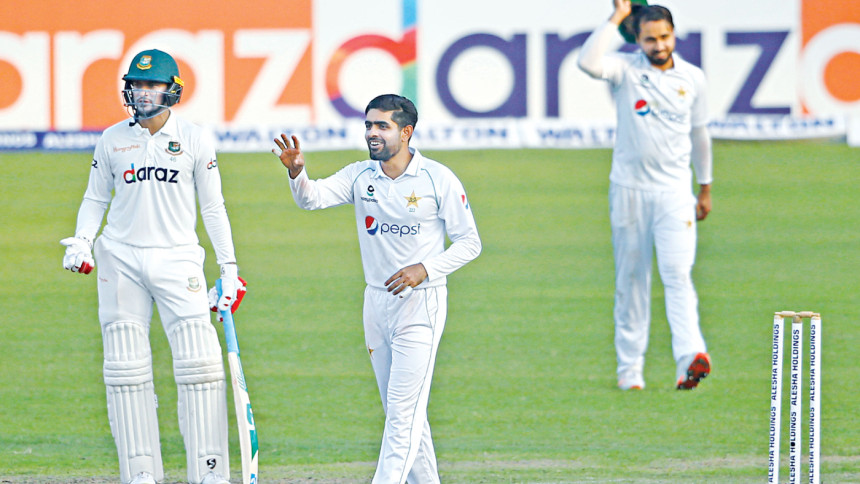 There have been insinuations, remarks and opinions regarding all-rounder Shakib Al Hasan's involvement in Test cricket from the media, cricket experts and even board officials.
Looking back, Shakib had missed a few Tests in recent years, lending credibility to arguments about his lack of interest in Tests. Opting out of the New Zealand tour and the consequent drama has put these arguments back in focus. However, there exist finer points between the two arguments that 'Shakib doesn't want to play Tests' and 'Shakib doesn't enjoy Tests'.
The second Test against Pakistan in Dhaka, which Bangladesh came very close to grinding out a draw from yesterday, showcased Shakib's enjoyment but also the demotivating factors.
Shakib played one of his very special knocks under pressure, but in the end the result did not go in Bangladesh's favour. When that happens, how does Shakib feel?
Shakib's ability to not allow anyone to dictate terms was once again on display as he did not let the bowlers feel they were on top of him for a moment. How he dealt with spinners was exemplary. The Pakistan spin duo had a general plan for the Bangladesh batters, getting the ball to pitch right in front of the bat and getting that slight turn to do the trick for them.
Shakib was able to adjust remarkably within the same delivery, from a front foot to a slightly back foot stance. He did not need to release shots like Mushfiqur Rahim for instance, but was able to make adjustments late to keep scoring. From a pressure situation, Shakib had a groove about him which took Bangladesh close to a result.
A pivotal moment came when Mehedi Hasan Miraz got out to another sweep in the second innings which saw Pakistan come back into the game. As soon as the umpire had signaled not out and Pakistan went for the review, Shakib vehemently chastised Mehedi for playing that shot. Mehedi's two dismissals were significant to the fate of the match.
Without arguing in Shakib's favour, when a good player sees the supporting cast fail alongside the team processes, any player has a tendency to be demotivated.
Shakib's long-term mentor Nazmul Abedeen Fahim analysed the scenario for The Daily Star.
"In the first innings, he counter-attacked to avoid the follow-on due to match scenario. In the second innings, I was relieved to see that he wanted to play good cricket. What he did was very difficult because you need to be in the groove for a long period of time. Unless you love the game and the challenge, you can't do that. One of his best innings," Fahim said.
"If he was careless, he wouldn't be able to play like that," he said.
However, once Miraz got out, Shakib changed too, even playing a lofted shot over mid-off that fell short, pointing to his dwindling morale.
"Take the case of Mahmudullah Riyad. He was told some 17 months before his Test retirement that he wouldn't be considered [for Tests]. How demotivated must he have felt? But his decision was like shooting yourself in the foot. It became an emotional thing and players are going through such demotivation at the moment," Fahim dictated.
It cannot be argued that there exists a gap in quality between the generation of the Big Five and the current crop of players.
When there are no correct procedures and the existence of haphazard selection process alongside bad results on the pitch, players will find a way to relieve workload or responsibility.
That may very well be the phase Shakib's Test career is going through. Not a lack of enjoyment but an existence of demotivation.