BCB to discuss Shakib controversy after Ireland series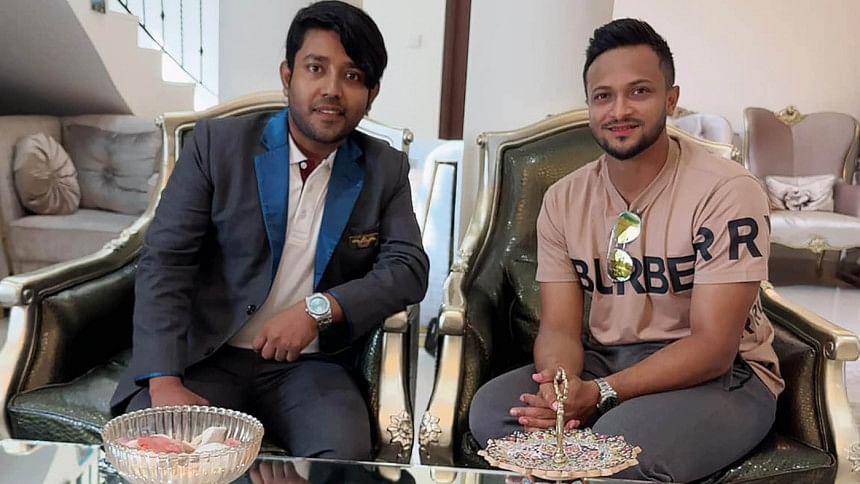 The Bangladesh Cricket Board (BCB) is unwilling to comment on the ongoing controversy surrounding Shakib Al Hasan after the premier all-rounder went Dubai alongside some other celebrities for the inauguration of Arav Jewellers, owned by Arav Khan, on Wednesday.
Rabiul Islam, alias Arav Khan, of Gopalganj's Kotalipara upazila, is a fugitive accused in the murder of a police official.
The star all-rounder joined Bangladesh's training camp in Sylhet on Friday, a day before the three-match ODI series against Ireland commences at the Sylhet International Cricket Stadium.
"First of all, we were not aware of why and where Shakib went since he had not informed us anything regarding that issue. Like the others, we also got to know about the controversy through media. Since there was a break after the England series, Shakib was not in touch with us during that period," BCB cricket operations chairman Jalal Yunus told The Daily Star yesterday.
According to the BCB director, the board was yet to discuss the issue with Shakib given the impending start of the Ireland series. However, Jalal said that they would not be able to comment without first unearthing all the facts.
"We are yet to talk with Shakib since the Ireland series is going to start from tomorrow. Since our board president is out of the country to attend the ICC meeting, we will discuss the matter with the president after his return on March 21. At the moment, we can't comment," he added.
Mohammad Harun Or Rashid, chief of the Detective Branch of the Dhaka Metropolitan Police, said that they had informed Shakib and other celebrities in attendance of Arav's criminal record, but that did not deter them from fulfilling his business commitments.
He also informed that the detective branch would interrogate Shakib and the other celebrities. On the other hand, Jalal informed that the detective branch had not yet contacted the BCB regarding the issue.