A new hurdle to overcome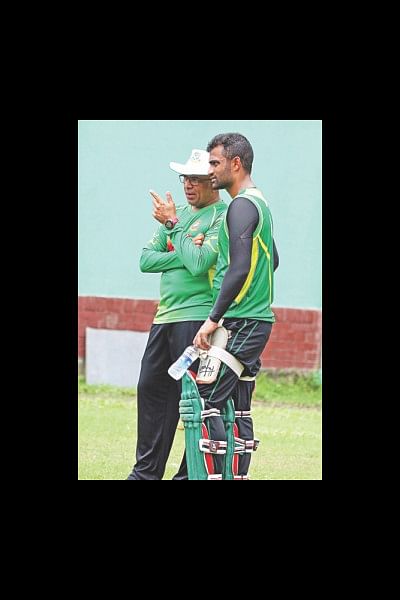 Tamim Iqbal is confident that he will be available for the one-day international series against Afghanistan and the left-hander is eagerly waiting to play a role in overcoming the Tigers' new challenge, which is to prove that even a long break from international cricket cannot break their rhythm.  The opener believes that Bangladesh will pick up from where they left off.
"I'm not feeling any pain on my injured finger. A CT scan will be done tomorrow [Sunday] and I may take the bat after getting the report.  I am hopeful that I will be available for the Afghanistan series," said Tamim -- who had sustained a fracture on the little finger of his left hand while fielding during practice in Mirpur on August 27 -- yesterday, a day before the Tigers return to business for the two upcoming home series against Afghanistan and England.
"We haven't played international cricket for a long time, so we are all excited about the coming two series. I am no exception. And we are going to play Tests after more than a year, so we can barely wait for that. It's very exciting.
"As a team we were in great rhythm before such a long break, especially from ODI and Test cricket. So we are now standing in front of a new challenge where we will need to prove that such a break cannot hamper our pace. I am confident that we will be able to prove it and ensure that we are growing as a strong team in world cricket," continued the veteran of 42 Tests, 153 ODIs and 52 T20Is.
"We can prove how good we are as a team," he added.
Having had a successful 2015 where the Tigers reached the World Cup quarterfinals before going on to beat Pakistan, India, South Africa and Zimbabwe in consecutive ODI series at home, Bangladesh will resume their ODI journey against Afghanistan and Tamim believes that nothing could be better than facing the ICC associates before a full series against England.
"I think Afghanistan is a good team and I must thank the board for arranging an ODI series against Afghanistan before the England series because nothing could have been better than that. England announced strong squads for the series and I think it will be a fantastic series," said Tamim.
There was a reason why Tamim has the belief that the new-look Bangladesh will be able to overcome the long break from international cricket and that is their new-found work ethic and approach towards the game.
"Everybody did their work even in the absence of the foreign staff because they are all aware of what they need to do and how to do it. I think previously many of our coaches tried and gradually we have achieved it. This is a huge change. Now everybody wants to be honest in their effort, no matter whether success comes or not, but they want to question themselves in front of the mirror as to whether or not they did their job," he observed.
And how did that sentiment come about?
"In my opinion our success completely changed our approach. Success brought the thirst of bringing more success. Everybody is hungry and is giving their best. You see everyone working hard for the England series and now it's time for us to execute in the middle," said Tamim.
And that's why he was not too worried with the pace attack. "Look Mustafizur [Rahman] and Taskin [Ahmed] had big roles when they were in the team but we also won matches without them. This team proved several times that it has got the ability to play good cricket even without key players.
"And that's the beauty of this team."