Vaughan 'pretty sure' Australia tampered with ball during Ashes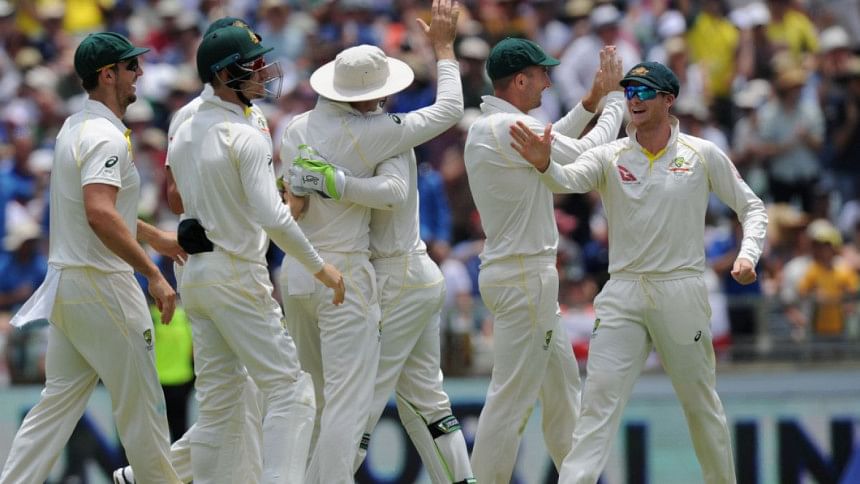 Michael Vaughan says he is "pretty sure" Australia were tampering with the ball during the recent Ashes series against England as cricket chiefs held crisis talks over the cheating scandal engulfing the sport.
Australian captain Steve Smith has been suspended for one Test and docked his entire match fee by the International Cricket Council for his role in a plot that saw teammate Cameron Bancroft tamper with the ball during the third Test against South Africa.
Smith said it was the first time time it had happened under his captaincy but Vaughan, who led England to Ashes glory in 2005, believes it has been going on for "quite a while".
"I can't believe that this hasn't happened before," Vaughan told the BBC. "I look at the amount of tape some of the fielders have worn, particularly during the Ashes series, mid-on, mid-off. (You) don't have to name names but they know who they are.
"I'm pretty sure that it was going on during the Ashes series. But it wasn't the reason why England lost 4-0. They still would have lost that series."
Joe Root, who captained in Australia, has said he saw no reason to suspect Australia of ball-tampering during the series.
Bancroft used a strip of yellow sticky tape he had covered with dirt granules to illegally scratch the rough side of the ball, thereby facilitating more swing for bowlers.
Vaughan said Australia had broken an unwritten rule by taking an object onto the pitch to tamper with the ball even though he admitted many teams used "tricks" during matches.
"You'd see the ball get bounced into the rough to create reverse swing, you'd see sweets in the mouth, you'd see saliva put on the ball to try and keep that shine for longer," said Vaughan.
"Is that right? Many will say not, but that's what has happened in the game of cricket for many, many years and will continue to happen, because it's very hard to control.
"One unwritten rule in the game is that you don't take a piece or an object out there to tamper with the ball, and I'm pretty sure the Australians and the players involved in that leadership group will face the consequences."
Vaughan does not agree with suggestions that Smith should be handed a life ban but believes the legacy of this Australia side will be forever tainted by the scandal.
"It doesn't really matter what they achieve in their careers," he said. "They're going be known as a team that cheated."