Fizz, Al-Amin in TOI team of the year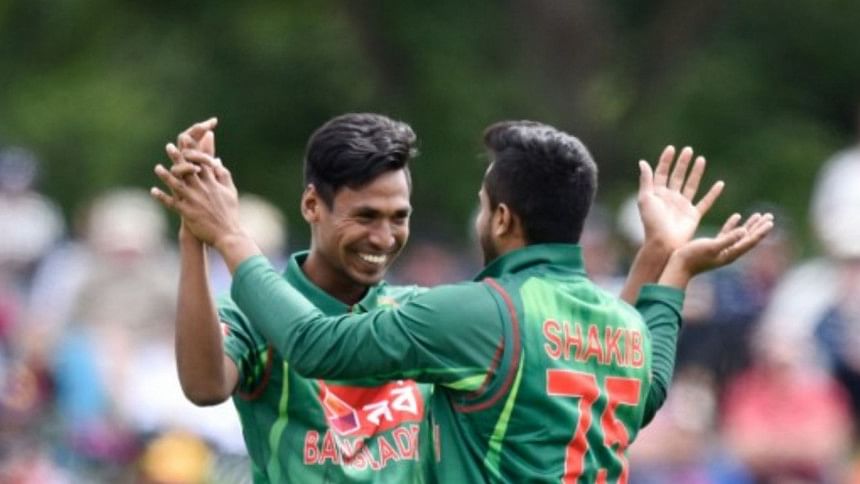 Bangladesh cricketers Mustafizur Rahman, Al-Amin Hossain and Shakib Al Hasan were included in the Times of India T20I team of the year for their outstanding performances in the shorter format of the game.
Mustafizur Rahman (M: 8, Wickets: 16, Econ: 6.12)
Mustafizur Rahman has continued to outfox batsmen including the best in the business, with his assortment of cutters. 'The Fizz' has the ability to plug leakage of runs while keeping batsmen on their toes and thus forcing mistakes to pick up wickets, according to Times of India.
He was the bright star for Bangladesh in an otherwise forgetful World Cup campaign, with nine wickets from three matches. Rightly, he was named as the ICC Emerging cricketer of the Year.
Al-Amin Hossain (M: 14, Wickets: 22, Econ: 7.98)
The Bangladesh pacer picked up a wicket in every match he played at the WT20 barring against Pakistan. His inclusion might surprise few but when you look at his figures, he has 22 wickets from 14 matches - the second best among pacers and fourth overall for the year.
Shakib Al Hasan (12th man) (M: 16, Runs: 260, Wickets: 20, Econ: 7.40)
Accurate bowling and ability to play handy knocks makes Shakib Al Hasan an invaluable asset for any team in T20s. With 260 runs and 20 wickets from 16 T20Is, the Bangladesh cricketer had a decent year and one of the top performers for Bangladesh at the WT20 scoring 129 runs besides picking up 10 wickets.
Times of India T20I XI of the year:
Martin Guptill, Mohammad Shahzad, Virat Kohli, Joe Root, Jos Buttler, Andre Russell, Samuel Badree, Mitchell Santner, Mustafizur Rahman, Jasprit Bumrah, Al-Amin Hossain and Shakib Al Hasan.