Didn't do anything wrong, won't say sorry: Mashrafe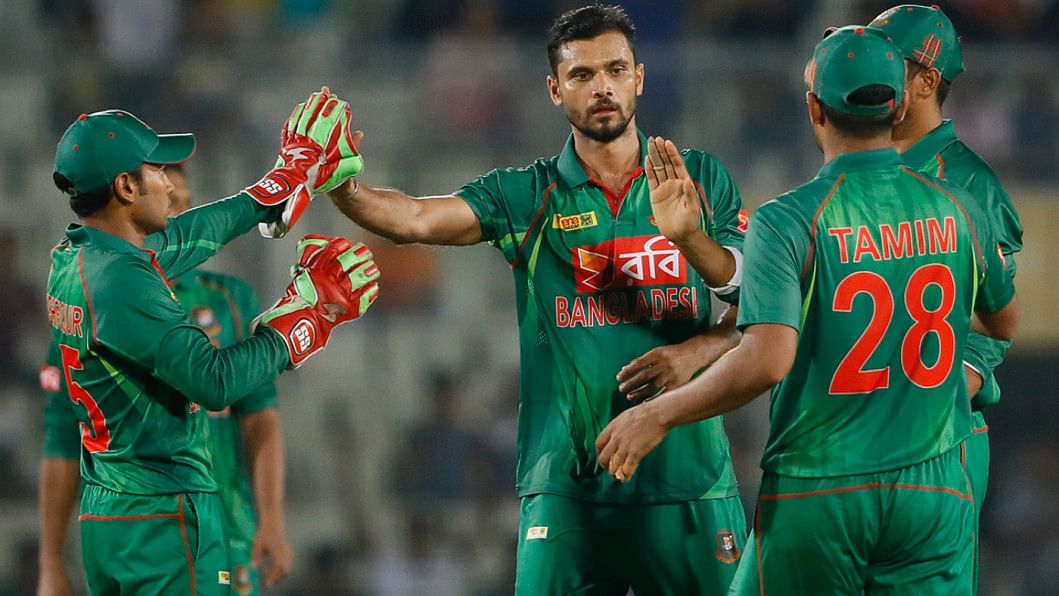 Bangladesh skipper Mashrafe Bin Mortaza has said that his team does not need to apologise to Jos Buttler for the heated exchanges that took place between the two teams during the second ODI.
Elaborating on the incident, which led to the skipper and Sabbir Rahman receiving fines and demerit points, he said: " After getting that wicket [Jos Buttler], we just had a celebration and I think you can look at it as a normal thing that every team does. But, there's a law and the match referee thought that it went outside the code of conduct. We did not mean it [to hurt Buttler]. But whatever happened is done and we are trying to play a good match tomorrow."
When a journalist from Sky Sports asked Mashrafe if he would apologise to Buttler, Mashrafe replied:" Actually we didn't do anything wrong and so we shouldn't. We feel that we just celebrated. We don't have to sorry for that. The match referee was there and he observed everything."
Furthermore, Mashrafe also said that the events in the last match wouldn't make the final ODI a lot more tensed.
"As far as our team is concerned, I hope it will be a normal match. I am expecting nothing to happen on the ground and I am also expecting a good match," he said during the pre-match press conference today.
He added that no one has to go overboard with this issue and that calmness needs to remain.
"Our team is completely normal and I am hundred percent sure that my team is not thinking about these things. I am sure all our players will be calm and we will try to do our best in the final ODI.
 "Sabbir and I got fined because of our excessive celebration which at this point of time is not allowed in the ICC's code of conduct. You have seen in the past as well that we celebrated in similar ways. Take for instance, the World Cup game against England. When we won that game, we had celebrated this way. But maybe at that point of time, the law wasn't there. So we have to be cautious," he added.
Tamim did nothing wrong: Mashrafe
Apart from the issue related to Buttler, Mashrafe was also asked about the incident that took place after the match, when the players were shaking hands with each other. An argument took place between Ben Stokes and Tamim Iqbal and the video of it has since been widely circulated on the social media. Stokes had even tweeted on the incident and said that he wouldn't shake hands with a player who shoulders his teammate.
Regarding that issue, Mashrafe said: "I saw the video and I didn't find any fault in Tamim. In fact, I don't want to blame anyone. We had gone to shake hands normally when we lost the first ODI and we wanted to do the same when we won the second.
"I don't want to blame anyone, but if you speak of Tamim's fault then I will tell you that I have seen the video and I was standing right ahead of him and I didn't hear or see Tamim do anything wrong."
Prior to Mashrafe's press conference, Moeen Ali had said that some of their players, especially their captain, Jos Buttler, would be desperate to win the final ODI.
When asked for a response, Mashrafe said: "Look our target here is to win the series. And we are focused on that. Now, if you want to win the game just for the sake of certain things that happened in the last game, then that will create unnecessary pressure. We are just thinking of playing our game normally and nothing else."