Mashrafe, Sabbir fined, Buttler warned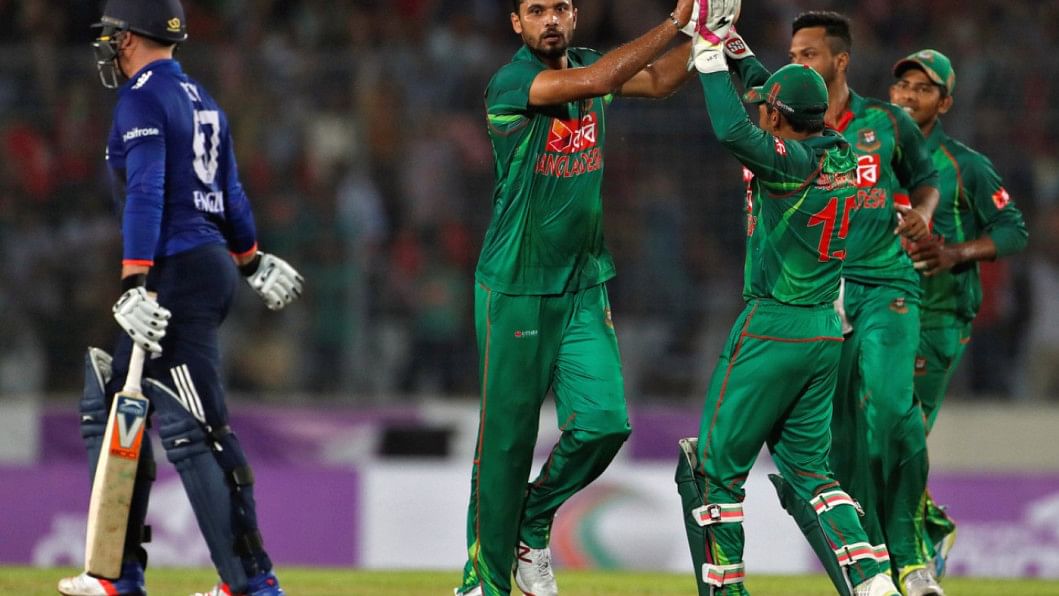 Bangladesh captain Mashrafe Mortaza and middle-order batsman Sabbir Rahman have both been fined 20 per cent of their match fees, while England captain Jos Buttler has received an official reprimand for breaching Level 1 of the ICC Code of Conduct during their sides' second One-Day International in Mirpur on Sunday.
Both the Bangladesh players were found to have breached Article 2.1.7 of the ICC Code of Conduct for Players and Player Support Personnel, which relates to "using language, actions or gestures which disparage or which could provoke an aggressive reaction from a batsman upon his/her dismissal during an international match", while Buttler was guilty of violating Article 2.1.4, which deals with "using language or a gesture that is obscene, offensive or insulting during an international match", according to ICC's media release.
In accordance with Article 7.3 of the revised Code, which came into effect on 22 September, in addition to the sanction imposed for their breaches, one demerit point each has been added to the disciplinary records of the three players.
While this was the first offence for the rival captains, Sabbir has been sanctioned for the second time since the introduction of the revised Code. He had received two demerit points for breaching Article 2.1.4 in the series against Afghanistan on 26 September. As such, he now has three demerit points against his name.
Pursuant to Article 7.6 of the Code, if the three players reach four or more demerit points within a 24-month period, their demerit points will be converted into, at least, two suspension points which will equate to a ban from their next match or matches.
Two suspension points equate to a ban from one Test or two ODIs or two T20Is, whatever comes first for the player.
The incident happened in the 28th over of England's run-chase when Mashrafe and Sabbir overreacted after Bangladesh's LBW review against Buttler was successful with the England captain responding by making inappropriate comments.
The three players admitted the offences and accepted the sanctions proposed by Javagal Srinath of the Emirates Elite Panel of ICC Match Referees and, as such, there was no need for a formal hearing.
The charges were levelled by on-field umpires Aleem Dar and Sharfuddoula, third umpire Marais Erasmus and fourth umpire Anisur Rahman.
Commenting on his decision, Srinath said: "The Bangladesh players overstepped in their celebration of Jos Buttler's wicket, which prompted an inappropriate reaction from the dismissed batsman and required the on-field umpires' intervention. We all want to see high intensity on the field of play, but only as long as it is not provoking or antagonising or disrespecting the opponent."