Buttler regrets reaction; Stokes fires on Twitter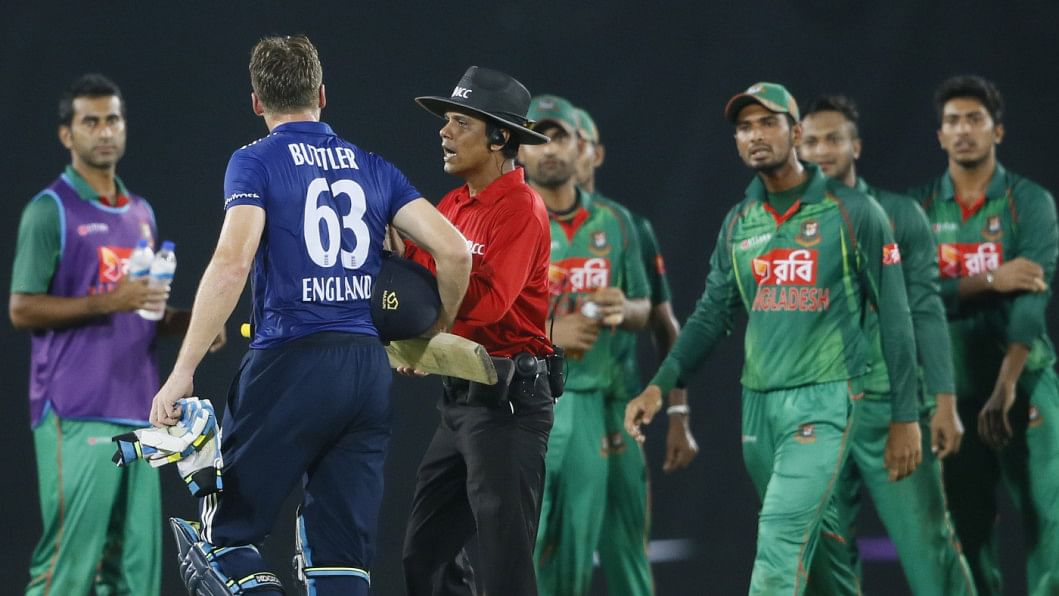 Stand-in England captain Jos Buttler said he regretted his unprofessional reaction after being dismissed in the second ODI against Bangladesh at the Sher-e-Bangla National Stadum on Sunday, while his teammate Ben Stokes hit out at the Bangladeshi players on his Twitter account.
England lost the second ODI by 34 runs as Bangladesh squared the series and their victory seemed to be only a matter of time after a review by Bangladesh had confirmed that Buttler would be making the walk back to the pavilion.

Buttler had made 57 and his dismissal left England reeling at 127-7. Perhaps in anticipation of their impending victory, the Bangladeshi players celebrated with fervour but Buttler took exception to their actions and headed their way while exchanging heated words, forcing the umpires to intervene. 
Buttler however did say that he was unhappy with the 'over the top' celebrations, before he went on to express his regret at his own actions. 

"I thought it was a little bit over the top," Buttler said. "I don't mind guys celebrating just together. I know that's obviously a very passionate cricket country and the players are very passionate and I have got no problem with that. I was just a little bit disappointed in the fashion they celebrated. I don't mind them celebrating a wicket but to run and celebrate in my face… Rightly they are happy to get a wicket but there is no need to run in someone's face and celebrate."
"Maybe in hindsight I could just walk away but it is what it is," Buttler said. "Emotions were running high and obviously they were delighted to get the wicket. Maybe I should have just walked off.

"It's certainly much more emotional as captain and you try to react, but it's something I will learn if I do it much more. I only have one more. It's something I will try to improve on, trying to keep levelheadedness, not letting your emotions get too high or too low."
However, Stokes -- who hit a sublime century in the first ODI -- did not seem as repentant. He was involved in a post-match war of words with some of the opposition players and accused a Bangladesh player of shoulder-barging his England team-mates on Twitter. 

Stokes tweeted his message almost two hours after the match.
Congrats to Bangladesh on the win tonight,outplayed us,what I won't stand for is someone putting a  shoulder to my teammate at handshakes

— Ben Stokes (@benstokes38) October 9, 2016
"Congrats to Bangladesh on the win tonight,outplayed us, what I won't stand for is someone putting a shoulder to my teammate at handshakes," he wrote.
Bangladesh opener Tamim Iqbal bumped shoulders with an English player while crossing paths after shaking hands at the conclusion of the match. While the incident seemed harmless enough and completely unintentional, it seems that is the source of Stokes's anger.