'Won't defend the collapse'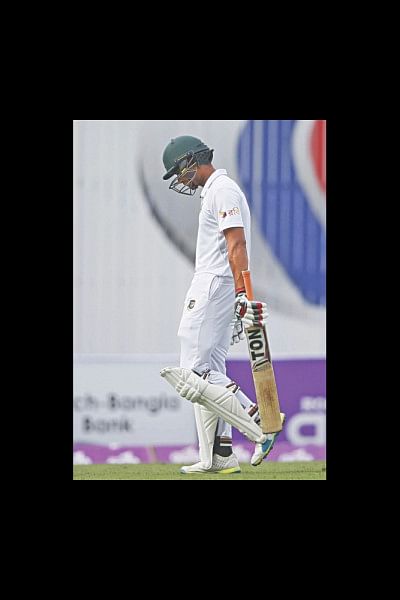 At 171 for 1 and with two set batsmen at the crease, Bangladesh were more than cruising in the morning yesterday. Tamim Iqbal was executing his strokes to perfection and Mominul Haque had rediscovered his form. The pair, hailing from the Chittagong division, had put the visitors under immense pressure.
What followed next though seemed like a picture from Bangladesh's cricketing past, as the hosts went on to lose their last nine wickets for just 49 runs. Unlike the Chittagong Test, most of the wickets that fell yesterday were not as a result of unplayable deliveries. England's bowlers did do well, but the application shown by Bangladesh's middle order was questionable. And perhaps that was the reason Tamim did not try to defend his teammates when questioned about the collapse at the end of the day's play yesterday.
"I won't defend the collapse. I absolutely won't do that. But what I honestly feel is that it was a little easier to bat in between overs number 10 and 35.
"The first ten were difficult but then it got easier because we were attacking and we also got boundary balls. When you are among the runs, batting on any wicket becomes easy. In addition, the way Mominul batted, everything seemed good.
"I can't defend or give an explanation for the collapse. We played a few bad shots. We only have ourselves to blame. If we could have scored 100 more runs then the match would have been in our hands because the ball started to turn towards the end," explained Tamim.
"I am not trying to give an excuse but you have to understand that we don't generally face reverse swing that often in domestic cricket or anywhere else. So there is a lot to learn from here.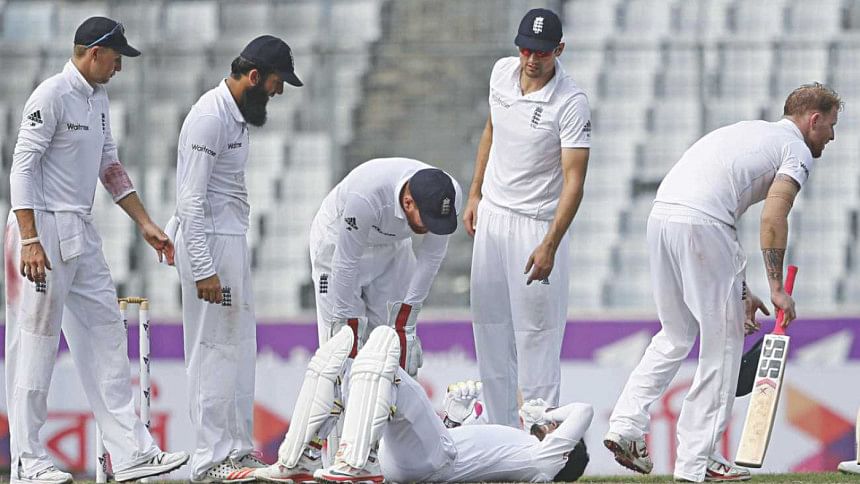 "It wasn't a panic attack. But yes in general everyone tends to get a little puzzled when one or two wickets fall. They bowled well, no doubt, but we could have handled them a little better.
Because of the collapse, my century feels a lot more important. We had a good stand, Mominul and I, and if we had managed to score 50 more runs, then maybe the reverse swing would not have affected us as much.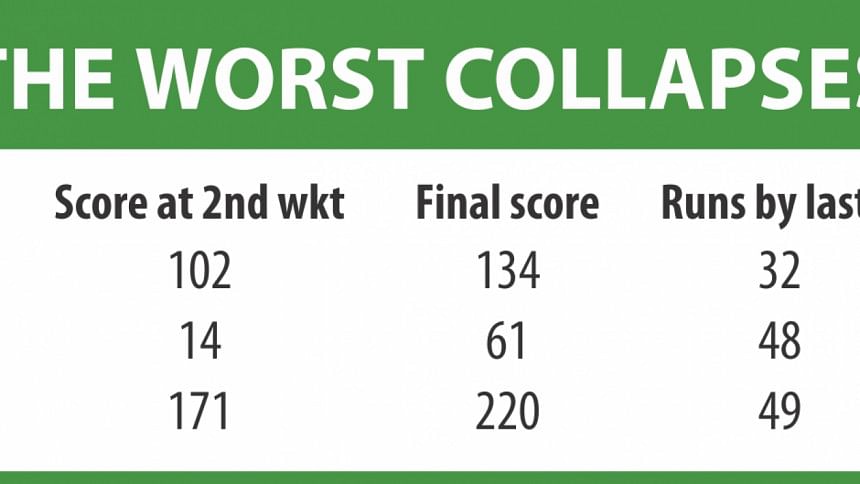 "You can't blame an individual for the collapse. Right from me to [Kamrul Islam] Rabbi, everyone is at fault," he added.
Despite being bundled out for just 220, Bangladesh managed to scalp three wickets at the end of the day and England finished on 50 for 3. The left-hander feels that the hosts can come back strong on day two.
"The three wickets we got were very crucial. If we can get a good start in the morning then the amount of runs that we have put on the board can actually turn out to be enough," hoped Tamim.
"At this moment the game's even. If we get two early wicekts tomorrow, we will be ahead. If they [England] get a partnership they will be ahead. Let's see what happens," he added.