'We need big partnerships'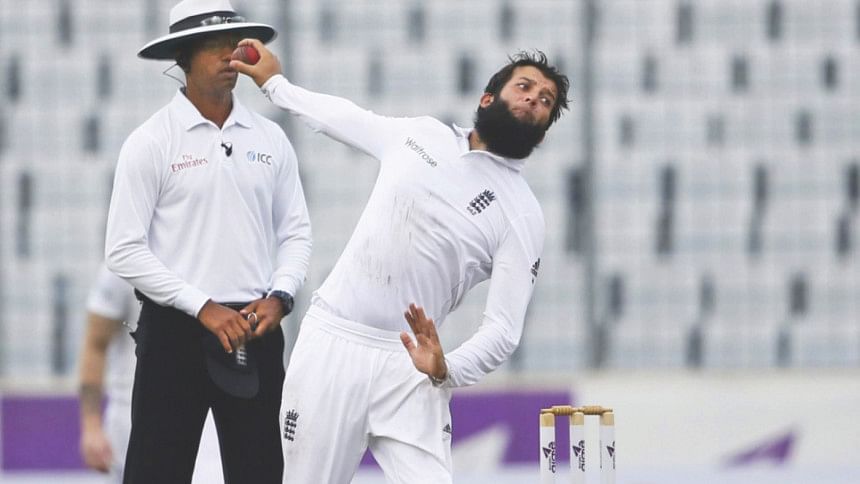 When Tamim Iqbal hit Moeen Ali for two consecutive, inside-out boundaries in the 40th over and reached his century it seemed as though England's most effective spinner of the series might not be as deadly in the second Test.
However, Moeen did not break down. He remained calm and hit back with a brilliant five-wicket haul.
Some good bowling in tandem between Ben Stokes, who reversed the ball, and Moeen helped them scalp the last nine wickets for just 49 runs. It was a big recovery after a poor morning session, which saw England's spinners and pacers thwarted by Tamim and Mominul Haque.
While England did lose three wickets at the end of the day and that took the sheen off a brilliant comeback by the visitors, Moeen believed that the game is still in the balance.
"It's been a good cricket game so far and obviously the three wickets we lost put us back a bit. But I think overall, we are pleased to bowl them out for 220 from 170 for 1. It's been a good day," said Moeen after the day's play yesterday.
When asked if the visitors were confident of taking a lead, he said: "It's a tough one. We need a couple of big partnerships and in order to take any sort of lead we have to play well. It's a long way away. We have some good batters. Hopefully if we bat well tomorrow, we will try to bowl them out again."
While the pitch at Mirpur witnessed turn from day one, Moeen said that it was different from the one in Chittagong.
"In Chittagong, the spin was more consistent. Here the straight ball is more dangerous. In Chittagong it spun one way, but here there is both spin and the straighter one. I think it will behave the same way throughout the Test," said Moeen.
When asked if the England team were happy with the pitch, Moeen said that he personally was.
"If it seams, I don't get to bowl much. If it spins I do," he smiled.
"I think it's good. People get tested with techniques and stuff. It is difficult, but if you play well you get rewarded," he added.
Moeen, who was delighted to scalp a five-wicket haul, hopes that he can carry on the momentum with the bat and help England take the all-important first innings lead in the Test.