England tour of Bangladesh, 2nd Test
Play called off for the day due to rain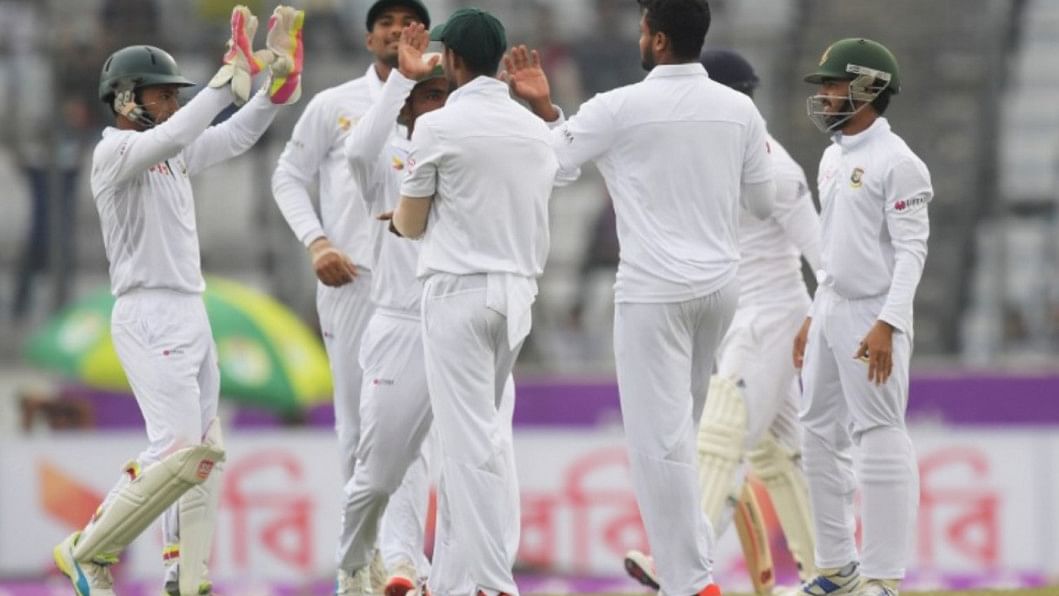 5:05 pm: With 13 wickets going down on the first day before the clouds burst open at Mirpur, this Test may serve up another humdinger when play resumes tomorrow…From 171 for 1, Bangladesh were 220 all out…Tamim's third ton against England, second highest partnership in terms of runs for the hosts but still, the collapse of 9 for 49 would definitely leave a bitter taste in the mouth of Bangladesh supporters.
Moeen Ali proved just why he is the real McCoy. Taking the second fifer of his career and along with the reverses of Stokes and Woakes, they managed to once again initiate, execute and complete the slide. England were rocked late with the three wickets, but with a deficit of 170, tomorrow promises to be another fascinating day, provided the rain stays away.
England tour of Bangladesh, 2nd Test
England

:

50/3 (12.3 overs)

 
Bangladesh: 220
4:09 pm: Mehedi Hasan Miraz joins the party…and the fall of wickets continue in the first day. Tigers go up for a review for an LBW call which was given Not Out. No bat involved confirms UltraEdge. The ball tracker shows that it pitched in line and would go on to crash the stumps…on-field umpire overturns his decision once again…Bangladesh are on a roll.
AN Cook lbw b Mehedi Hasan Miraz 14 (12b 3x4 0x6) SR: 116.66
Fall of wicket 24/2 (4.1 ov); Partnership: 14 runs, 2.2 overs, RR: 6.00 (Cook 12, Root 2)
3:58 pm: Shakib gets Duckett…and the crowd get their voices back…important breakthrough for the home side after being bundled out on the first day.
Bangladesh allrounder tossed up the delivery, spinning down leg and Ben Duckett followed the spin and grazed a catch straight into Mushfiqur's gloves…England opener's poor Test run continues…
BM Duckett c †Mushfiqur Rahim b Shakib Al Hasan 7 (5b 0x4 1x6) SR: 140.00
Fall of wicket 10/1 (1.5 ov); Partnership: 10 runs, 1.5 overs, RR: 5.45 (Cook 2, Duckett 7)
3:42 pm: That's five for Moeen, and Bangladesh stumble to 220 all out in the first day, that too after sitting pretty at 171 for 2. Kamrul Islam Rabbi becomes the last man to fall for Tigers…thick outside edge to first slip where Joe Root completes the catch….brilliant bowling from Moeen, and he gets his second five-for in his Test career!
Last bat Kamrul Islam Rabbi c Root b Ali 0 (10b 0x4 0x6) SR: 0.00
Fall of wicket 220/10 (63.5 ov); Partnership: 5 runs, 3.1 overs, RR: 1.57 (Kamrul Islam Rabbi 0, Taijul Islam 5)
3:34 pm: Woakes gets his fourth and Bangladesh lose their ninth wicket…the collapse nearing its end. And now Shakib Al Hasan has to go… width, outswing, full length…pathetic waft outside off, another edge to the keeper…England celebrate!
Shakib Al Hasan c †Bairstow b Woakes 10 (32b 0x4 0x6) SR: 31.25
Fall of wicket 215/9 (60.4 ov); Partnership: 2 runs, 1.1 overs, RR: 1.71 (Shakib Al Hasan 2, Taijul Islam 0)
3:27 pm: The procession of wickets continued in the 60th over when Mehedi Hasan Miraz went back to the pavilion after lasting only six balls…Moeen gets his fourth after the review…Tigers in tatters…England sense blood, and they are going for the kill!
Last bat Mehedi Hasan Miraz lbw b Ali 1 (6b 0x4 0x6) SR: 16.66
Fall of wicket 213/8 (59.3 ov); Partnership: 1 runs, 1.1 overs, RR: 0.85 (Shakib Al Hasan 0, Mehedi Hasan Miraz 1)
3:15 pm: Hara-kiri from Tigers…another wicket goes, and the tide has turned in this Test match. Woakes picks up his second…full and wide of off, Shuvagata chased it, only to get an outside edge to Bairstow behind the stumps.
Last bat Shuvagata Hom c †Bairstow b Woakes 6 (18b 1x4 0x6) SR: 33.33
Fall of wicket 212/7 (58.2 ov); Partnership: 10 runs, 3.5 overs, RR: 2.60 (Shakib Al Hasan 4, Shuvagata Hom 6)
2:53 pm: Tea at Day-1…an action-packed session comes to an end..87 runs and five wickets. Tigers were threatening to take full control, but Moeen and Stokes have pulled things back splendidly…Tamim fell after a sizzling century, Mominul played a sluggish shot to waste his start, Mahmudullah and Sabbir played nothing shots while Mushfiqur was rattled by the blow to his head.
From 171/1, Bangladesh are struggling at 205/6, quashing all the advantage of winning the toss. Can Bangladesh's lower order survive the final session of the first day? Will England mop up the tail and place themselves in a terrific position in this Test match?
Bangladesh are falling apart…Sabbir Rahman becomes the sixth wicket to fall, the fifth in this post-lunch session. What an afternoon for England...Sabbir nibbles at a full delivery outside off, feet caught in the crease, sends a regulation edge to Bairstow's right…good catch!
Sabbir Rahman c †Bairstow b Stokes 0 (6b 0x4 0x6) SR: 0.00
Fall of wicket 202/6 (54.3 ov); Partnership: 1 runs, 1.2 overs, RR: 0.75 (Shakib Al Hasan 1, Sabbir Rahman 0)
2:39 pm: Lapse of concentration from the Tigers skipper, and Mushfiqur Rahim ends up losing his wicket…he came down the pitch, went to flick the ball to leg and the inside-edge carried quickly to leg slip where Cook grabbed it as it came off his chest…England are on a roll…Moeen delivers once again, his third scalp of the game.
Mushfiqur Rahim c Cook b Ali 4 (12b 0x4 0x6) SR: 33.33
Fall of wicket 201/5 (53.1 ov); Partnership: 5 runs, 2.3 overs, RR: 2.00 (Mushfiqur Rahim 4, Shakib Al Hasan 1)
2:20 pm: Another one bites the dust…poor shot from Mahmudullah Riyad, and allows the visitors to come back into this contest. Back of a length outside off delivery from Stokes…and a weak prod from the batsman without any footwork…the edge flies to first slip where Alastair Cook doesn't make a mistake.
Mahmudullah will be livid with himself when he sees the replay…England fighting back!
Last bat Mahmudullah c Cook b Stokes 13 (26b 1x4 1x6) SR: 50.00
Fall of wicket 196/4 (50.4 ov); Partnership: 6 runs, 5.1 overs, RR: 1.16 (Mahmudullah 4, Shakib Al Hasan 2)
2:05 pm: A loose shot from Mominul and Bangladesh lose their third wicket…reward for some excellent bowling from Moeen Ali, this was pushed through flatter and quicker. Mominul was caught in his crease as he went back. He played a good hand, but needed to carry on for a big one like he is renowned for…
Last bat Mominul Haque b Ali 66 (111b 10x4 0x6) SR: 59.45
Fall of wicket 190/3 (45.3 ov); Partnership: 19 runs, 4.2 overs, RR: 4.38 (Mahmudullah 9, Mominul Haque 6)
1:36 pm: Oh no…Tamim falls after reaching his milestone…given out lbw by the umpire, didn't offer a shot and the ball came in with the angle…went for the review but not successful…Moeen Ali strikes, and gives England something to cheer about…crucial breakthrough!
Bravo Tamim…another hundred to his name…another hundred against England…his eighth Test ton and his third against the visitors…incredible knock from the opener, and came at a blistering pace too. Tamim reached his ton in the 40th over.
Last bat Tamim Iqbal lbw b Ali 104 (147b 12x4 0x6) SR: 70.74
Fall of wicket 171/2 (41.1 ov); Partnership: 170 runs, 38.5 overs, RR: 4.37 (Tamim Iqbal 104, Mominul Haque 60)
12:55 pm: Mominul reached his tenth fifty in 18 matches, and carried on the good work post-lunch. Not only he was good through the off, he scored a bulk of his runs down the ground. The last time he crossed fifty was in the second Test against Pakistan at Dhaka on May 2015.
Tamim began positively but could have been dismissed in the 31st over bowled by Adil Rashid…he went for a drive away from his body, the ball flicked the outside edge, but Jonny Bairstow could not reach fast enough to complete the catch.
12:05 pm: Lunch on Day-1…England enjoyed the early wicket, afterwards, the unbroken second wicket stand of 117 between Tamim and Mominul kept the visitors at bay…and the first session goes to the Tigers!
Ben Stokes looked threatening with his spell up to lunch, and gave Tamim a scare in the 26 over. Tamim reviewed the decision when given out down the leg side by the on-field umpire Kumar Dharmasena… UltraEdge didn't spot anything…Tamim survived, although he suffered a painful blow near his ribcage area two balls later.
Mominul played the perfect foil to Tamim, and almost quietly accumulated his runs after his early flurry of boundaries. The last time he crossed fifty was in the second Test against Pakistan at Dhaka on May 2015.
SarfBD: "Mominul's greatest challenge is the gap between Test matches. As he isn't considered for ODIs, he has to wait more than a year to get the taste of international cricket."
England spinners need to bowl with more control, and possibly build pressure with dot balls. If they don't pull up their socks post-lunch, they'll have a long day ahead of them with the pitch drying out after the early moisture, and looking quite conducive for batting.
11:35 am:Tamim continued his rich vein of form against England, and reached his sixth fifty in six games during the second wicket partnership with Mominul. Overall, Tamim now has 20 50-plus scores and seven tons to his name in 44 matches, 83 innings.
In the 15th over bowled by Zafar Ansari, Tamim brought up his fifty with a smart shot….played the paddle sweep, and then raised his bat to the crowd…he needs to keep going and ensure Bangladesh go to lunch with only one wicket down.
Mominul looked more solid with time, and played shots in the V quite often. Whenever he was offered width, the leftie gladly obliged and made the bowlers pay.
Current partnership 100 runs, 20.3 overs, RR: 4.87 (Tamim Iqbal 60, Mominul Haque 35)
10:56 am: In contrasting styles Bangladesh batsmen consolidate…Tamim took 20 balls to get off the mark, while Mominul smashed two fours in the first 10 balls faced.
Tamim managed to tuck away anything too straight on the leg side, and became more busy at the crease after Mominul's arrival. The southpaw from Chittagong was looking more assured as his innings progressed, and began punishing the loose balls more regularly.
Mominul got going early with a flurry of boundaries, and looked positive from the outset, in his body language as well. He took full advantage of the freebies from Woakes, and ensured he and his partner did not get bogged down after the loss of Imrul's wicket.
Current partnership 64 runs, 10.4 overs, RR: 6.00 (Tamim Iqbal 45, Mominul Haque 14)
10:17 am: Gone…a soft dismissal for Imrul Kayes and England strike early…Chris Woakes gets the first wicket…not with the best ball he bowled in cricket…it was short, wide, sat up to be punished…Imrul played the cut but didn't keep it along the ground…Ben Duckett at backward point jumps and takes a smart catch.
It doesn't matter how they come, a wicket is a wicket…the scoreboard says so.
Imrul Kayes c Duckett b Woakes 1 (3b 0x4 0x6) SR: 33.33
Partnership: 1 runs, 2.2 overs, RR: 0.42 (Tamim Iqbal 0, Imrul Kayes 1)
9:42 am: Hello and welcome to the final Test match of the series…Bangladesh and England lock horns once again after the engrossing encounter at the port city which saw the visitors go one-up on the last day.
Bangladesh skipper Mushfiqur Rahim had the luck on his side as the coin was tossed, and opted to bat first.
"It looks a dry wicket," said Mushfiqur.
But he said batting may be easier than Chittagong. Also confirmed that Shuvagata Hom comes into the side…therefore, four-pronged spin attack for the Tigers.
"We'd have had a bat," said Cook. "I think this may spin more and more as the game progresses."
Earlier, Mark Ramprakash gave  Zafar Ansari his first Test cap in the England huddle.
Despite an excellent first Test, there are questions for both sides to answer. England's top order struggled to negotiate the Bangladeshi spinners on a difficult pitch and they will have to do better in Mirpur. For Bangladesh, the lack of discipline and consistency over five days cost them…they should bat more responsibly.
Special day for Bangladesh captain…Mushy becomes the third Bangladesh player to feature in 50 Tests after Mohammad Ashraful (61) and Habibul Bashar (50).
Teams
Bangladesh: Tamim Iqbal, Imrul Kayes, Mominul Haque, Mahmudullah, Mushfiqur Rahim(w/c), Shakib Al Hasan, Sabbir Rahman, Shuvagata Hom, Mehedi Hasan, Taijul Islam, Kamrul Islam Rabbi
England: Alastair Cook(c), Ben Duckett, Joe Root, Gary Ballance, Ben Stokes, Moeen Ali, Jonny Bairstow(w), Zafar Ansari, Chris Woakes, Adil Rashid, Steven Finn