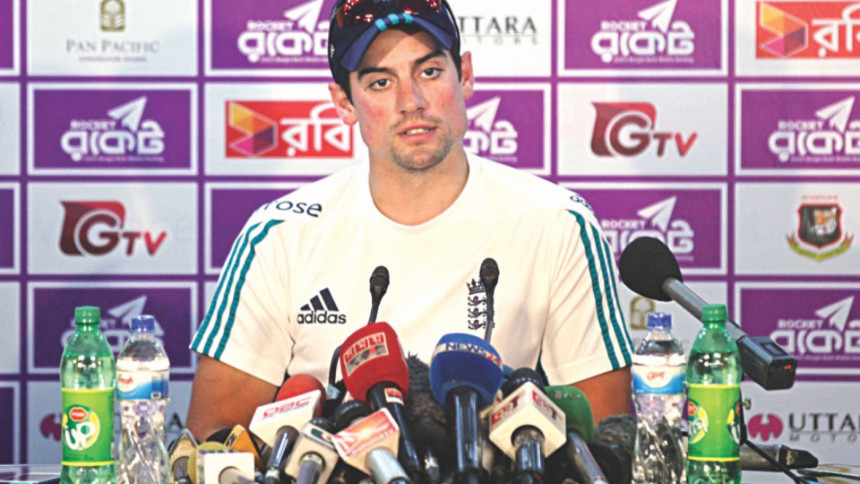 With Bangladesh's stellar show in defeat in the first Test in Chittagong, the winners of the spectacular match have been all but forgotten in the build-up to the second and final game starting in Mirpur today.
Faced with conditions as alien to English Test cricketers as can be imagined, the tourists first kept pace with the home side and then landed crucial blows when it mattered to emerge victorious by a narrow margin of 22 runs on Monday.
The culture shock in the form of the Zahur Ahmed Chowdhury Stadium dustbowl had enough impact on their psyche that three days later, the pitch at the Sher-e-Bangla National Stadium was at the forefront of discussions during the pre-match press conference in Mirpur yesterday.
"I think the rain has produced a bit more green grass than yesterday," skipper Alastair Cook said, allowing some degree of hope that they may get conditions that will favour their seamers, before reining in his optimism. "Whether that will still be on tomorrow morning, we have to wait and see. It looks a dry wicket.
"We think it will turn. Historically Dhaka spins less than Chittagong. I have a feeling that might not be the case -- Bangladesh is looking to use their spinning group as a home advantage. Chittagong was supposed to be high-scoring but it wasn't so high-scoring. I would expect it to turn."
After the Chittagong Test Cook had said that there would be some changes to the winning combination, as with a five-Test tour of India to follow, they are at the beginning of a seven-Test journey across the subcontinent. From his words yesterday, it seems that off-spinner Gareth Batty may be the unfortunate one to make way for left-arm spinner Zafar Ansari.
"He [Ansari] has the ability to take the ball away from the right-handers. From what we have seen in the nets he bowls at good pace as well and he can bat," said Cook about the young bowler. "I thought Gareth got better and better, he settled into it. In an ideal world he would probably like another game. We like the three-spinner, three-seamer option. You did see how dangerous our seamers were when the ball did start to reverse and we did want to give Zafar a go if we could."
Cook did say that there were things to improve upon from their performance in the first Test.
"Hopefully we will improve. Hopefully our spinners can hold length slightly better," Cook said. "I was happy the way the ball reversed. It was very tough at the top of the order, three for 30 both times. It's as tough as I can remember for an opening batter with the ball spinning and skidding. It was a hard introduction. Hope for a better start and that someone goes on to get a hundred. "