Bangladesh trials a good test for hot Ashes, says Handscomb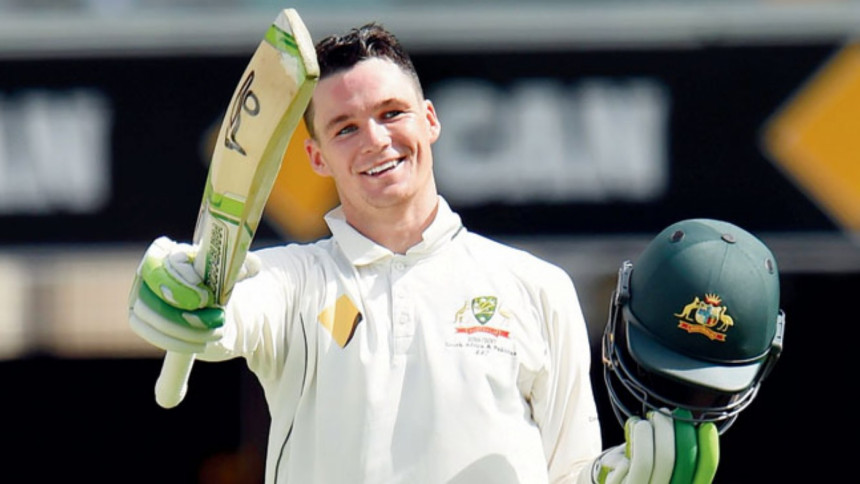 Australia middle order batsman Peter Handscomb says his fighting innings in the nausea-inducing humidity of Bangladesh last month should put him in good stead for the blazing heat of an Ashes summer.
Handscomb battled dizzy spells and dry retching and lost over four kilograms during a dehydrated knock of 82 in the second Test in Chittagong which helped deliver Australia a series-levelling victory.
The vast Australian continent can throw up all kinds of weather but the hosts and visiting England can expect scorching heat through much of the five-test Ashes campaign, which begins in Brisbane on Nov. 23.
Handscomb said the Chittagong trials had prepared him for any kind of extreme conditions Down Under.
"Definitely. More mentally than anything else, (I) can always look back on that now and say I've done that," the 26-year-old told local media.
"If I can survive in heat like that, I can survive in heat at the Gabba or the WACA.
"I don't think I had anything left in the body to throw up. I was trying to take in liquid but the more I took in the sicker I felt.
"It was just a really weird feeling ... it almost makes you focus more on the ball, because you didn't want the weather to be the one that got you out."
Handscomb's knock was compared to Dean Jones's famous 210 against India during the tied 1986 test in Chennai when the former Australia batsman vomited repeatedly and lost control of his bodily functions.
"Deano messaged me that night," Handscomb said. "He said 'mate, jeez, it looked hot over there but not as hot as Madras.'"
Victorian Handscomb has enjoyed a charmed start to his international career with two centuries and an average of 53.07 in his first 10 tests since his debut against South Africa in the last home summer.
He will hope to further enhance his CV against old foes England.
"It's hard to say it's just another Test series, being an Ashes," he said.
"This is essentially the pinnacle of Test cricket.
"There's almost that little bit extra on each ball, each run, each wicket."