Australia win Ashes with crushing victory in third Test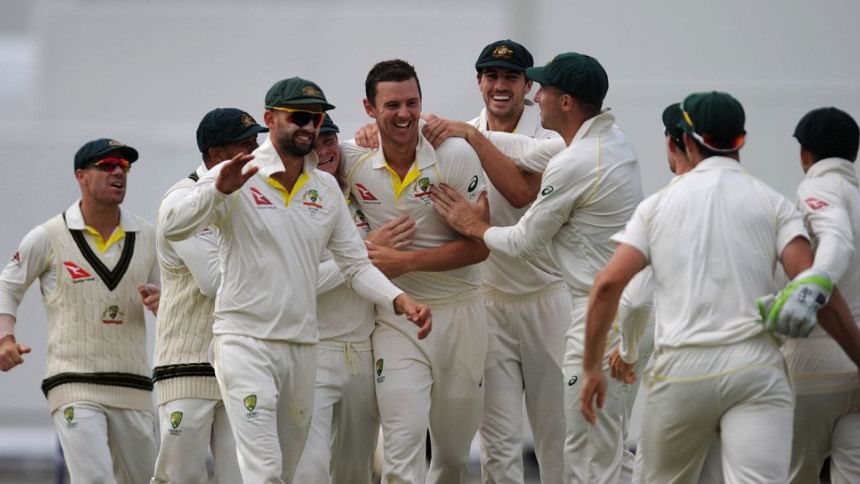 Australia reclaimed the Ashes by winning the third Test at Perth's WACA Ground by an innings and 41 runs on Monday.
Needing 259 runs to make Australia bat again on a day where rain and a water damaged pitch delayed the start, England were bowled out for 218 in their second innings.
Josh Hazlewood claimed 5-48 for Australia, as the hosts took an unbeatable 3-0 lead in the five-match series.
Scoreboard:
England first innings 403
Australia first innings 662-9 (dec)
England second innings
A. Cook c and b Hazlewood 14
M. Stoneman c Paine b Hazlewood 3
J. Vince b Starc 55
J. Root c Smith b Lyon 14
D. Malan c Paine b Hazlewood 54
J. Bairstow b Hazlewood 14
M. Ali lbw Lyon 11
C. Woakes c Paine b Cummins 22
C. Overton c Khawaja b Hazlewood 12
S. Broad c Paine b Cummins 0
J. Anderson not out 1
Extras (lb11, b6, nb1) 18
Total (all out; 72.5 overs) 218
Fall of wickets: 1-4 (Stoneman), 2-29 (Cook), 3-60 (Root), 4-100 (Vince), 5-133 (Bairstow), 6-172 (Ali), 7-196 (Malan), 8-210 (Overton), 9-211 (Broad), 10-218 (Woakes).
Bowling: Starc 17-5-44-1, Hazlewood 18-6-48-5, M Marsh 3-1-14-0, Cummins 19.5-4-53-2 (1nb), Lyon 15-4-42-2
Australia won by an innings and 41 runs
Australia leads series 3-0