I was embarrassed to speak to Messi: Neymar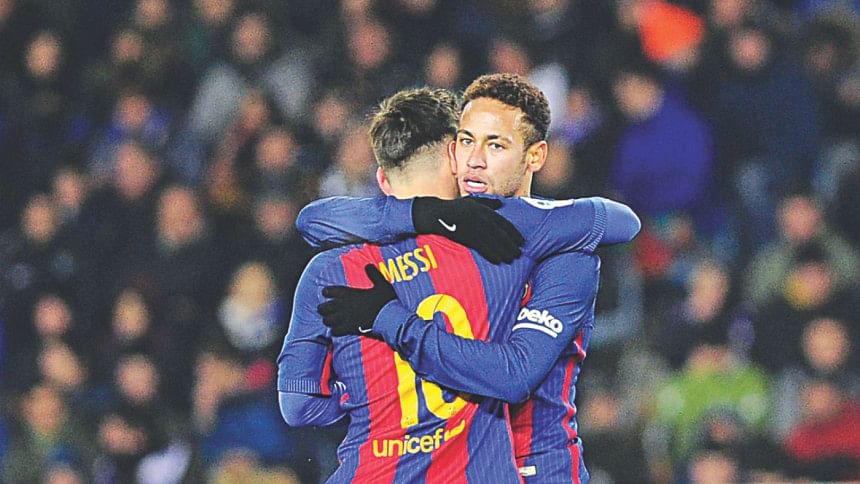 Neymar Junior's transition as a Barcelona star has gone pretty smoothly. The Brazilian excited the Camp Nou with his dazzling displays and formed the deadliest front-three partnership in the world with partners in crime Lionel Messi and Luis Suarez.
Neymar has won La Liga, Copa Del Rey and the UEFA Champions League with Barcelona and is one of their most important players.
However, the flamboyant Brazilian revealed that his first few months in Catalunya were difficult and he felt out of place in the Blaugrana dressing room.
He was daunted by the presence of his idols when he moved from Santos to Barcelona in 2013.
In an interview with Brazilian show 'Caldeirao', Neymar revealed: "I would walk into the dressing room and I would look to one side and see [Lionel] Messi and then I would look to the other side and I would see Xavi, [Andres] Iniesta, [Gerard] Pique and Dani Alves."
"I thought that I was inside a video game.
"One day I was playing with them on the games console and then the next day I was there next to them.
"The first month was very difficult and I was embarrassed to speak to Messi, as these guys were idols to me."
Neymar also felt that his performances in Brazil counted for nothing when he made the switch to Barcelona due to the gap in competitiveness.
"Everything begins from zero, as what you've done in Brazil counts for nothing [in Europe]," the Brazilian forward added.
"You have to prove your worth.
"You have to fight and I had struggles adapting.
"In the end it all worked out thanks to the help of my teammates, family and friends.
"They helped to keep me focused and concentrated."
Asked which Brazilian club he would join if he ever makes the the move back to Brazil, the forward replied: "I'd like to play with Flamengo because I remember one match we played with Santos and we were winning, yet their fans didn't stop supporting the team."