Tamim finally gets the rest he needed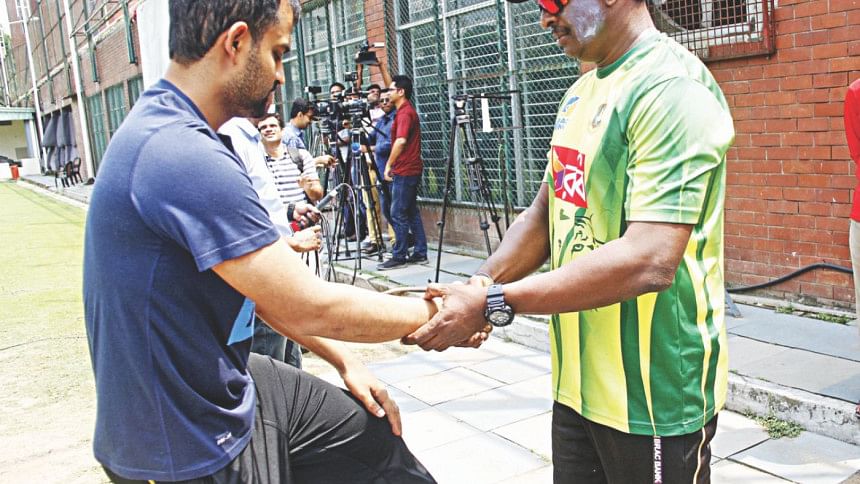 "What Tamim [Iqbal] contributed during the tri-nation Nidahas Trophy in Sri Lanka, he did with lot of pain," said Bangladesh Cricket Board (BCB) physician Dr. Debashish Chowdhury, when providing an update on the left-hander's knee injury and rehabilitation programme yesterday.
"Actually Tamim played the Nidahas Trophy bearing the pain as he considered the team's interest first. And because of that the injured left-knee didn't get enough rest for recovery. Now the most important thing is to give the knee proper rest so that he can fully recovery within the next four to six weeks," said Debashish.
As Bangladesh's next international series is in June against Afghanistan, followed by a tour of West Indies later in the year, Tamim will have plenty of time to rest and recuperate.
"Recently he went to Bangkok where he personally consulted with a doctor and did an MRI. There was no major problem in the report, but he has been suffering from a few minor injuries on his left knee, which was bruised during a PSL (Pakistan Super League) match. We also took opinions from Australian experts and our decision not to intervene, rather [we will] follow a conservative approach," he added.
Tamim informed yesterday that he had sustained the injury while playing his last game against the Quetta Qalandars on March 3 before leaving for Sri Lanka to play in the Nidahas Trophy, where he played the tournament by using injections for pain relief. Although the left-hander flew to Lahore afterwards to play the rest of the PSL matches, he could play only the match against Quetta on March 20 before opting out of the final to fly to Bangkok and consult a doctor.
"I sustained the injury during the last match I played before leaving for Sri Lanka and then I played Nidahas Trophy matches. After the tournament I played one PSL match where I felt the pain again and I didn't take any risks because my career is more important than playing the PSL final," said Tamim.
"There are no problems during batting or even while jogging slightly, but I face problems when it comes to sprint or turning. Hopefully I will be able to run after two weeks since the rehab started from Friday," he added.