One of the best leagues: Mashrafe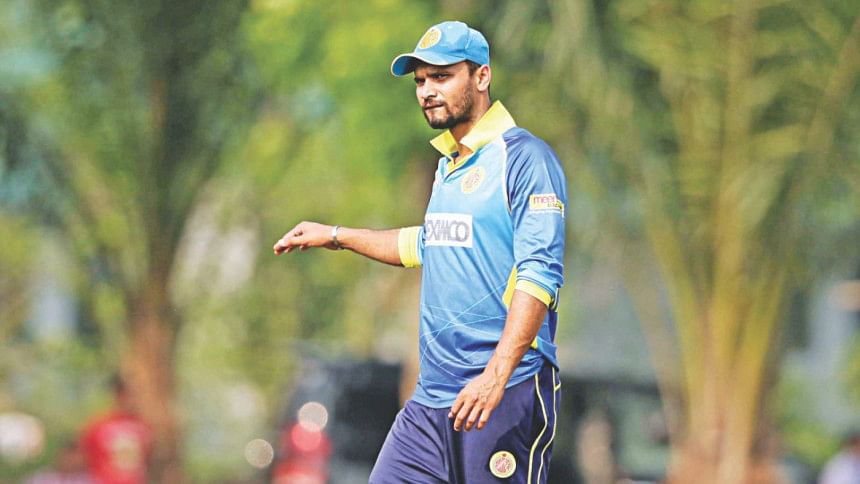 It may seem repetitive to keep uttering the name Mashrafe Bin Mortaza when talking of this year's Dhaka Premier League, but there was no escaping the man yesterday when Abahani clinched their 19th title with a 94-run win over fellow contenders Legends of Rupganj at the BKSP.
At the age of 34 he has created a record for the most wickets taken in a single edition of the DPL, extending his tally to 39 after taking one wicket yesterday. The specialist bowler and sometimes batsman Mashrafe came in at the fag end of the Abahani innings and showcased his big game appetite -- it was the final round of the competition and Abahani's last chance to clinch the title -- with an eight-ball 28 that included four huge sixes, three of them coming in the last over and lifting Abahani to an eventually unconquerable 374.
Arguably the most important player in Abahani's run to the title, Mashrafe was nonetheless his unassuming self after the match when he walked out along with teammates to receive the coveted prize. His real value, however, lies as much in his presence in the dressing room as it does in his numbers on the scorecard.
There was a party atmosphere in the dressing room at the end of a challenging campaign, but Mashrafe was sitting calmly with a satisfied smile on his face.
"When I started playing in 2000, the DPL had a charm which it may not have now. But I remember that and that is with me, so a championship really matters and I am really happy today," the Narail Express told reporters after the win.
True to his perfectionist streak, Mashrafe was not unreservedly happy with Abahani's run this year.
"We have a very heavy dressing room so there's no reason why we shouldn't be champions. But you can't win just with heavy teams these days. But we finished well as everyone contributed. Overall, [Anamul Haque] Bijoy, [Nazmul Hossain] Shanto, Nasir [Hossain], [Mohammad] Mithun, Sunzamul [Islam] did quite well.
"I think our batting also held us back at times. We couldn't chase 240 and 230; I think we should have chased them easily."
Being the veteran player in the league, Mashrafe was also well-placed to comment on the quality of this year's competition, and he seemed pleased.
"No team qualified to the Super League with less than 12 points. Many teams were close to making it to the Super League. It has been one of the best leagues in recent memory."
It may seem surprising to those who have become used to seeing Mashrafe as captain of the Bangladesh ODI team that he was not Abahani captain. It was Nasir Hossain who led them to the title, but upon consideration of his words and a look at his involvement on the field reveals that Mashrafe obviously had a leadership role.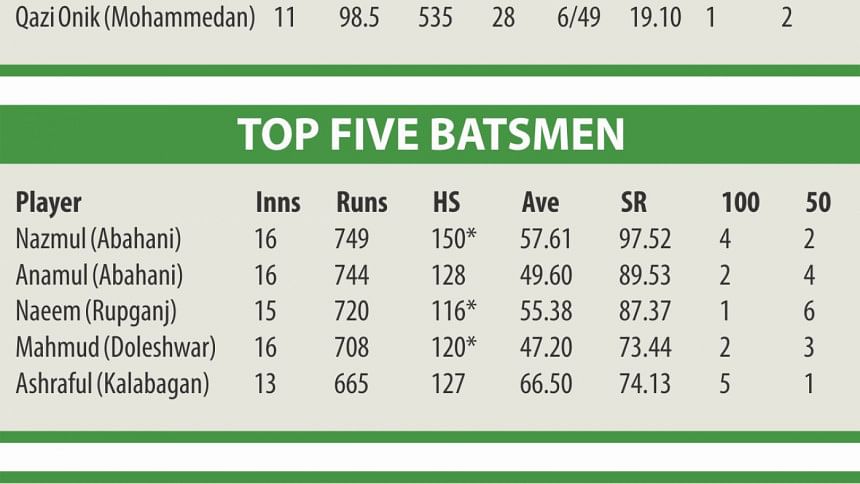 "I tried to ensure Nasir remained the captain," Mashrafe explained. "I took over when I needed to, but overall he was given priority. I wanted to be relaxed. I wanted to think more about my cricket, as I was going to play 16 matches. I also wanted to concentrate on my bowling.
"I was focused as I wasn't playing international cricket. I maintained myself well by working on my fitness, food intake and trained properly. I am quite happy with my rhythm," he added.
Captain or not, there was only one leader in the dressing room, and in most dressing rooms Mashrafe is a part of. The best news for Bangladesh is that during his gap from international cricket, Mashrafe has kept fit and is firing on all cylinders.