Sleepless Tigers return home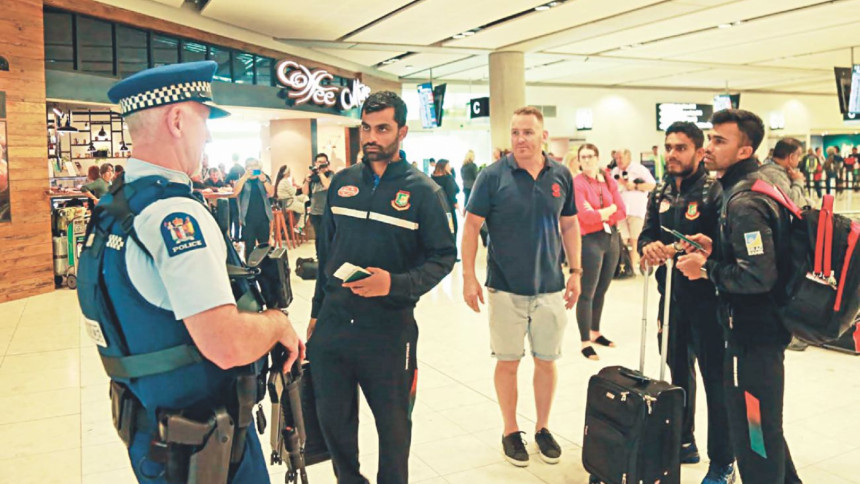 The players of the Bangladesh cricket team returned home yesterday night after a harrowing experience in Christchurch, where they narrowly escaped a terrorist attack as they were headed to a local mosque for Friday prayers.
Upon arrival at the Hazrat Shahjalal International Airport in Dhaka, stand-in Test captain Mahmudullah Riyad and Bangladesh Cricket Board president Nazmul Hassan held an impromptu press conference, but due to the overwhelming media presence and raucous atmosphere it was hard for them to speak and harder still for reporters to hear.
Mahmudullah, still shaken, said that the players had understandably been struggling to sleep since the incident.
"The only thing I can say that we are very lucky," the skipper was quoted as saying by AFP. "With all of your prayers... now we could return here alive. I cannot describe what is going inside us, what we have seen.
"All of us in the team could not sleep properly. The only thing that popped up in our mind was how lucky we are," he added.
Hassan added that as the team had gone through such a traumatic experience, they required a break from cricket. He advised that the players spend time with their families and try not to relive the memories from that day -- when the players were warned against entering the Masjid Al Noor by passersby and quickly got away from the scene of a gruesome attack that has claimed 49 lives.
Perhaps those who witnessed it firsthand will never be able to forget the brutal scenes and it is a certainty that the players will need considerable time to return to living their lives normally.
Bangladesh opener Tamim Iqbal admitted it would take time for himself and others players who were present to heal.
"What we faced here, it will take some time for us to get over what we suffered," Tamim said before boarding the flight for Bangladesh.
However, the left-hander was optimistic that they could deal with the trauma in due time.
"It's good that we are returning to our families because everyone is worried. Hopefully we will overcome this with time," Tamim said.
The Bangladesh team were anxious before leaving the country but during a brief interview with Chinese news agency Xinhua, Bangladesh wicketkeeper batsman Mushifqur Rahim said that the team still love New Zealand.
"New Zealand is one of the best countries in the world. We still love New Zealand," said Mushfiqur, who offered condolences to the families of the victims.
Mushfiqur had earlier tweeted that they considered themselves lucky to have escaped. Asked about whether they had been offered support to cope, Mushfiqur said that it was enough for them to get out of that situation alive.
Paceman Abu Jayed too was not himself and said he would not feel completely okay until reaching home.
"Until I reach Bangladesh, maybe not,"Jayedsaid when asked whether he had stopped feeling nervous.
Soon after the incident, the third and final Test against the hosts was called off following discussions between the visiting and host countries' cricket boards and the Bangladesh team were guarded by armed police before they boarded the flight from Christchurch.