I was using Mashrafe bhai's tactics, says Tamim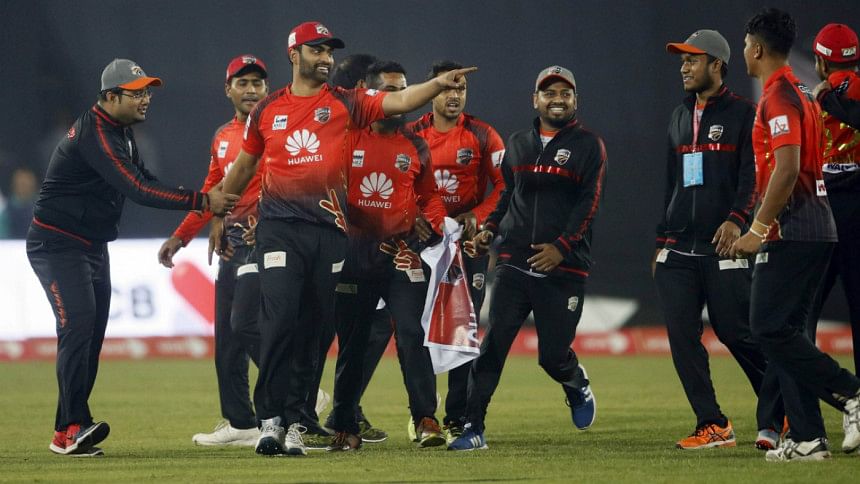 Bangladesh and Comilla Victorians batsman Tamim Iqbal said that he took a leaf out of Mashrafe Bin Mortaza's book to infuse not only imbue himself with confidence but also the team as Comilla Victorians clinched the Bangladesh Premier League.
One might wonder what Mashrafe had to contribute to Tamim's incredible 141-run knock off just 61 deliveries, an innings that saw him become the first Bangladesh batsman this season to strike a ton.
The opener had a different aura about him. He wanted to make the difference and he reserved his best for last. He used a Mashrafe slogan to give the team positive vibes as he clinched his first-ever BPL trophy.
"Truth be told I was very tense but I was using Mashrafe bhai's tactics. He always says this one thing that 'I will win, I will win'. So, in this whole BPL my tactics was this. It was copied from him. From day one I have been saying that no matter what we are winning. I was tense but I tried to infuse positive vibe within the team. They can't read my mind but can hear what I am saying," he said.
He said that his plan went nicely today even as he was having trouble believing that he had played such an otherworldly knock.
"To tell the truth I did not think that I will be able to play an innings like this. But I think I planned it really nicely. Whoever I was batting with, I was telling them not to give wickets to [Sunil] Narine and Shakib [Al Hasan]. In the whole innings I don't think except hitting a six off Narine, I took a risk against him. So this was the key since this two bowlers are vital for them and had the biggest contribution to their success," the hero of today's match concluded.