Fizz to become a peripheral figure in Dhaka Test too?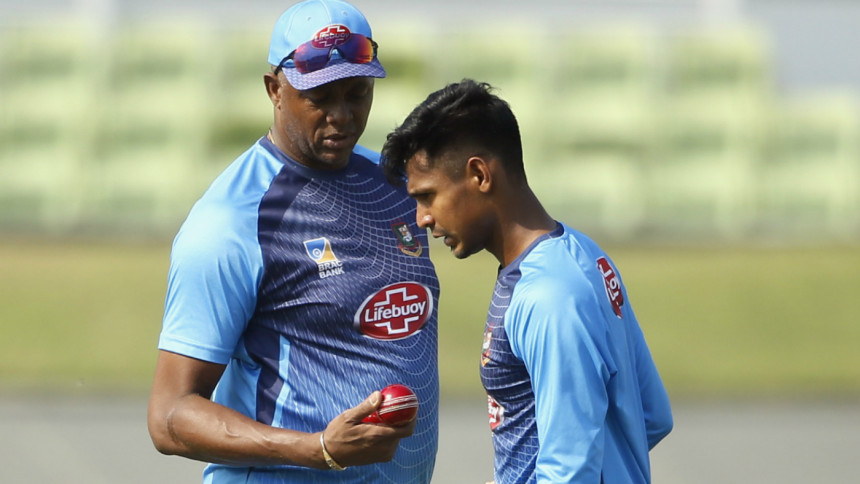 Bangladesh went with a spin-focused bowling attack for the first Test in a spin-friendly surface with Mustafizur Rahman left as nothing but a peripheral figure at Chattogram against the West Indies.
All in all, he bowled four overs in the entire match, which gives an idea of how much Tigers rely on their own pace attack even as Windies pacer Shannon Gabriel was amongst the wickets. Team management had gone with just a single pacer in the first Test at Sylhet against Zimbabwe too, a match where Bangladesh were beaten handsomely by the visitors with their pace attack playing a big role. There was concern among a section of the reporters present at today's press conference, who sparked the usual question about team management's approach lending help to the spinners with spin-friendly surfaces while pacers get little advantage.
Asked if fast-paced wickets would help pacers prepare for the coming series against New Zealand, Shakib said: "I have never felt that [we needed to do that] and fast bowlers will have enough opportunity since we will be playing three Tests in New Zealand. They will have lots of opportunity to bowl there," the skipper said cheekily.
What of Mustafizur then for the second Test then? A peripheral figure again?
Shakib felt that early morning conditions might dictate what role Fizz can play.
"Not sure [whether there will be something for Mustafizur in the wicket]. Generally, Dhaka's wickets lend help to pacers in the morning all the time. Given the weather and since the conditions are cold with some mist present right now [maybe there will be a bit of help]," Shakib said.
However, Tigers do not want to get embroiled in a battle of pace with Windies who boast quality pacers despite the absence of Shannon Gabriel. The Windies pacer terrorised Bangladesh with four quick wickets post lunch on the first day of the first Test. "There is always some help for pacers [at Mirpur] and we are considering that," he added.
Shakib however opined that playing with an open mind was important since it is never easy to judge the wicket. The first Test could have been completely different had the Tigers lost the toss and whether Tigers judge the Mirpur wicket well can only be understood in hindsight after a look at their team selection and performance.
"You cannot always predict the wicket," Shakib said on the difficulty of getting things right balance wise. "Someone might say that the wicket will be like this or that but they can never be sure exactly how the wicket will behave. Mirpur wicket is a bit like that. It's better that not to have too many fixed plans since the surface changes daily in five-day cricket. Having an open mind will work best for the team," he said.
No one can blame the captain for wanting a spin-friendly surface. It yielded good results at home against the likes of England and Australia in the recent past. The idea of Mustafizur's role and the pace attack in general maybe one for the future Shakib to handle but in the broader context of cricket, it is a question of attack-mindedness and proactivity too. After all, when has a balanced pace attack not been congruent with success in Tests?