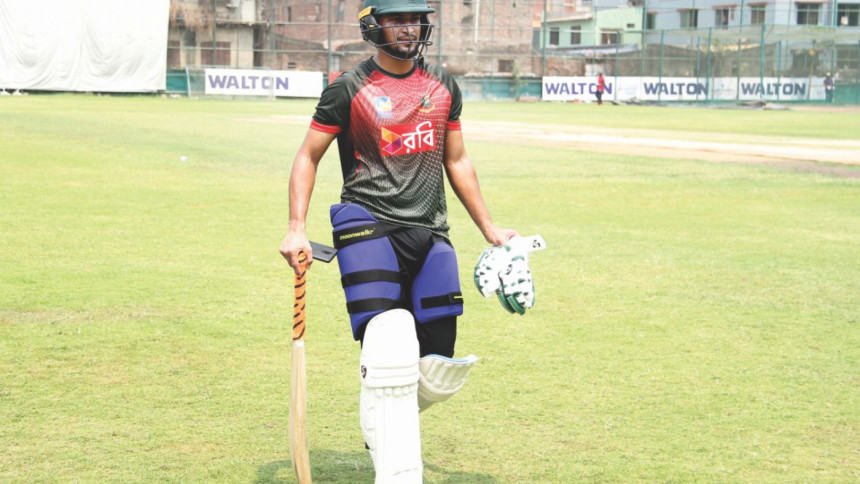 Bangladesh T20I and Test captain Shakib Al Hasan has urged for more domestic T20 tournaments to improve skills for the shortest format of the game yesterday.
"Previously I heard that there will be a T20 tournament beside the Bangladesh Premier League comprising six clubs of the Dhaka leagues. If it happens I think it will help Bangladesh cricket improve in the shortest format of the game," Shakib, who will turn 31 today, told reporters on his pre-birthday celebration at his restaurant, Shakib's 75 Convention Centre, yesterday.
Shakib was unable to play a single game in the Dhaka Premier League as his side Mohammedan could not make it to the Super League.
In light of their heart-breaking last-ball defeat to India in the Nidahas Trophy final on March 18 in Colombo, Shakib yesterday said that Bangladesh have improved a lot as a unit in the shortest format.
"We have proved after reaching the final of the Nidahas Trophy that Bangladesh can play in this format [T20I] as well and it's important for us to continue," he added.
Tamim likely out of PSL and DPL
Meanwhile, Bangladesh opener Tamim Iqbal is suffering from knee pain and is now in Bangkok to consult with a specialist. He is expected to return to Bangladesh by the end of this month. Tamim did not come out to field during the final of the Nidahas Trophy, but the left-hander played a Pakistan Super League match for Peshawar Zalmi before going to Bangkok. It is very unlikely that Tamim will participate in the final of the tournament scheduled on March 25 or take further part for Kalabagan Krira Chakra in the DPL.