Fun and positivity driving Tigers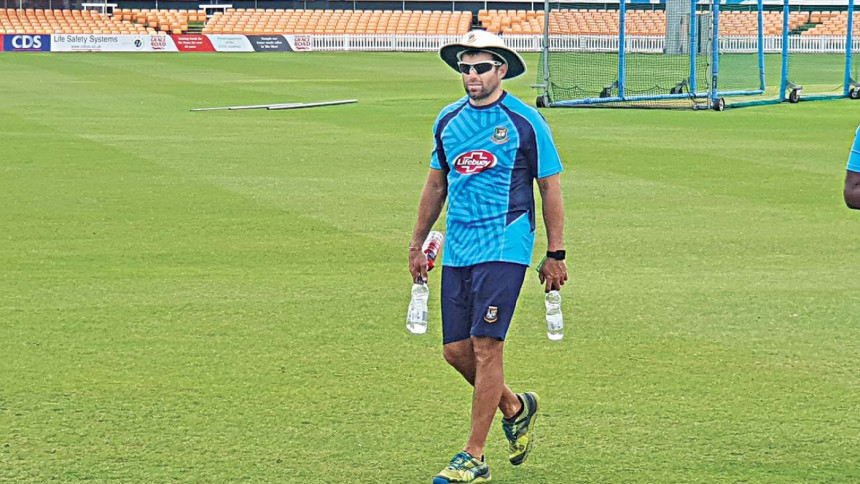 Not far removed from their maiden multi-team trophy won on September 17, the sense of positivity was palpable throughout the Tigers' three-hour practice session at the Leicestershire County Cricket Club yesterday.
Batting consultant Neil McKenzie looked as pleased as the players, and thought that the uptick in batting performance had its roots in practice.
"I think the guys put in a good effort. I think you got to see what good preparation does for a team," McKenzie told The Daily Star after practice ended. "I think the team gelled really well, even the guys who didn't play made contributions."
The former South Africa batsman and consultant, who has slowly but surely been lifting Bangladesh's ODI batting since joining the team in summer 2018, said that fun and competitive practice -- well on display yesterday -- was a difference-maker.-
"I think they should just bring a lot of energy at game time," he said about the players who did not play in Ireland. "I think that's one thing that we've really tried to put an emphasis on -- practising very competitively. So whether you have got the ball in your hand, the bat in your hand, you're trying to stop runs, take wickets... and having a bit of fun, trying to celebrate our wickets. Even the coaches celebrate our wickets at practice. It is really hard on the guys in terms of fasting, it's a special time for them, but the energy is not always up there, so it's about the quality of practice and the competitive nature."
The triumph in Ireland had much to do with the batting as Bangladesh easily chased scores ranging from tricky to difficult -- types of pursuit not considered their forte. McKenzie also stressed on the need for understanding when giving less experienced players opportunities.
"I really like the way the less experienced guys stood up. Especially batting -- it's a tough skill, you need to be backed, you need chances and you need a bit of luck. You look at his [Mosaddek's] first-class record, he's a quality player. There's quite a few of those types of players in our setup. It's a lot about opportunities and understanding. I think in Bangladesh there's not too much understanding when there is a less experienced player. Its hard work at the international level, the more experienced players have had a longer chance at it. There is a lot of competition for places -- you need a little bit of luck and understanding, and you need a little bit of a run.
"It's great to see a guy like Saikat doing so well. It was great to see Sabbir [Rahman] doing so well in New Zealand, getting his first hundred. Soumya [Sarkar] has been really good, Liton [Das] played a nice innings the other day. The whole squad, I can go on and on and on, and that is without bringing in our experienced guys in Shakib [Al Hasan], Tamim [Iqbal] and Mushfiqur [Rahim]. Everybody can gel as a team and we've got a really, really good unit and a good squad."
McKenzie, however, was not getting carried away with World Cup hopes.
"We're not getting ahead of ourselves. We know that West Indies weren't at full strength; the wickets will be really good and this World Cup, you will meet nine other top teams. But it's a very nice, positive, encouraging start for our guys and a confidence booster."