Aaron Finch: Australia
If former Australia skipper Steven Smith and former deputy David Warner had not been handed a one-year ban in March last year following the infamous 'sandpaper-gate scandal' during a Test match against South Africa in Cape Town earlier that month, Australia could have had a different leader in this World Cup. Aaron Finch, who was not even the immediate successor -- only after Tim Paine's five-match winless stint as captain was Finch called upon to take charge -- has already ensured that Australia were the first team to book a place in the semifinal, with two group matches in hand no less. Smashing two hundreds and three fifties, Finch is second on the top run getters' list with 496 runs to his name. Inspired by a 116-ball 100 from Finch, Australia strolled past archrivals England in their most recent encounter to take their place atop the points table. If anyone seems to be in total control, it is undoubtedly Finch, who could also reach the finish line ahead of the pack.
Kane Williamson: New Zealand
Calm, collected and lethal at the same time, Kane Williamson steered New Zealand to a very commanding position in the World Cup. Up until a six-wicket defeat against Pakistan on Wednesday, the Kiwis remained unbeaten in their first six games. However, had it not been for Williamson, things could easily have been worse for the Black Caps. Chasing a modest 241 for six posted by South Africa, New Zealand faltered to four for 80 in the 19th over. And when Williamson got down on one knee and smashed an outside off a slower delivery from Andile Phehlukwayo over mid-wicket in the final over to bring up his ton, the 28-year old took off his helmet and made a simple gesture with his bat towards the pavilion while everyone had anticipated an animated jubilation for ensuring an eventual four-wicket win that would come off the next delivery with a boundary. Williamson's calm nature indicated that he knew it was long from over and that he would keep on rescuing his team, just like he did in the next game with a 154-ball 148 against West Indies.
Virat Kohli: India
For a team where all the players seem to know their particular roles and have been delivering consistently for a considerable amount of time, often the skipper does not have to come up with something extraordinary as just playing his role becomes enough. India skipper Virat Kohli has not yet pulled off something extraordinary for his troops, who are yet to be defeated. While his four fifties in five games is an average display considering his own abilities, India's stern grip at the top-three shows that Kohli is yet to take a wrong step in the flagship event.
Eoin Morgan- England
England skipper Eoin Morgan must be scratching his head and trying to figure out how they have landed in a situation where the hosts are now required to win the remainder of their two matches against India and New Zealand. While Morgan's best display -- a match winning 71 off 148 -- came against a weak Afghanistan side, his worst was reserved for classic rivals Australia at Lord's as the English skipper could only manage four off seven in their 64-run thumping.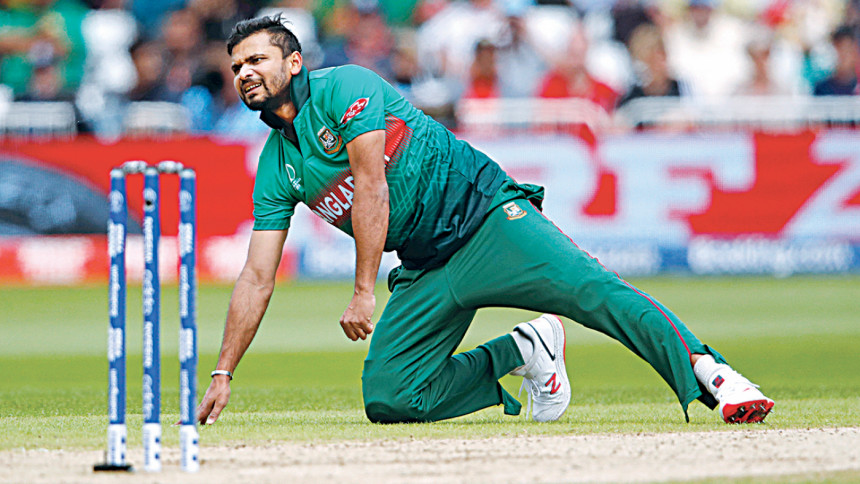 Mashrafe Bin Mortaza: Bangladesh
44 overs, 279 runs and just a solitary wicket -- not very captain-like figures from Bangladesh skipper Mashrafe Bin Mortaza, whose prime task as a frontline pacer is to scalp wickets and contain runs. Considering individual performances, it has not been a dream World Cup for Mashrafe as he had more contributions off the field, such as during the post or pre match conferences, than he had contributed on the field. However, to see Bangladesh among the top-five teams with seven points from as many games, it must be said that the skipper is doing something right to guide his team to that position.
Sarfaraz Ahmed: Pakistan
Pakistan skipper Sarfaraz Ahmed has so far been discussed for almost only embarrassing or wrong reasons. While images and videos of him yawning during Pakistan's high-voltage game against India had been the topic of banter throughout social media, his visible unwillingness to take the strike and put the finishing touch on the game against Australia, where Wahab Riaz's heroics was only complemented by Sarfaraz's hilarious run-out, was widely criticised by journalists and cricket experts the world over. However, it is not the first time that Pakistan have bounced back from such situations. In fact, the results of this World Cup have been identical to those of the 1992 edition -- when Pakistan went on to lift the trophy. And while Pakistan fans would love to see it happen all over again, skipper Sarfaraz, who's highest till now is an unconvincing 55 against England, would need to transform into a pragmatic leader if he is to walk the path of the great Imran Khan, who captained Pakistan in 1992.
Dimuth Karunaratne: Sri Lanka
Even after becoming only the second batsmen to have carried his bat through an innings in the World Cup, Sri Lanka skipper Dimuth Karunaratne could not avert a 10-wicket thumping in their World Cup opener against New Zealand in Cardiff. Karunaratne again saw his team stutter after he had fallen for a valiant 97 -- his career best ODI score -- against mighty Australia in chase of a mammoth 334 for seven. However, Sri Lanka still have their semifinal hopes alive, courtesy of a magnificent 20-run win over England. Karunaratne, who has a comparatively inexperienced team, needs to not only play well but also inspire his troops to achieve what no one expected.
Jason Holder: West Indies
Jason Holder could have guided West Indies to a magnificent win over Australia -- a game that the Caribbean lost by just 15 runs. West Indies required 37 runs from 25 deliveries with three wickets in hand when Holder decided to pull a Mitchell Starc bouncer on the leg stump line but reacted late only to see it ricochet off his gloves and be taken by the keeper. However, it was the best match for Holder in the ongoing World Cup as he scored 51 off 57 before returning economical figures of one for 28 in seven overs. While Holder remained expensive -- conceding 42 runs for three wickets in five overs -- in a dominating seven-wicket victory over Pakistan, Holder is yet to be the captain they need.
Faf du Plessis-South Africa
South Africa were the second most consistent team in this World Cup so far after Afghanistan as Faf du Plessis' men lost five of their seven games with the game against West Indies being washed out and a nine-wicket victory over Afghanistan. While du Plessis could point out factors such as Dale Steyn's injury and Lungi Ngidi's unavailability for the same reason in crucial matches, the skipper himself failed at crunch moments. His decision was also questioned when he opted to bat on a relatively slow track in Southampton against a spin-heavy India. Du Plessis's two fifties in the tournament, which came against Bangladesh (62) and Pakistan (63), were all for lost causes, indicating the impact he had for a team who have already exited the tournament.
Gulbadin Naib-Afghanistan
"We are already drowned darling, but we'll take you with us." were the words of Afghanistan skipper Gulbadin Naib ahead of their 62-run thrashing at the hands of Bangladesh. As it stands, that was the highest level of threat he posed in the tournament. Naib's highest score in the tournament -- a 75-ball 47 against Bangladesh -- never looked threatening. And while Naib could be credited giving India a good scare in a nail biting encounter, the only thing that the Afghans can do now is focus on their captain's words and make it difficult for Pakistan and West Indies.