Bangladesh are knocked out of the World Cup after their 28-run defeat against India at Edgbaston in Birmingham today. 
Despite an unbeaten 38-ball 51 from Mohammad Saifuddin, Bangladesh were bundled out for 286 runs in their chase of 314 for nine posted by India in Birmingham today. After the Tigers were left reeling on 179 for six in 39.5 overs, a 66-run seventh-wicket stand between Sabbir Rahman and Saifuddin gave a glimmer of hope for Bangladesh to win the do or die tie. Although Sabbir was dismissed in the 44th over after scoring a run-a-ball 36, Saifuddin remained unbeaten. Jasprit Bumrah took two wickets with back to back deliveries in 48th over -- removing Rubel Hossain and Mustafizur Rahman -- as Saifuddin's heroic knock went in vain. With this victory, India who are currently on second position, go through to semifinals. 
[Wicket] 48.5, Ban- 286: Mustafizur Rahman b Bumrah 0 (1b 0x4 0x6) SR: 0.00
A brilliant yorker by Jasprit Bumrah that gets through Mustafizur Rahman even before he could react. That's it Bangladesh lose by 28 runs. Bumrah will be on a hattrick when he bowls in the next match.
[Wicket] 47.5, Ban- 286/9: Rubel Hossain b Bumrah 9 (11b 1x4 0x6) SR: 81.81
Rubel could not get his bat in time to defend a well directed yorker from Jasprit Bumrah. He goes for nine.
47.3, Ban285/8
A brilliant shot from Saifuddin. He smashes it straight down the ground for a glorious boundary. Brings up his fifty.
[Wicket] 44.2, Ban 257/8: Mashrafe Mortaza c †Dhoni b Kumar 8 (5b 0x4 1x6) SR: 160.00
After smashing a six in the previous delivery, Mashrafe Bin Mortaza gets an edge in the next delivery as he goes for a wild slog. The keeper takes an easy catch. Bangladesh eight down. 
Sabbir departs after reviving a glimmer of hope for Tigers
[Wicket] 43.1, Ban245/7: Sabbir Rahman b Bumrah 36 (36b 5x4 0x6) SR: 100.00
Sabbir Rahman decieved by a slower ball again. He tries to smack a length delivery from Bumrah but misses it completely and loses his stumps. The partnership between the last recognized pair of batsmen has been broken.
Sabbir, Saifuddin star in fifty-run stand
40.6, Ban-229/6
Sabbir Rahman pushes Chahal down the ground to take a single. That brings up a fifty-run stand between Sabbir and Saifuddin in just 46 balls. Bangladesh require another 86 from 56 balls.
37.3, Ban-200/6
After hitting two back to back boundaries, Sabbir Rahman plays one towards the third man off a Mohammad Shami delivery to take a single. That brings up the 200 for Bangladesh.
[Wicket] 33.5, Ban 179/6: Shakib Al Hasan c Karthik b Pandya 66 (74b 6x4 0x6) SR: 89.18
Another slower ball from Hardik Pandya and this time he gets Shakib Al Hasan. BIG WICKET. Shakib makes room and tries to play it over extra cover but the lack of pace does the trick again as the ball gets a leading edge. Easy catch for the fielder. That puts a big dent on Bangladesh's hopes of reaching the semifinal.  
[Wicket] 32.2, Ban 173/5: Mosaddek Hossain b Bumrah 3 (7b 0x4 0x6) SR: 42.85
Mosaddek could not pick a slower ball from Jasprit Bumrah as he drags a cutter onto his stumps. Mosaddek tries to play it down the third man but mistimes and gets an inside edge and loses his stumps. Mosaddek departs. Shakib keeps on losing partners and Tigers are in a spot of bother now.
[Wicket] 29.4, Ban  162/4 - Liton Das c Karthik b Pandya 22 (24b 0x4 1x6) SR: 91.66 Shakib is running out of partners as another soft dismissal sees Liton Das lose his wicket. A short-length delivery and after hitting six in the second delivery of the over, this time the ball gained on him. He was late and a easy catch at mid wicket.
28.2, Ban 150/3 - Shakib runs two and everything is happening. Dhoni takes the bails off again. Close call as umpire asks for review. Phew! Shakib survives. Bangladesh also bring up their 150. The all-rounder has hit fifties in each of his innings except the one against Australia when he fell for 41.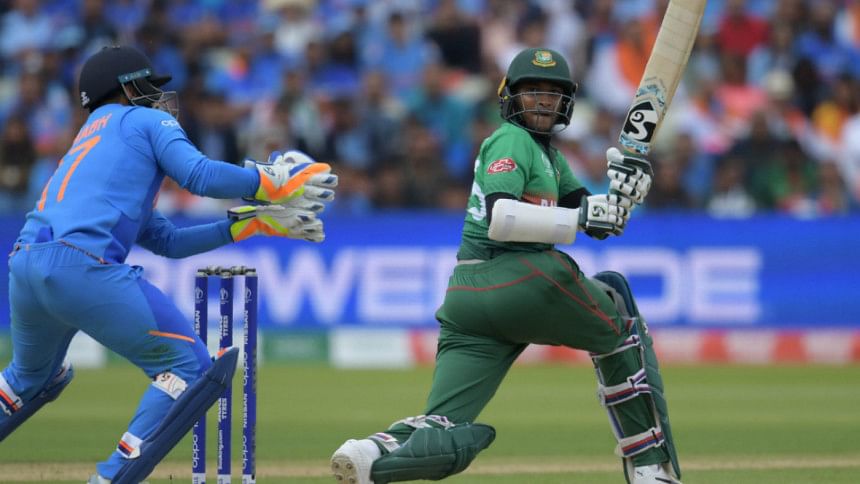 27.6, Ban 147/3 - Shakib brings up his fifty. Shakib cuts a Pandya length delivery towards point and runs two to bring up his fifty off just 58 deliveries.
27.3, Ban 140/3 - Run out chance! Shakib plays Pandya towards mid wicket and runs a single but Liton wants two! Umpire reviews. Liton got back to his crease just in time.
[Wicket] 22.6, Ban 121/3- Mushfiqur Rahim c Mohammed Shami b Chahal 24 (23b 3x4 0x6) SR: 104.34 Mushy on his knees as he looks to sweep Chahal against the turn but is holed out at mid wicket.
19.3, Ban 101/2- 100 up for Bangladesh. The Tigers are rolling along after the departure of both openers with Shakib and Mushfiqur in the middle.
17.6, Ban 88/2: 500 for Shakib. Shakib pulls one of Pandya to run one and in the process reaches 500 runs in this tournament. No batsman in World Cup history has scored this many runs and also taken 10 wickets.
Wicket] 15.1, Ban 74/2 - Soumya Sarkar c Kohli b Pandya 33 (38b 4x4 0x6) SR: 86.84 Soumya looks to slam this over cover and is holed out at extra cover with Kohli taking the catch. Lots of power but did not place it away from the fielder. 
11.2, Ban 51/1: Huge shout for leg-before but umpire gives not out. Kohli goes for the review. The third-umpire looks at it closely and finds that it might have hit Soumya's bat at the same time as it hit his pads. Replay inconclusive and third-umpire stays with the decision of the on-field umpire. Probably going too far down the leg side as well and ball tracking showed it would have clipped the leg stump. Kohli not happy with the onfield umpires though. He is arguing animatedly with the umpires who are calmly explaining the situation. India lose their review.
[Wicket] 9.3, BD- 39/1: Tamim Iqbal b Mohammed Shami 22 (31b 3x4 0x6) SR: 70.96
Tamim Iqbal chops a ball from Mohammad Shami onto his stumps and has to go after a steady start. The left-hander was standing still on the pitch as he looked to guide it down to third man but had no feet movement whatsoever. Pays the price for it. Big wicket. 
Tamim, Soumya give Tigers a decent start
End of over 7, BD- 28/0
Both Bangladesh openers Tamim Iqbal and Soumya Sarkar look comfortable in the middle as the Tigers got off to a good start. Tamim struck three boundaries and moves on to 20 off 26 balls while Soumya is batting on seven off 16 deliveries.
Soumya Sarkar             7 (16b)

Tamim Iqbal                20 (26b)
Jasprit Bumrah             3-1-13-0

Bhuvneshwar Kumar    3-0-10-0
Fizz bags a fifer as Tigers restrict India to 314 for nine
Mustafizur Rahman bagged a fifer to help Bangladesh restrict India to 314 for nine at Edgbaston in Birmingham today.
All did not start well for the Tigers as India won the toss and elected to bat in this crucial matchup. That point was being further driven home when Rohit Sharma was dropped in just the fifth over by Tamim Iqbal off the bowling of Mustafizur Rahman with Sharma's only on 9 and India on 18. India continued to dominate with Sharma striking ton in an 180-run opening stand with Lokesh Rahul.
With the Tigers in disarray, shoulders dropping, wicket came from the most unlikely of sources. Soumya Sarkar removed Sharma after a 92-ball 104, laced with one six and six fours to break the opening stand. Rahul threatened to break lose but Rubel Hossain denied him a ton by removing him for 77. Virat Kohli and Rishabh Pant then started to look for the big runs before Fizz changed the complexion and the tide of the match.
It was Fizz's cutter that saw Kohli holed out at midwicket and the left-armer then removed the dangerous Hardik Pandya for naught in the same over with an angled length-delivery which Pandya poked to wide slip. Fizz's double strike curbed the run-scoring for India. He came back later and picked up Dinesh Karthik. The left-armer ended with a five-wicket haul in the end as he bagged MS Dhoni and Mohammd Shami in the last over. Shakib Al Hasan also bagged one wicket as India reached 314 for 9 after threatening to go over the 350-run mark.
49.6, Ind 314/8 - Mustafizur removes Bumrah. Fullish length ball angled across sixth stump at 130 kph/81 mph, Shami shuffles across to try to create an angle into the leg side but only manages to drag onto the stumps. Just three runs in the over and three wickets to match.
49.6, Ind 314/8 - Mushfiqur runs Bhuvneshwar out. Bouncer outside off stump left alone. Signaled a wide on the line by the umpire and they tried to steal a bye. Mushfiqur underhanded to Mustafizur in front of the stumps at the non-striker's end and he flicked on from a yard away with Bhuvneshwar two yards short. B Kumar run out (†Mushfiqur Rahim/Mustafizur Rahman) 2 (3b 0x4 0x6) SR: 66.66
49.3, Ind 311/7 - Mustafizur removes Dhoni. The young pacer got his fourth in this atch as he removed Dhoni in the last over of the innings with three balls remaining. Short ball fetched another wicket for the Fizz. Bouncer at full pace at 137 kph on fifth stump, Dhoni tried to bully this over mid-on but was beaten for pace leaping on his toes, skied it over the umpire at the non-striker's end and it came down safely into Shakib's hands jogging 20 yards left. MS Dhoni c Shakib Al Hasan b Mustafizur Rahman 35 (33b 4x4 0x6) SR: 106.06
47.2, Ind 298/6 - Mustafizur removes Karthik. Slow off-cutter bouncer swallowed up Karthik.  It was that rubbery wrist of the Fizz that ripped across the ball to throw off Karthik's timing on a short ball angled across on a fifth stump line. He tried to muscle a pull over the ring but the ball knuckled in the air toward Mosaddek at midwicket, who backpedalled left and calls off mid-on to take a simple catch five yards inside the edge of the ring. KD Karthik c Mosaddek Hossain b Mustafizur Rahman 8 (9b 1x4 0x6) SR: 88.88
44.1, Ind 277/5 - Shakib dismisses Pant. Pant went for the slog sweep on a fullish length ball spinning in from fourth stump. He went for the long boundary for the left-hander square of the wicket, did not come close to getting enough power behind it. Mosaddek settled 15 yards in from the rope but produced a shaky effort reaching forward at neck height with palms faced out and fingers pointed up. It bursted through and actually deflected off his shoulder before popping up for him to take on the second effort. RR Pant c Mosaddek Hossain b Shakib Al Hasan 48 (41b 6x4 1x6) SR: 117.07
38.4, Ind 273/4 - Mustafizur removes Pandya. Mashrafe wanted wickets out of Mustafizur in this situation, and how well had he delivered. Angled this on a good length, and wide slip came into play. Pandya had a tentative poke, and it went low to the left of Soumya Sarkar, who made no mistake. HH Pandya c Soumya Sarkar b Mustafizur Rahman 0 (2b 0x4 0x6) SR: 0.00
38.2, Ind 273/3 - Mustafizur removes Kohli. That cutter again from Mustafiz that did the trick. May have stuck in the pitch for a bit more than Kohli expected. He was aiming for that short boundary once again, and he placed it right down Rubel's throat. Kohli fell for the first time in six knocks without getting to at least 50. 
V Kohli c Rubel Hossain b Mustafizur Rahman 26 (27b 3x4 0x6) SR: 96.29
32.4, Ind 195/2 - Rubel removes Rahul. No century here for Rahul, as he looked to slash away a ball that was a touch too full for the shot he looked to play. Took the outer edge - may have been a change of pace too - and droped away to Mushfiqur Rahim's right. He took a good catch low down to his right. KL Rahul c †Mushfiqur Rahim b Rubel Hossain 77 (92b 6x4 1x6) SR: 83.69
29.2, Ind 180/1 - Soumya removes Sharma. A slower off-cutter and Sharma, upon completion of ton, looks to slice it over extra cover but is holed out as Liton Das takes the catch. Sharma c Liton Das b Soumya Sarkar 104 (92b 7x4 5x6) SR: 113.04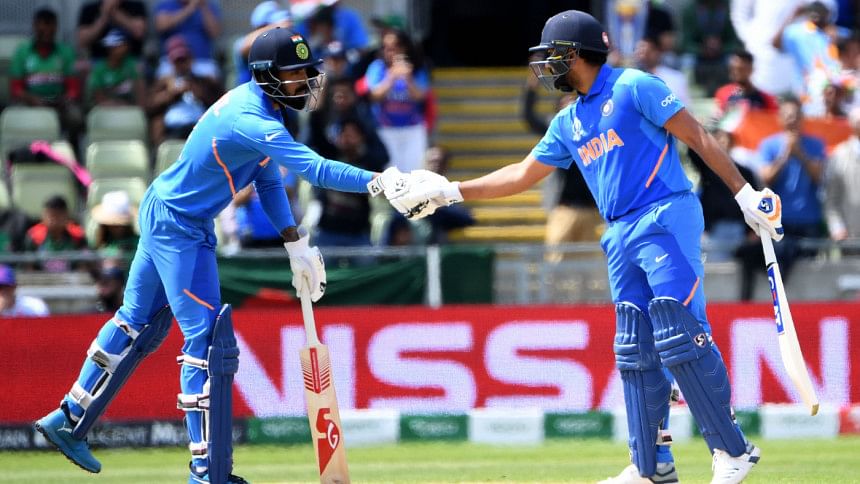 28.6, Ind 176/0 - Sharma strikes ton. Having survived a dropped catch in just the fifth over of the innings while Mustafizur Rahim was bowling, Rohit Sharma has capitalized fully to strike a ton. Tamim Iqbal dropped him while he was batting on only 9 runs.
18.2, Ind: 111/0 - Rahul brings up fifty. Lokesh Rahul flicks Rubel off his pads in the second delivery of the over following a classic straight drive to welcome Rubel to the bowling crease in the first delivery. 
After 17 overs, drinks has been called at Edgbaston. Plenty to ponder for Bangladesh skipper Mashrafe Bin Mortaza as India reach 99 without loss in 17 overs.
14.4, Indi: 85/0 - Rohit Sharma reaches his 50. Bangladesh had pulled things back through Shakib Al Hasan and Mashrafe Bin Mortaza conceding just nine runs in four overs after the first Powerplay. But Shakib bowls a long hop at Rohit Sharma, and the Indian opener hammers it over midwicket for six, and a ball later drives to sweeper cover for a single to bring up his half-century off just 45 balls. 
India 69 without loss after 10 overs. Sharma 38 (29b, 4x4, 2x6), Rahul 28 (32b, 4x4, 0x6); Mashrafe 2-0-20-0, Mustafizur 2-0-23-0.
Bangadesh bowlers have failed the early-overs test for the fifth time in seven matches this World Cup. It was the fifth time that they failed to take a wicket in thie first 10 overs. They could have picked up the crucial wicket of Rohit Sharma, then on nine, in the fifth over had Tamim Iqbal not dropped a catch. But the missed opportunity and poor bowling from Mashrafe Bin Mortaza, Mohammad Saifuddin and Mustafizur Rahman sees India score 69 without loss after the first 10. That is the most Bangladesh have conceded in the first Powerplay in this World Cup so far -- two more than the 67/0 England scored in Cardiff on June 8.
4.4, Ind: 18/0 - Tamim drops Sharma on 9! If there was a fielder Mashrafe Bin Mortaza would have picked to get under this miscued pull from Rohit Sharma off Mustafizur Rahman, it would have been Tamim Iqbal. But Tamim runs around from deep square leg, gets there, and just drops the ball. An early wicket was what Bangladesh desperately needed against a top-heavy Indian lineup, and an early wicket is what Tamim let slip from his hands. Will be interesting to see what this does to the Tigers' body language. 
India captain Virat Kohli won the toss and elected to bat first in their crucial game against Bangladesh at Edgbaston in Birmingham today. 
Both teams made two changes to their side. Pacer Rubel Hossain replaces Mehedi Hasan Miraz while Sabbir Rahman comes in in place of yet-to-be-fit Mahmudullah.
India's two changes are: Pacer Bhuvneshwar Kumar replacing spinner Kuldeep Yadav and batsman Dinesh Karthik replacing all-rounder Kedar Jadav.
Playing XIs: 
Bangladesh: Tamim Iqbal, Soumya Sarkar, Shakib Al Hasan, Mushfiqur Rahim(w), Liton Das, Mosaddek Hossain, Sabbir Rahman, Mohammad Saifuddin, Mashrafe Mortaza(c), Rubel Hossain, Mustafizur Rahman
India: Lokesh Rahul, Rohit Sharma, Virat Kohli(c), Rishabh Pant, Dinesh Karthik, MS Dhoni(w), Hardik Pandya, Bhuvneshwar Kumar, Mohammed Shami, Yuzvendra Chahal, Jasprit Bumrah
India have just lost their first match against England following a nervy win against Afghanistan while Bangladesh are hanging there with three wins against three defeats and a washed-out affair.
A win for India would ensure a semifinal berth for the two-time champions while extinguishing the slimmest hopes for the Tigers.
The India-Bangladesh contests have, in recent past, produced some nail-biting finishes and heated moments both on and off the pitch, and given the hig stakes of this match, it would be a surprise if this one goes without any incident.