AB, one of the 'good' people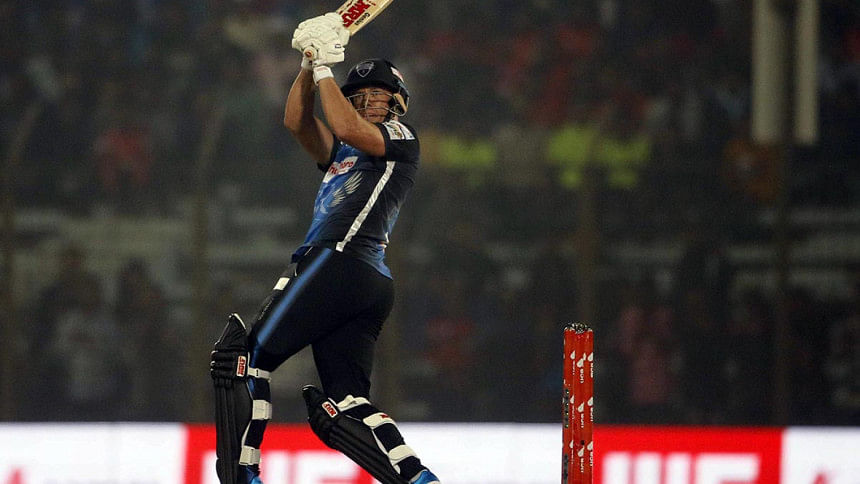 Comfort matters to AB de Villiers and he spoke of why the Riders outfit suits his kind of cricket.
After a fantastic knock against the Dhaka Dynamites, where AB struck a masterful ton to help his side Rangpur Riders go top of the table, he said that he did not much care about making centuries. If that attitude is surprising to some, his view on franchise cricket and what matters, gives a sneak peek into the mindset of the batsman.
Known as Mr 360 for his ability to use all the angles present on a cricket field while playing his shots, his arrival has coincided with Rangpur winning all of their last four matches. AB shared the team's secret.
Asked if he was magic, AB said: "I would like to think so.  I enjoy playing for this team. They are all good people. I feel very lucky to be playing for this team since they are all very nice human beings and that's always nice."
He is a team player first and foremost and that attitude makes him dangerous for the opposition and a reliable guy for his teammates. Yesterday Rangpur were in a bit of trouble early on, losing two wickets for five runs. AB spoke of his approach: "I got myself to focus on the basics and I really love those situations where the team is in trouble and I can play my part in saving us and getting us back on track."
A team player through and through, he had insisted that his partner, toe-to-toe with him go for the hundred. "It was special to finish the game. I batted in the middle order most of my career. If you look at the stats, the middle order players don't score a lot of hundreds. They finish the games and that's the way I have brought myself up to finish the games. Get a not out."
I told Alex to get his hundred so that he can get two in a row but he said he also doesn't care about that. We just tried to play normal cricket till the end," he said.
The environment of the Rangpur side has been key to AB de Villiers delivering early in this tournament. The comfort mattered to him even as he came here for just six matches. He cited why the Rangpur outfit suited him.
"In the past, here and there sometimes, I felt a little bit uncomfortable, cause not everyone was like for the team. This team definitely, I feel very comfortable cause we all think similar in a way so I enjoy playing with really good people," he said.
AB divulged why it was getting hard for him to continue international cricket and the reason he had to leave it. His family is everything to him.
"One of the main reasons I stopped playing is because it's too hectic. It was really important for me to find that balance to play cricket and be with my family.
"Family is the most important thing in my life so that's how I plan my schedule. Once I did, people had to talk but I think I need to get back to those two boys and my wife. That's ultimately why I stopped playing international cricket so that was the thinking behind it. I think when I come back next year, we would plan a little bit better," he concluded.