'Better but yet to hit benchmark'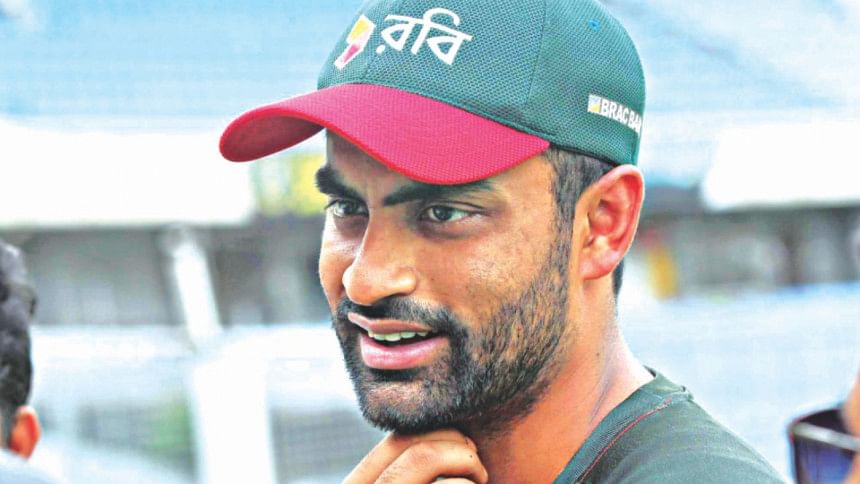 Tamim's injury was never something operative. It was totally based on rehabilitation which he had to undergo and I think he did a good job overcoming the knee injury. But still these types of injuries have the possibility to occur again and it's important for him to continue strength training properly. 
--Debashish Chowdhury, BCB's chief physician
Tamim Iqbal is well past those days when many would raise their finger towards his efforts at maintaining fitness and those who visited him at the Shere-e-Bangla National Stadium in Mirpur over the past two months had found good reason to praise his hard work during his rehabilitation programme.
So, it was no surprise when the left-hander said yesterday that he was feeling fitter than ever and was thrilled with the progress he had made in that aspect ahead of the of the Tigers' three-match T20I series against Afghanistan in Dehradun.
"I think I have ticked every box in the fitness column. And as far as strength is concerned, I'm now feeling better than before. I was going through rehab for the past two months and hopefully I have overcome all the problems regarding my injury," the experienced campaigner told reporters in Mirpur yesterday before flying to England to take part in a T20I for the Rest of the World XI against West Indies at Lord's on May 31.
"Ï am feeling better than ever but this is not the benchmark. I can go to a much better position from here. There are many in my team who are in a much better position than me and I have to work hard if I want to match them," he continued.
The 29-year-old has not taken part in a competitive game since missing the Pakistan Super League final in Karachi in the last week of March due to a left knee injury.
At this moment, no discussion can be complete without mentioning the 'Rashid factor' in the upcoming series and there is perhaps no one better than Tamim to provide some insight on the matter.
Tamim had the chance to follow Rashid Khan closely as captain of the Comilla Victorians in the Bangladesh Premier League, while T20I captain Shakib Al Hasan has been playing with the leg-spinner in the IPL for the Sunrisers Hyderabad.
However, Tamim believes that those insights would not be sufficient for handling the Afghan spinner, instead he reiterated that the most important thing would be to execute the plans in the middle.
"His quick-arm action is very difficult for batsmen. Another thing is that Rashid is more accurate than he was six months ago. He is also getting success and bamboozling top batsmen but it doesn't mean it will not be possible to play against him. No doubt he is the best T20 bowler in the world at this moment, but we overcame many challenges before to play good cricket," Tamim said confidently.
"We may be making a lot of plans against him with all the inside knowledge, but the main issue is to execute the plans. If you think too much about any issue then you may even fail to do the things you normally do well," he added.
Regarding the Lord's game, which has been arranged to raise funds for Caribbean stadiums damaged by Hurricane Irma and Hurricane Maria in September 2017, Tamim said: "It's a privilege to be a part of a good cause. I'm excited and will hopefully play good innings," said the only Bangladesh batsman who has his name on the Lord's honours board.