'We had a lot to prove'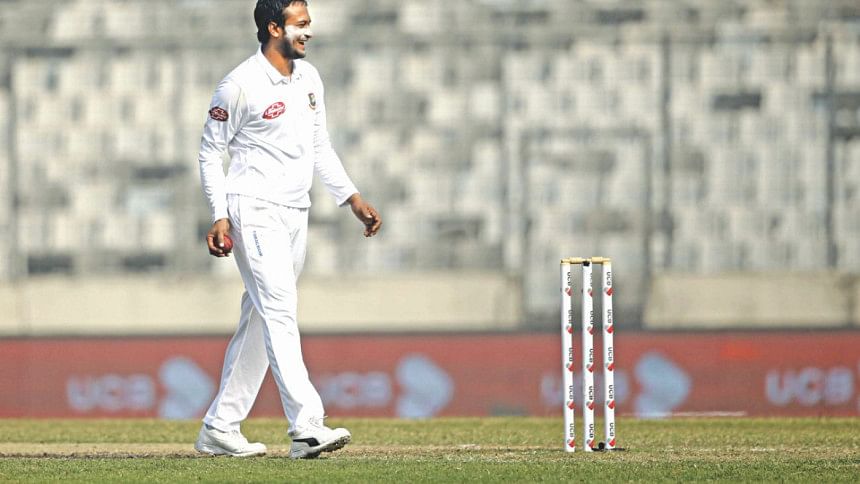 In his very first assignment after being reappointed as Bangladesh's Test captain, Shakib Al Hasan faced the humiliation of being bundled out for the country's lowest Test score of 43 runs in Antigua, which was the first act in a 2-0 thrashing in the Test series against West Indies in July this year.
He missed Bangladesh's next Test series -- the home assignment against Zimbabwe last month -- but the scar left by that Caribbean humiliation kept haunting the champion cricketer as he returned for another series against West Indies. This time, however, it was at home and he had different intentions.
It was the West Indies pace attack in their conditions that rattled the Tigers. Shakib came up with a similar plan to use their own conditions and included four spinners in the lineup.
And it was the spinners who took all 40 wickets in the two-match series as the Tigers surpassed their own record of the spinners taking 38 wickets against England in 2016 at home.
Bangladesh went on to clinch the series 2-0 with a scintillating innings-and-184-run win over the West Indies. It was also Bangladesh's first ever innings win in Test cricket over their 18-year journey in the longest format.
"It was not about answering them back, but there is always some advantage on home soil. They took the advantage in their conditions; we did the same. Obviously after losing in that manner there was a lot to prove for us, at least on our own soil. We were able to do so and I would like to thank all the members of the side who had the belief before the series," Shakib, who was adjudged player of the series for his captaincy, told reporters in Mirpur yesterday.
"To be honest, I was very demanding in this series as I was expecting more from everyone. Everyone tried from their end and some were successful and some were not, but the belief was there in everyone. All the members want to contribute for the side every time, but this time the urge to contribute was seen to be more."
The cricketers may not openly admit that revenge was a factor but there were some really motivating words from Shakib ahead of the series as he urged his charges not to forget the defeat in the West Indies.
"I believe none of those who were in the West Indies expected such a performance. We had a meeting after losing in such a manner and we managed to come back hard in the ODI and T20I series. As we were unable to do well in Tests, there were a lot to prove for us.
"We have been playing Tests for 18 years and have played more than 100 Tests. We played against smaller teams in that period. So, to achieve our first ever innings victory here and whitewashing a team at home for the first time... I think it was a big gain for us."