5 Top stories to know today
News in brief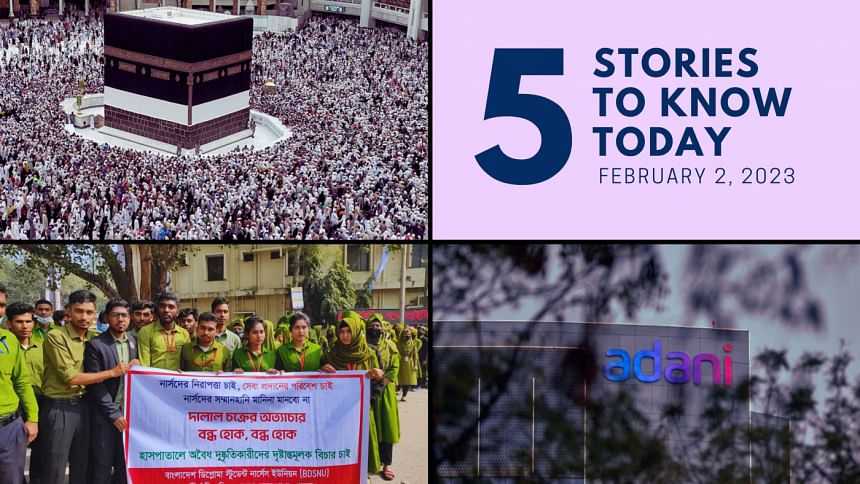 If you've missed all the other latest headlines today, worry not — we got you covered! Here's a quick round-up of what's going on today. 
Through a joint meeting of the opposition parties in New Delhi this morning, India's lawmakers demanded that a joint parliamentary committee or one monitored by the Supreme Court probe the allegations of stock manipulation by Adani group.
Congress also took a swipe at Adani Enterprises over its decision to withdraw its share sales worth 20,000 crore rupees, saying Gautam Adani speaking of being "morally correct" is like his "Prime Mentor" preaching humility, sobriety and large-heartedness.
Over a year after his wife filed a case accusing cricketer Al Amin of torturing her, Mirpur police today pressed charges against him. The cricketer was also accused of demanding dowry from her. According to the charge sheet, the charges brought against Al Amin were primarily proven true and he should be brought under trial. On September 6 last year, the High Court granted him eight weeks' anticipatory bail after he surrendered before it. 
Former BNP leader and missing Brahmanbaria-2 constituency candidate Abu Asif Ahmed was found today in the city's Bashundhara Residential Area. The family of Abu Asif Ahmed, former president of Ashuganj BNP, kept alleging that he was missing, but an election commissioner said after analysing the circumstances, it seemed to them that he went into "hiding." Only Abu Asif can clear the mystery behind him going 'missing', now that he has finally been found in the capital. Yesterday, expelled BNP candidate, Abdus Sattar Bhuiyan — now backed by Awami League — won the by-polls by a wide margin. 
The package for performing hajj, both under private and public management is set to become pricier.  Hajj Agencies Association of Bangladesh has announced the package for performing hajj under private management this year, fixing the minimum cost at Tk 6,72,618, which is about Tk 1.5 lakh more than last year. Meanwhile, government on Wednesday announced the minimum rate of hajj package at Tk 6.83 lakh to perform hajj this year under government management which is around Tk 1.61 lakh more than last year.
Interns and student nurses have been staging demonstrations for the third consecutive day today demanding removal from Pabna General Hospital of agents of private clinics and diagnostic centres. According to the demonstrators, an agent assaulted a student nurse at the female medicine ward in the hospital around noon on Tuesday. The nurse was protesting the incident of an agent, Saddam Hossain, taking extra money from a patient. Due to their work abstention, regular health service is being hampered at the hospital, though emergency services remain normal.