5 Top Stories to Know Today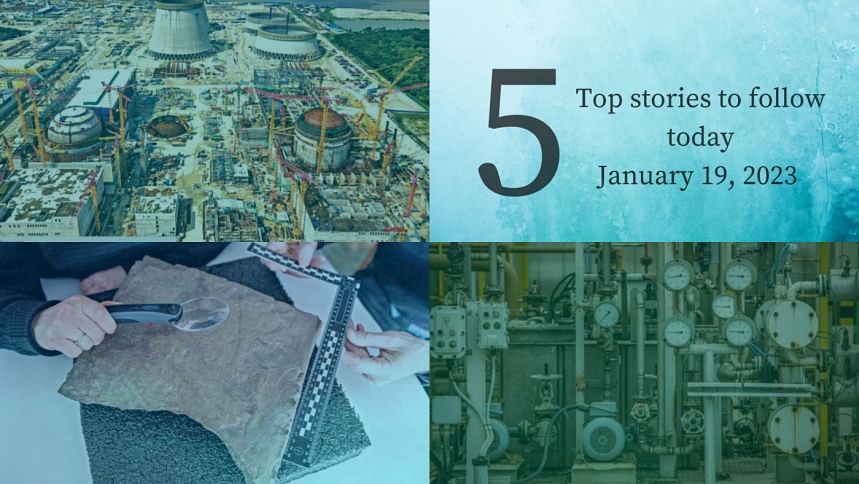 Dear readers, here is a quick round-up of the top stories to look out for today.
The country's first nuclear power plant suffered a setback as the US sanctioned Russian ship carrying equipment for Rooppur Nuclear Power Plant is now heading back to Russia instead of offloading at West Bengal's Haldia Port.
Russian flag carrier URSA MAJOR was supposed to reach Mongla Port for the Rooppur Nuclear Power Plant on December 24. However, the US embassy in Dhaka informed Bangladesh on December 20 that the vessel carrying the goods was not URSA MAJOR, but Sparta 3, which faces US sanctions in connection with Russia's invasion of Ukraine.
The National Curriculum and Textbook Board has been stuck in a loop of controversies centring school textbooks with academics and some NCTB officials blaming negligence of writers and editors, insufficient training and lack of serious punishment for errors.
In 2013, textbooks contained mistakes that was widely criticised. However, authorities haven't manage to change things since then as this year's books too were not error-free.
There is also an allegation of plagiarism in one of the textbooks which was distributed free among the students in line with the fresh curriculum introduced on the first day of this year.
But no punishment has been handed to any writer or editor for the mistakes and the only visible action was transferring a few NCTB officials or making them OSD.
About two billion tonnes of carbon dioxide are being removed from the atmosphere every year, according to a report published on Thursday, but nearly all of it is accomplished through forests, despite growing investments in new technologies.
The independent report, led by the University of Oxford, is the first to assess how much CO2 removal the world is already achieving - and how much more is needed.
It estimates that roughly 1,300 times more carbon dioxide removal from new technologies — and twice as much from trees and soils — are needed by 2050 to limit temperatures to well below 2 degrees Celsius above pre-industrial temperatures, as set out in the Paris Agreement.
Due to government interventions, the independent oversight of the Bangladesh Energy Regulatory Commission is being compromised, crippling its ability to ensure transparency in the sector, energy at a reasonable cost, and consumers' interest protection.
Following public hearings and a quasi-judiciary process, the BERC determines tariffs, issues licences, and oversees dispute settlement in the power and energy sector.
But bypassing the BERC, the government hiked gas prices for factories, power plants, and for hotels and restaurants.
The new prices, which are 14.49 percent to 178.88 percent higher, will be effective from next month.
Norwegian archaeologists believe they have found the world's oldest runestone inscribed almost 2,000 years ago, making it several hundred centuries older than previous discoveries.
The square brown sandstone rock, measuring about 30 by 30 centimetres (12 by 12 inches), was found during the excavation of an ancient burial ground in late 2021, at Tyrifjorden northwest of Oslo, ahead of construction on a railway line.