Jaya Ahsan
After taking both Dhallywood and Tollywood by storm with her blinding beauty and undeniable talent, Jaya Ahsan has taken on a different role in her upcoming film, 'Kantho'. In this interview, the Bengali beauty delves deep into what makes this film so unique and powerful.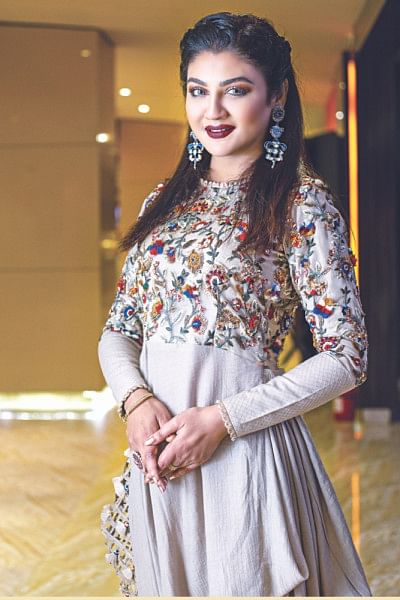 Tell us about 'Kantho'.
This is a very special film. I was able to see life from a different perspective through it. A chance to play such an amazing character doesn't come often, so I consider this as a big achievement. Kantho is a movement; a battle. Every single thing in our life can fall apart at any moment, but what doesn't die is our energy. I got to meet people who were diagnosed with cancer for the purpose of this film. Their vitality and vigour really amazed me.
How did you manage to speak with the help of your oesophagus in the film?
It was a very difficult task for me to speak through my oesophagus, despite having a trachea, as in this film I played the role of a speech therapist who trains laryngeal cancer patients to speak. I had to attend a workshop and even spoke with many cancer patients. I had to learn a lot of new things for the film, like what happens to the larynx of a cancer patient.
Why do you think people should watch the film?
Kantho will inspire many people, especially those suffering from depression. I think they'll be able to rediscover themselves through this film. The compelling storyline, coupled with the brilliant acting of Shiboprosad and Paoli Dam, is sure to hold the audience's attention. The film is not only for people suffering from cancer; it's for anyone who has experienced tragedy and failure.
What are your thoughts on the exchange of films between Bangladesh and West Bengal?
The film industry in Bangladesh needs to expand. In exchange for Kantho, another film of mine, Khancha, will be released in Kolkata. Truth be told, the Bangladeshi films which are being released in West Bengal through the exchange programme aren't too good in terms of quality. Khancha, on the other hand, is a very high-quality production. I'm really glad it's being released in Kolkata.
Will 'Khancha' be promoted in Kolkata like 'Kantho'?
Impress Telefilm Limited will be able to give a more accurate answer to this question, depending on when they're planning to release it in Kolkata. If I'm asked to promote Khancha, I will wholeheartedly do it because it is very close to my heart. In fact, all of my films are.
Tell us more about 'Kantho'.
I will not say much about the film. I'm sure that people will be fascinated after watching it. It managed to create such a buzz in India that a Malayalam remake is being made. I would also like to request people to watch the film with cancer patients; their urge to survive will further be strengthened. A real cancer survivor, similar to Arjun Mallik in the film, called me perfect. That was the biggest achievement of this film.
People left the theatre in tears after watching 'Kantho'. What are your thoughts on it?
The same thing happened in Kolkata. The fact that many cried while watching the film speaks volumes. This is a story of an ongoing battle for life. This is for all those individuals who have lost all hope.
Tell us more about the directors.
I am grateful to both Nandita Roy and Shiboprosad Mukherjee for letting me be a part of such an amazing project. This duo is quite exceptional. I would like to request Shibo Da to act in more films as the audience really likes him.
How did it feel receiving the Bangladesh 'National Film Award' for 'Best Actress' in 2018 for 'Debi'?
I truly loved receiving that award. I'm incredibly grateful to my audience for their love and support. Receiving the award for the fourth time was a great honour.
Tell us about your upcoming projects.
I'll begin shooting for Kaushik Ganguli's new film, Ardhangini, in Kolkata very soon. I'm also working on Robibar and Bhoot Pori. Olatchokro, Peyarar Subash and Beauty Circus are also awaiting release in Bangladesh.